TASI to host multi-sculptor 3D show in March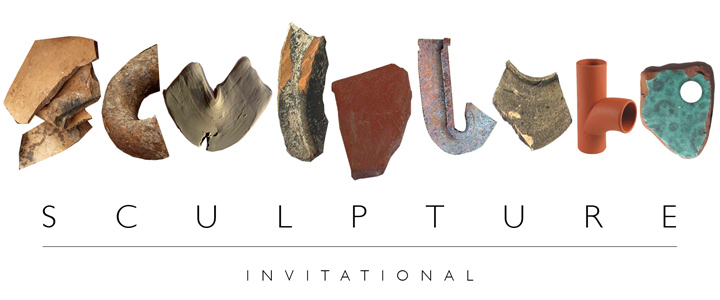 Metal and wood sculptures will be suspended from the ceilings, with hanging artworks adorning the exterior of the building, and a cornucopia of ceramics and found object pieces will infiltrate the gallery at The Arts Studio, Inc.'s Sculpture Invitational opening, March 6.
Elizabeth French, assistant director of TASI and curator of the exhibition, invited 18 Southeast Texas Artists to show new and old works at the collective.
"I just wanted to make it an entire show about sculpture and different things you can create sculpture from, and show people of all ages and all types," she said.
French invited in-house artists, members, former and current instructors from Lamar, a few students, a recent graduate and friends of TASI to participate.
The show includes work by Lotus Bermudez, Linnis Blanton, Greg Busceme Sr., Sheila Busceme, Craig Clark, Kelly Costlow, Beau Dumesnil, Karen Long Dumesnil, Suzanne Garret, Forrest Goodhue, David Granitz, Merridith "Butch" Jack, DJ Kava, Sandra Laurette, Julie Lee, Joyce Philen, Brittany Tanton and Caleb Simms.
"There is no theme, other than I want it to represent them and their style, either what they are doing now, or what they have been doing the whole time," French said.
Some of the artwork is recent and some are from the the artists' collections.
"Some of them are older pieces, but none of it has been seen," French said. "It is all new to the public and representative of the individual artist."
French said Beaumont is a little "ceramics heavy," especially since TASI lost their barn, which housed a foundry, during a Hurricane Ike.
Blanton, a retired public school teacher and current adjunct instructor at Lamar, is a member of TASI, but works Monday through Friday in the ceramics studio on the Lamar campus. Blanton uses a technique called "throwing," where he uses a wheel .
"I spend 10 or twenty minutes on the wheel and then I sculpt for the next two weeks," he said, as he maneuvered around a wedging table with a mound of clay. "I use everything."
Blanton said his best tools are his hands and fingers. He enjoys working with a flat, flexible, slightly-curved tool called a rib — named after a rib bone, because of the similar arch and the probability that ancient peoples used animal ribs as tools when working with clay.
"A lot of the pottery tools and terminology goes way back, because people have been making pots since they have been on the earth," he said.
Working with clay is a long process. Blanton said it takes days to dry out a small or medium-sized piece. It is fired in a kiln, which is a two-day process, then glazed and fired again.
"And then you have to decide if that is good enough," he said. "And if I want to re-glaze and fire again."
Blanton usually kneads and works his clay 100 times, mostly just for the work out, since he may end up sculpting for days.
All of the sculptures Blanton has decided to use in the exhibition are thrown, although they may not appear to be. His featured piece consists of a solid top with a middle section and a base. All three pieces were created individually and will be tacked together.
"Hopefully it is going to work," he said, as he looked at the three pieces, which he will assemble in the days leading up to March 6.
Blanton said his pieces grow out of experimentation.
"I don't know exactly what I am doing next and that is not a bad thing," he said. "It is not a bad place to be — I might end up doing something I have never done before."
Blanton said he believes in being in the moment.
"When you are in the present moment, it is like you react to what you do," he said. "I try to get my ego out of it and say, 'OK, this is making a suggestion — I need a base."
Three weeks from the exhibition, Blanton's piece sits nameless in his space.
"The title hasn't come to me," he said.
Blanton has pieces that share a similar aesthetic because he usually works in a series.
"They are all kind of similar, but different," he said. "I am still searching for the form. I am trying to get one silhouette — one contour edge to work with the other contour edge. The whole thing has to work together all the way around."
Blanton said his current work, which has a fennel on top, began as a pot — which it does not resemble now.
"It was an accident," he said. "And that is when it is really fun. These two were totally mess ups and that is when I really started having fun because there was nothing to lose.
Working in 3-dimensions requires being hands-on.
"Sometimes, with my pieces, I have to touch them a 1,000 times to make them look like they have been touched once," he said. "I want that spontaneity in the piece, so I touch and touch and touch."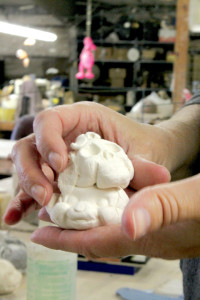 Karen Long-Dumesnil said she never throws — "I just sculpt."
She combines split-caste molds and molds she makes herself from found objects to make the three-headed totem poles she will be showing in the exhibition.
"I combined each of the elements together, making at least three creatures on each one because totem poles have three elements," she said.
One of her totems looks like it is going to fall over — with the heads perhaps competing with one another instead of working together.
"That makes people nervous — sort of uncomfortable when things aren't balanced," she said."
Blanton, who doesn't utilize molds, thinks positive touch is important. Although he thought himself a painter early in his career, he can clearly see the difference in the two media because of touch.
"Painters don't touch," Blanton says. "They take a paintbrush and touch it with that — they don't get to physically touch."
French said that sculpting can be more collaborative than making two-dimensional art, and that often times, sculptors' works will look similar to their mentor's or whoever shares their space.
"When you study under a certain teacher, you kind of have similarities of style," she said.
French said she sees similarities in Blanton's students who are showing at the Invitational. After seeing work by Kelly Costlow and Brittany Tanton at Lamar's studio, French asked if they were by the same person. She found out they sit beside each other when they work.
"They are different, but they are kind of similar," she said. "However, if you work next to someone, there is something that happens."
Blanton said he is eager to see all the different artists' work in one exhibition.
"I think the nice thing about this show is the diversity," he said. "There is going to be something for everybody. There is going to be some realistic sculpture, there is going to be some abstract, there is going to be some figurative.
"There is going to be a whole gambit of subject matter, as well as the different ways of approaching subject matter."
French said sculptors are limited to the materials they use.
"Some people embrace the nature of the materials themselves, or they strive to make the material look like something else," she said. "Butch (Jack) is doing some things — although the ones we will have here are metal sculptures — but he does do some things that appear to be metal sculptures, but in reality, they are styrofoam."
She said the pieces are painted styrofoam forms which were original castings for metal pieces. Usually the plastic is melted out, but Jack uses the forms and makes them look like metal.
Jack said he uses a lot of different media. For the Invitational, he will be showing one steel piece, and one steel and wood piece.
"They are actually not big or heavy, he said. "It is actually going to hang from the ceiling.
"That is one thing that all sculptors have to deal with — gravity."
Jack started doing hanging pieces many decades ago. He said they are basically they are plumb bobs.
Like Blanton, Jack doesn't sketch or do much planning before he begins a project.
"I usually have a vague idea, but gee, if I knew what it looked like, why would I make it?" he said.
Although Jack has painted and sketched, he prefers making three-dimensional art.
"My take on it all has always been, why make an illusion when you can just make the thing?" he said.
French said Lotus Bermundez is utilizing the porch of TASI for a hanging piece.
"She was really interested in doing something on the exterior of the building," French said, adding that Bermudez uses string in her work.
Blanton said that most of the people he has come across while working with clay are the nicest people.
"You are working with Mother Earth — It is a very primitive material," he said, adding that there is something therapeutic about working with clay rather than with metal and other media, and that most sculptors share their ideas with others.
"But you don't get the sharing with painting," he said. "The painter's environment is almost like, "Don't steal my idea. (In the ceramics studio) it is like, 'Take my idea and run with it — please use my idea and come out with your own way of doing it.'"
Blanton said he doesn't want everyone's work to look like his, but if a fellow sculptor wants to try his technique, he encourages them to "See what happens."
When French decided to curate the show, she had a simple goal in mind.
"I am trying to do a sculptural collage of this area and who is doing what," French said.
The Sculpture Invitational opens with a free reception, 7 p.m. to 10 p.m., March 7.
The Art Studio is located at 720 Franklin in downtown Beaumont.
For information, call 409-838-5393 or visit www.artstudio.org.
By Jacqueline Hays
ISSUE Contributor