TASI celebrates milestone with party, Nov. 16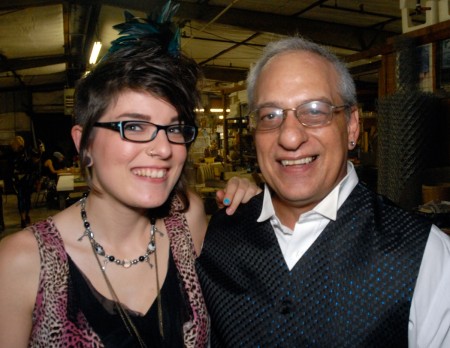 The rain threatened, but stayed away. It seems the universe loves a good party.
When The Art Studio, Inc. throws a party, it attracts a mottley crew of arts lovers, and "TASI to the Max: Thirty Bodacious Years," The Studio's 30th anniversary bash, was no exception.
More than 300 people filled the converted warehouse space at 720 Franklin in downtown Beaumont, to celebrate three decades of creativity and service to the Southeast Texas arts community.
Despite unseasonably muggy weather, revelers donned their '80s outfits and danced to the sounds of live music in the tent by the kilns. Bands included June's Sun, Mad Maude & the Hatters, Buffalo Blonde and Japanese CarCrash, with a reunion by The Put-Downs.
Entertainment was also provided by Space Capsule, and REcreate held a fashion show.
The silent auction drew donations from a varietry of area artists.
All proceeds from the event went to help The Studio continue its mission to promote the arts and outreach in the Southeast Texas community.
Despite hardships from hurricanes and economic dowturns, The Studio has managed to survive where many artist cooperatives could not.
It's all thanks to the support of its members and supporters.
Click on a thumbnail to view larger images.

Here's to the next 30 years.