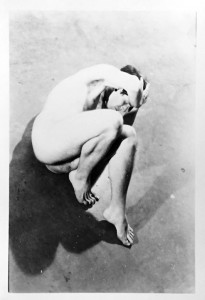 "The naked man is the most striking figure in human form."
Photographer Will Stark says that in today's world, we are conditioned to think of the nude as being exclusively female. However, his new exhibition of photographs, "Safe Space," seeks to turn that perception on its head.
"There is the feminist movement that I believe in, but it's kind of only a one-handed fight," he says. "Women have said they are strong, but now I think it's time to showcase good guys."
"Safe Space" opens June 20 at the High Street Gallery, with a reception from 7 p.m. to 9 p.m.
Stark says that not all men are villains, and his work seeks to show that males have value and their own vulnerabilities.
"We have demonized certain kinds of males — like the football player that knocks out his girlfriend in the elevator — but what about the good males?" he says. "The males I have chosen are all great guys.
"I think the next thing is to have a pro-male movement that says these are good guys and we should follow their example."
Stark says that the idea of the show is to promote the idea of unity between the sexes.
"It's not just a feminist movement, it's an 'All' movement — let's just evolve as people," he says.
The photographs in the show aim to present a balance between planned technique and "happy accident," Stark says.
"People get super technical with their work, but there is a balance, because a lot of stuff comes by accident," he says. "A lot of stuff comes from that moment where you have an idea — the balance is somewhere between trying to hone your system and trying to play jazz."
The images are captured moments, Stark says.
"(It) is kind of like hunting," he says. "When you shoot a gun, there is a moment when you know you are on target — I just try not to tense up and try not to lose focus at the same time."
Stark is a Beaumont native who works in advertising sales at the Beaumont Enterprise.
"I got into photography midway through high school — I went to Kelly," he says. "Then in college I got more interested, and by the time I got out of college I was shooting a lot.
"I used to work at The Art Studio Inc. years back, painting upstairs. Recently they added the dark room and I started utilizing that."
Lighting plays a huge role in his work, Stark says.
"When I start shooting, I start with three lights — I set them all up the same," he says. "I take three cameras with a roll in each and I do it with full lights on. I then begin to manipulate the lights in a way that create these illusions.
"I'm not really shooting my models. Yeah, I'm taking very graphic and detailed pictures of them, but I'm taking pictures of the tone, of the shadows. I'm writing with light and using their forms as the paper. In the beginning, it's kind of supernatural and then it moves to something very contrasted."
Stark says that the show's title refers to a place that is inclusive for different kinds of people.
"The Art Studio, Inc. and the High Street Gallery are both 'Safe Spaces,'" he says. "My models are guys that, if anyone around them caused a problem, would step up and make it a safe space."
The exhibition will include approximately 50 unframed black and white prints.
"The black and white is used because it's all we have — we can't process color by hand and at the Art Studio, everything is by hand," Stark says. "I'm hanging my prints with wood clasp hangers on wires, because I really want people to be with the paper. I don't want glass. There is a certain power when it's just you and the paper."
Stark says that the show is very personal.
"I want to invite people into my head," he says. "I can communicate better through an image than I can through talking or writing."
'Safe Space' will run through July 4.
For more information, visit High Street Gallery's website at www.nakeddads.org.
By Kyle Swearingen
ISSUE Contributor