Newton's art collection reflects lifetime of partnership, travel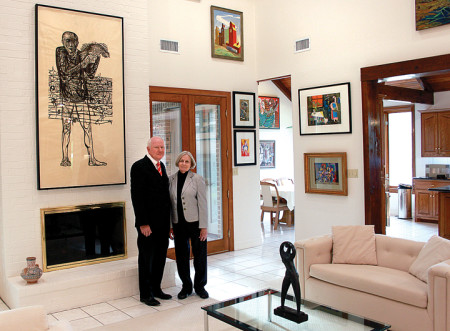 This is the latest in an ongoing series about Southeast Texas art collectors.
Frank and Nancy Newton have mapped their personal history though the accumulation of art works from around the Western hemisphere.
From the time of their marriage and the early days living in New York City, to summers in Mexico where Frank led university programs, the couple have acquired pieces to commemorate times spent in their different homes.
Since the late '60s, the Newtons have shared a passion for galleries.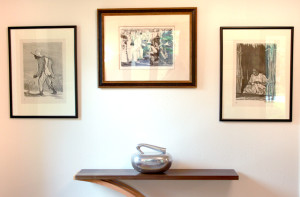 "We just enjoyed going to art museums, and it started when we lived in New York," Frank said. "It is not an interest that is really shared by other members of the family — it is just something we liked, so collecting is something that has been happening over many years."
Dependent only on their own judgement and a common aesthetic, the couple formed their collection.
"We would go to galleries where we lived, and when we saw art that we liked and could afford, we would buy it," Frank said. "Unlike some collectors, we have not used individuals to advise us."
Nancy interjected.
"We probably wouldn't listen to them anyway!"
The couple laughed and Frank continued.
"…which probably results in some strange combinations, but the works come from a lot of different sources."
While the pair have not drawn on advice from consultants, they have researched the art they have purchased, and are accomplished art historians in their own right.
The interior of their beautiful, West End Beaumont home mirrors the white walls found in contemporary galleries. Art works are arranged tastefully in rooms, pieces partnered with complimentary works so the eyes are not overwhelmed. Framed paintings and drawings of various scales bring color and light to the rooms.
While most of the art is two-dimensional works on paper, the couple have small sculptures from Mexican and Texan artists — including a piece by the famous Texan sculptor James Surls. However, the Newtons are not necessarily attracted to accumulating art by big names, but rather to works that reflect the experience of selecting pieces together.
"Virtually everything we own, we saw and bought when we were together," Frank said. "Like anyone else, there are pieces that we prefer, and like any other taste over time, you may change what you like. But largely this is based on accessible art that we found attractive.
"We also do not collect multiple pieces by the same artist — these are all different artists. Our collection, compared to most people's, is atypical in how it was purchased and the contents."
After collecting for more than 40 years, the breadth of the couple's collection ranges from ancient Clovis points created in North America some 40,000 years ago to 21st-century works.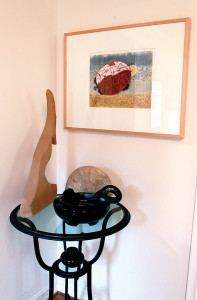 Most impressive is the presence of artists underrepresented in the art world, including many women artists, gay artists, African American artists during the 20th century diaspora, and even a work by Clifford Possom — an Australian Aboriginal artist.
From their days in Mexico, the couple acquired a piece by Valetta Swann, who exhibited with Frida Kahlo.
The couple have a story associated with many of the art works: the Mayan artifacts stumbled upon from a sale at a museum in Mexico, a work from their son's professor in Indiana.
The central piece in their living room, Leonard Baskin's "Man of Peace," brings back a happy memory from the couple's time in Washington, D.C.
Frank, who is a lawyer, was finishing a lecture for the American Association of Law schools while Nancy patiently waited for him. After he finished, she mentioned that rain was imminent and they ought to hail a taxi to make it back to their place — however, Frank insisted on walking.
"We start off down Connecticut Avenue and, sure enough, it starts raining and Nancy and I duck into this art gallery," he said. "It is pouring down outside and we're not seeing anything we like very much in the gallery.
"She wanders off to the back and comes back and says, 'I've found a piece I love, we have to get it.' So she had found the Leonard Baskin. She says now, that was the most expensive taxi ride that I never gave her."
Since 2002, the Newtons have lived in Beaumont. Frank serves as president and CEO of The Beaumont Foundation, a charitable institution that generates grants for underserved people in communities across the United States, while Nancy is the librarian at All Saints Episcopal School.
Their home is a living testament to their dedication to art and to each other. The Newton's collection is a survey, not only of fine art, but of the stories of a couple's commitment and the many places they have called home.
By Caitlin Duerler
ISSUE Contributor