Hiner's collection highlights African American experience
This is the latest in an ongoing series about Southeast Texas art collectors.
Behind armored walls and a heavy, steel door with a complex lock, fertility sculptures with round bellies and buttocks stand guard over stacks of paintings and sculptures.
The works belong to Dr. Hervy Hiner, a local nephrologist and owner of Sugas Deep South Cuisine and Jazz Bar, whose extensive collection has exploded from his home and restaurant to fill an old bank vault.
Once Hiner started collecting in the early '90s, he reached out to galleries in San Francisco, Detroit, Pittsburgh, Chicago, Washington D.C. and New Orleans who searched extensively to find art to suit his tastes.
"It started with just a few prints, and over the years I kept wanting to add to my collection of African American art," he said.
Hiner realized that to get the best art for his collection, he should focus on finding works by artists who do not always get the critical recognition they deserve.
"It is hard to find AA artists who are established because they are few and far between, so I chose to focus on them when building my collection — you can't collect everything so I found my niche," he said. "The longer you do it, the more versed you become in collecting and define your likes and dislikes. Once it got started, it just carried on."
His collection sheds a much-needed light on the artistic achievements of African American artists from the past, as well as today. The works are not just a reflection of the artists' experiences during times of racial conflict, but also a survey of movements in the painting canon. Works like Hughie Lee-Smith's "Clown Man" (1980), imbue a realistic scene with a surrealistic quality not unlike works made by René Magritte and Giorgio de Chirico.
The earliest piece in his collection is an 18th-century portrait painted by Joshua Johnstone. The subject is a young white child. At the time, the only African Americans who were trained to paint were those who were fortunate enough to have a family who was kind to them and help them receive training, Hiner said.
"There weren't many African American in the 18th and 19th centuries who were in a position to buy art, so they mostly had white patrons," he said. "For example, of all the portraits that Joshua Johnstone painted, there is only one picture with an African American subject. Before, it was pretty much plantation owners and people who paid for their portrait to be made."
His paintings also include many important works produced during the Harlem Renaissance and the Civil Rights movement. A large, Charles Alston painting with Civil Rights protesters gathering is opposite a piece that shows Jacob Lawrence's of a scene at a '30s jazz bar, incorporating his trademark bold colors and shapes.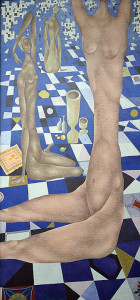 Hiner regularly loans works in the vault for major exhibitions around the country. The Art Museum of Southeast Texas showcased his paintings in a show in 2010. More recently, the Smithsonian American Art Museum — which boasts the largest collection of African American art in the world, around 2,000 works by 200 artists — borrowed several works for their 2012 traveling exhibition "African American Art: Harlem Renaissance, Civil Rights Era, and Beyond."
The tribal sculptures that he has accumulated have a different motivation.
"My collection of contemporary work and my collection of tribal pieces are two separate things," Hiner said. "With the paintings, I was attracted to the older pieces because African Americans at the time didn't have a lot of training and learned on their own and made good art, while the more contemporary artists are often those who have received extensive training and are fairly well established in the art world."
"The tribal arts is a little bit different. The artist who makes these kind of works is usually someone who is carrying down a tradition they learn from other villagers, rather than have classic art training. In the villages, there were only so many people who would be assigned to make the masks and other art."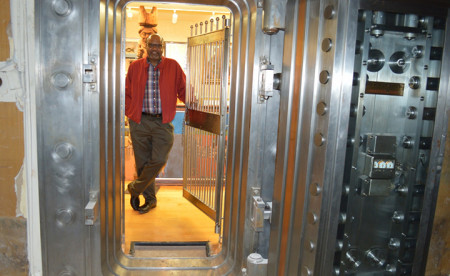 Most of the work in his collection is a celebration not just of the African American experience, but also the female form. Many of the works that Hiner is drawn particularly to feature beautiful women with elongated necks and graceful limbs such as "Trio V" by Elzier Cortor.
Although the vault is filling up, Hiner continues to add to his collection.
"It's just my passion to collect — there isn't one particular reason," he said. "Some of it is the aesthetic, but I have always been attracted to good art — and if it's good art, people are going to appreciate it."