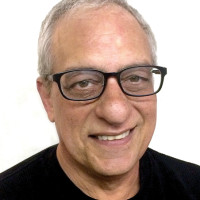 Buy local!
It is a phrase repeated by local business owners everywhere. A recent article in The Beaumont Enterprise bemoaned the local shrimp industries and the inundation of foreign shrimp from farms in China — and we don't mean China, Texas.
The arts community does not need to fear art from China flooding our market, but Starving Artist Shows with" sofa-sized paintings" can cramp our style and send large bucks out of the area. These are neither starving nor artists, but a sweat shop arrangement where paintings, I won't call it art, are made assembly-style with the signature of some arbitrary being not involved in the production itself.
Luckily there hasn't been this type of sale in a while. Maybe people caught on to it. Maybe they didn't like the work. Maybe it didn't match the sofa. Whatever the reason, goodbye and good riddance to bad rubbish.
On the good side, we have seen an uptick in local art sales over the past few years. Student work to full-blown professionals are seeing their work, I'll call this art, not necessarily fly off the shelf, but at least move. People in Southeast Texas have locked on to the best secret in town —  there are great artists here that have not been discovered yet and there is an inventory of art available at a good price to the public.
All you have to do is find them.
That is a simpler task than it seems as there are venues, established and alternative, that can offer excellent work for a good price — not cheap but reasonable. Remember this work will live with you for a lifetime and that pleasure increases as one admires the work — WIN!
The chances that the artists will continue their art increases with each sale they make and the value of the work will increase as well. We mainly buy for pleasure, so if you like what you have, it doesn't matter if the artist is a one-hit wonder or a life-long practitioner — from New York or Oklahoma or a local plying her trade, you have what you like and will enjoy it forever.         WIN!
Our job at The Studio is to identify good work and display it, and to encourage professionalism among the ranks of artists striving to create their ultimate works of art. We also serve as an agent between buyer and seller to purchase art at The Studio. In this we have been very successful over the past few years.
Finally trust your own judgment. Choosing art is a personal endeavor and a unique experience for the buyers. I suggest you go out to a local show and start finding art that you are drawn to. And when you find it, find the courage to buy it. You can't go wrong.