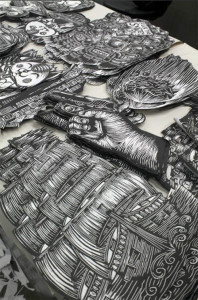 The High Street Gallery will host an exhibition of woodblock prints by Maurice Abelman, 7-10 p.m., April 17. The gallery is located in Victoria House, 2110 Victoria St. in Beaumont.
Lamar graduate Abelman's work is influenced by street artists like Shepard Fairey, Banksy, and Swoon.
"I've been influence by various contemporary printmakers from the Dirty Printmakers of America to greats like Tom Huck, Ryan O'Malley, Joseph Velasquez, Peeter Allik and Xenia Fedorchenko," Abelman said. "Other artist in history that I constantly look to for inspiration are Francisco Goya, Albrecht Durer, and William Hogarth.
"My work is a reflection of the people around me and the society in which I live. I try to express the concerns and desires, drives and passions of people that I interact with and that I'm a part of. In the past I've relied upon the news and social media to derive the content from my work, but I have started to expand that to the stories of individual people that they may tell me about their lives. I am most interested in the things that motive people and that keep them living together as a family, as a community, and as a society. I am also interested in the issues (small and great) that guide and govern American society as a whole.
The title of the exhibition is "The Struggle for Prosperity in a Colorless World."
"Since graduating from Lamar last year I've been struggling to survive in this area off my skills as a designer and as an artist, " he said. "For some reason people don't show artists the respect they deserve. This show is about this struggle. "
For more information visit the High Street Gallery Facebook page, Victoria House's website at www.NakedDads.com, or www.AbelmanArt.com.