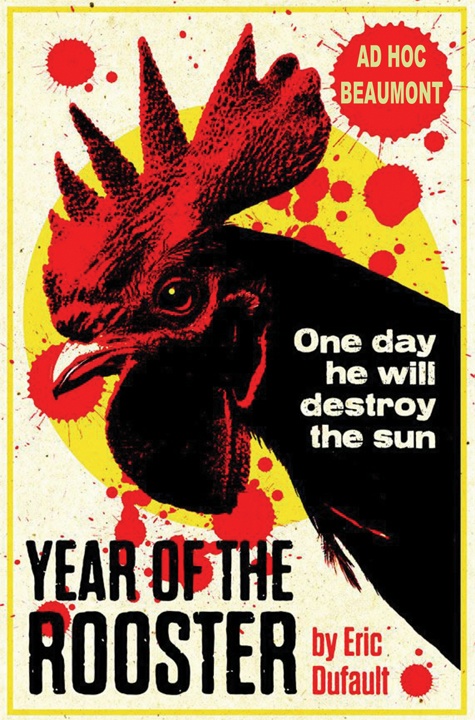 Ad Hoc Beaumont will present "Year of the Rooster," a mythical black comedy about love, underdogs and cockfighting, May 20 through June 4.
Gil is a loser. He works at McDonald's, lives with his ailing mother, and hasn't had a girlfriend since…ever. But that's all about to change. He's been secretly training (and drugging) a rooster to fight. And Odysseus Rex aka "Odie" is the baddest barnyard bird there is.
"We are turning a bar in downtown Beaumont into a Chicken Coop," said Ad Hoc Member Michael Mason. "The space has just the right amount of stank for this show. Also, we think it's cool for folks to be able to come down town and see some theatre in a new space!"
Ad Hoc has its own "Prize Bird" with this show.  The New York Times wrote, "Year of the Rooster isn't merely entertaining. It's astonishingly entertaining."
Performances are at 709 Liberty St. (at the corner of Liberty and Orleans) in downtown Beaumont, formerly The Copa night club.
All shows begin at 7:30 p.m. Friday and Saturday nights, May 20-21, May 27-28 and June 3-4.
A special First Thursday performance wil be held June 2, at 8:30 p.m.
"We are excited to be offering a unique 'First Thursday' pairing with Monica's restaurant," Ad Hoc founder Michael Mason said. "Have dinner at Monica's and then catch the show.  
"For one night only we will offer, in addition to the regularly admission-priced show, a $30 package which includes a special dinner at Monica's and a ticket to the play for that night."
Tickets are $15 and are available online at BrownPaperTickets.com
For more information, email adhocbeaumont@gmail.com.