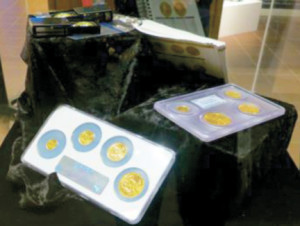 The Art Museum of Southeast Texas (AMSET) invites everyone to Go for the Gold on Thursday, March 10 for a chance to win $10,000 in gold or other fantastic prizes at our annual reverse drawing. Join us in the "Goldfinger" theme this year, as we encourage guests to channel their inner spy and dress in their best James Bond-inspired garb. During this always engaging fundraising event, one lucky ticket holder will watch their $100 entry turn into $10,000 in gold in just one night.
One lucky winner could become "the man with the Midas touch" while you're given a great chance to win your fortune of $10,000 in GOLD at AMSET's 20th Annual Go for the Gold Party and Reverse Drawing! Guests are invited to enjoy this highly entertaining evening while dining on a delicious dinner donated by Two Magnolias Catering.
For the ticket cost of $100, guests receive admission, dinner and cocktails for two along with one entry into the most exciting drawing in town. Only 450 tickets will be sold for the event, and advance purchase is recommended. Go for the Gold is a reverse drawing, meaning that the last three ticket stubs drawn from the hopper are the winners of:
3rd Place — $1,000 in Gold
2nd Place — $1,500 in Gold
1st Place — $10,000 in Gold
In addition to first, second and third place prizes, a number of other prizes will be given away throughout the evening. The gold prizes are given in American Eagle coins and have a value that depends not only on the price of gold, but also their value on the collectors' market.
Go for the Gold is a thrilling, suspenseful event. Players have a great opportunity to win all while they support AMSET's exhibition and education programs.
Go for the Gold 2016 is chaired by the stunning secret agents themselves, Sandy and Joseph Fertitta.
"Please join us this year for a 'Goldfinger' theme, as we help support AMSET's exhibition and education programs through this fabulous fundraiser," said Go for the Gold Co-Chair, Sandy Fertitta.
Gold coins for the evening will be provided for display by Universal Coin and Bullion.
To purchase tickets, visit www.amset.org or call 409-832-3432.
AMSET is located at 500 Main St. in downtown Beaumont.