Harvey changes opening originally scheduled for Sept. 2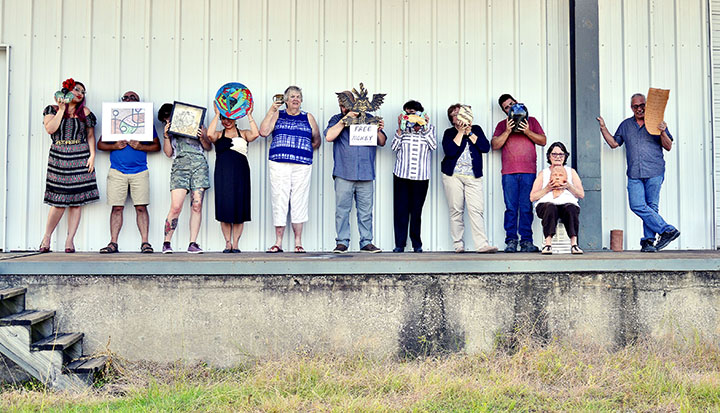 Southeast Texans will get a chance to see the works of local artists at an annual event that has become a tradition in the local arts community.
The Art Studio, Inc.'s annual Tenants Show debuts Sept. 2 with a free reception from 7-10 p.m.
The focus of the Tenants Show is to give the artists who work at TASI a chance to show the community what they've been working on and who they have become as artists. It's an Art Studio tradition and it means different things to different tenants.
"The tenant show is probably my favorite yearly event here because I get to see everything everyone else has been working on the way they want it to be seen — it's finished and it's here," tenant Gina Garcia said.
The tenant artists at The Studio include Maurice Abelman, Barbara Allamon, Karen Dumesnil, Sue Wright, Rhonda Rodman, Sandra Laurette, Suzanne Garrett, Rhonda McNally, Yolanda Perez, Stephen Derrick Jr., Andy Coughlan, Madisan Rose Stuckey, Renee McClain, Alex Murphy, Julia Rutledge, Kailee Viator, Elizabeth Fontenot, Beau Dumesnil, Bill Kujawski, Garcia, Nathan Jones, Greg Busceme,Elizabeth French, Neal Pitak, and Darkroom Friends J.Winston, J. Fulbright.
One of the tenants eager to show off what she's been working on is Barbara Allamon.
Allamon has been a tenant at the Art Studio for a few years now, ever since finishing a ceramics class taught by Greg Busceme.
"I took a class from Greg a few years ago and I just fell in love with ceramics," she said. "I can't tell you what inspires me or where it comes from, I just start working with it and the piece evolves. It's beautiful."
For Busceme, the show is so much more than just another exhibit.
"Artists need to exhibit work to maintain their professionalism in the art field," he said. "The public needs to see the progress of these artists to better recognize the importance of the preservation of the creative act.
"It is much the same as when a new building goes up or a new business opens. We feel the sense that things are progressing rather than being stagnant. This is our part of that concept.
During the reception attendees will be able to tour the studio space and see where the tenants create their pieces.
Busceme said the Tenants Show — and really every show they put together at The Studio — is all about keeping the community involved in the process.
"Our membership shows and alternative shows serve the same objective but include the community directly to give everyone who creates an active role in this endeavor — everyone has a part to play in art," he said.
Tenant Elizabeth Fontenot said the show acts as a sort of reunion for her fellow artists.
"Throughout the year, and especially around summer time, everyone is off doing their own thing. People are going on vacation or traveling to see family and friends," she said. "Most of the tenants participate in the show, so it's an opportunity to reconnect with the people working around you and see what's been influencing their work."
Yolanda Perez said she is looking forward to the unique opportunity the Tenants Show provides her in exhibiting her ceramics.
"This show pushes me to make new art work to share with the community at large (as well as) with my fellow tenants," she said. "It gives me a opportunity to safely display my  experimental  and delicate ceramic work which I don't have much of an opportunity to show in other venues."
For Kailee Viator it's the opportunities the show offers the next generation of local artists.
"We have a couple of newer tenants who are just starting to have people look at their work," she said. "To have it up on a gallery wall is a challenge and validation of self esteem. That's such a wonderful thing."
The Art Studio, Inc. is located at 720 Franklin in downtown Beaumont.
Exhibitions are held nine time a year, with opening receptions held the first Saturday of each month from September through June, except for January.
For more information, call 409-838-5393, visit the wbbsite at www.artstudio.org, or on Facebook.
ISSUE story by Jeff Dixon