Adult Adventures in Clay will be held Saturdays at The Art Studio, Inc., 10 a.m. to noon, beginning Sept. 9 and concluding Oct. 7.
The class is five Saturdays of learning hand building, glaze and firing techniques. All material included. $125 per person, 18 and up. A fun and productive introductions to the joys of ceramics. Great for the rank beginner. Instructor: Greg Busceme, MFA.
TASI is located at 720 Franklin in Beaumont. Call 409-838-5393 for more information.
__________
The Art Museum of Southeast Texas will host the 30th Anniversary Gala: A Pearlescent Evening, 6:30 p.m. to 11 p.m., Sept. 8, at the Event Centre.
Cocktail hour, with appetizers, begins at 6:30 p.m., featuring the signature drink, Thai Pearl Cocktail.  Fine dining by Bando's Catering will be served at 7:30 p.m. introducing delectable entrees and pearl-themed desserts.
Silent and live auctions featuring themed parties and art selections will keep party-goers enticed with dancing to follow.  Sharon Montgomery and the Golden Triangle All-Stars will provide music.
Attire is black tie; guests are encouraged to don their pearls.
The gala will honor Texas artist and Beaumont native, Richard Stout and AMSET Board Presidents from the past decade.
Individual seats are $250. Table reservations range from $1,600 to $15,000 and can seat up to 10 guests. Top table packages include original prints by honored artist, Richard Stout, VIP access to a private cocktail event previewing the opening reception of Stout's work that will be on view at AMSET, signed monographs by the artist, and tableside champagne.
All proceeds benefit AMSET exhibitions and educational programs.
For more information and reservations, visit amset.org or call 409-832-3432.
__________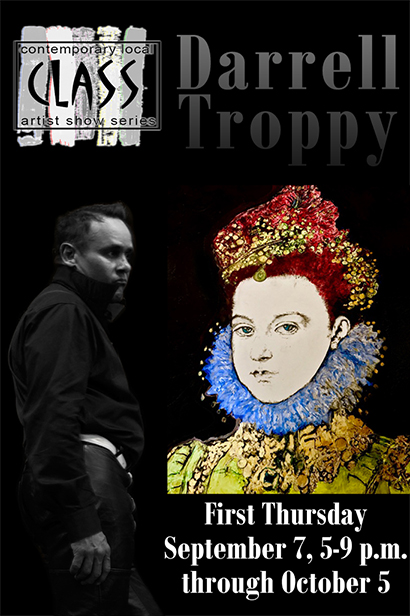 Multi-media contemporary artist Darrell Troppy, most notable for his work at the Carrousel Eastern and Western International Art Exhibit at the Louvre-Paris, France, will present an art exhibit for Finder's Fayre's Fall Show Series, "CLASS."
The exhibit runs Sept. 7 through Oct. 5. Troppy will make an appearance for a meet and greet on opening and closing nights, from 5 p.m. to 9 p.m.
Troppy's collection will feature the best of his multi-layered, encaustic visions. This collection is elegant and eclectic,; featuring a variety of genre-art, still-life and abstract works. Inspired, by the age of Kings and Queens, Darrell compels his subjects to address today's age of gender equality.
"(Art's) the one thing that I know that has never left me," Troppy said. "If you locked me up I would find a way to do something artistic, perhaps paint on the floor? It never leaves you; You'd become less whole. I think every artist experiences this feeling more than once in their life. You Pray, you Wish, and you Hope that feeling never leaves you, the passion that wakes you, the driving force, and the reason you exist.
Finder's Fayre is located in the Mildred Building on the corner of Calder Avenue and MLK Parkway in Beaumont.
For more, visit wwwfindersfayre.com.