If you come across any interesting exhibitions, museums or other places on your travels, share them with us. Call 409-838-5393, or contact us through our web site at www.artstudio.org. Be sure to include the location and dates of the subject, as well as any costs.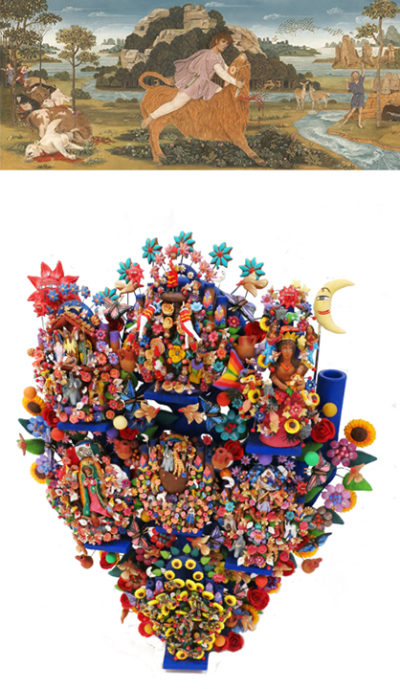 The Art Museum of Southeast Texas will present a pair of shows, Ellen Tanner: Fables, Families and Myths and John Gaston Fairey Collection of Mexican Folk Art: An Introduction, on view Dec. 16 through March 4.
A free opening reception is scheduled for 6 p.m to 8 p.m. Dec. 15.
Inspired by the fine detail and luminous colors of the Flemish masters, Tanner has sought out information on their techniques and has cobbled together a personal approach to painting with thin glazes of color over a grisaille. She applies these skills with a microscopic focus that makes each painting a tiny yet fully realized world, rich with detail and color.
The other exhibition features a selection of work from the John Gaston Fairey Collection of Mexican Folk Art, donated by John Gaston Fairey to the Art Museum of Southeast Texas in spring 2017, in memory of his parents, Philip and Isabel Fairey. 
Fairey's collection of more than 450 pieces of Mexican folk art, including textiles, baskets and ceramics, was primarily sourced over approximately 30 years while on plant hunting expeditions in the interior of Mexico. The majority of the work is from Oaxaca and from families of artists and artisans.
Formerly housed in a gallery adjacent to Fairey's home on the grounds of Peckerwood Gardens in Hempstead, the collection is now part of AMSET's permanent collection.
AMSET is located at 500 Main St. in downtown Beaumont.
For more, visit www.amset.org.
________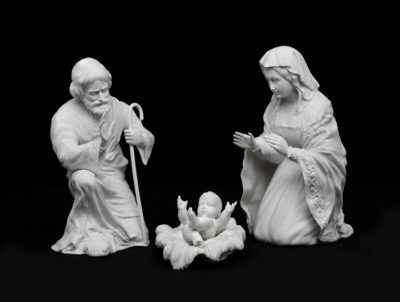 The Stark Museum of Art celebrates the holiday season with an exhibit Spirit of Bethlehem: The Boehm Porcelain Nativity. The exhibit will be on view in the museum's lobby through Jan. 6.
"Spirit of Bethlehem" tells the Christmas story through the figures of a 16-piece Nativity scene in white bisque porcelain. Boehm Porcelain (founded in 1950) produced the set of figurines in the years 1979-1983.
Centuries of tradition inspired the artisans of the Boehm studios. They followed the Biblical accounts enriched by medieval stories in designing the porcelain sculptures. The set includes the Christian Holy Family and those gathered at the manger such as angels, shepherds, kings, townspeople, and animals. The works of Edward Marshall Boehm (1913-1969), founder of Boehm Porcelain, also gave inspiration to the project. Boehm established the firm's identity with his naturalistically modeled birds in porcelain, but he also made works with religious subjects.
"Spirit of Bethlehem" is a recent acquisition for the Stark Museum and is a gift of the estates of David and Sara Lindsey, 2016.
"We invite the public to make a visit to the museum as part of their holiday experience to enjoy this beautifully crafted Nativity scene," Sarah Boehme, museum curator, states in a release. "Boehm Porcelain is noted for excellent design. The white surface, highlighted with gold on the three kings, creates an aura of elegance."
Visitors to the museum can also see examples of other works by Edward Marshall Boehm and Boehm Porcelain. Included in the exhibit of Boehm birds in Corridor 1 are other recent gifts to the museum in 2016. The Boehm Porcelain works of Stonechats with Blackberry and Bramble, Racquet-Tailed Hummingbirds with Hibiscus, Costa's Hummingbird with Rubrum Lily, and Ruby-Throated Hummingbird with Crocus and Forsythia are all gifts of Dr. Edward J. Hurwitz and Mrs. Patricia B. Hurwitz, 2016.
Stark Museum of Art is located at 712 Green Ave. in Orange, and is open Tuesday through Saturday, 9 a.m. to 5 p.m.
For more, visit starkmuseum.org.
________
­­­­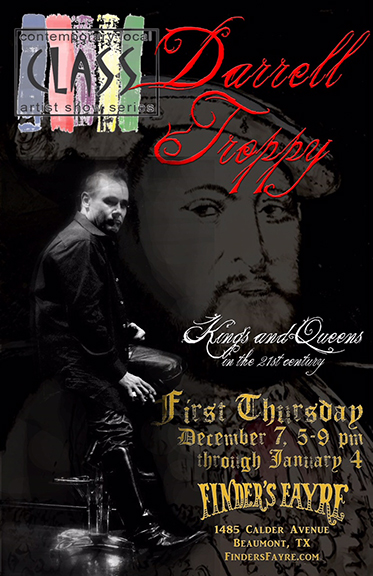 Multi-media contemporary artist Darrell Troppy, most notable for his work at the Carrousel Eastern and Western International Art Exhibit at the Louvre-Paris, France, will present an art exhibit for Finder's Fayre's Show Series, "CLASS."
The exhibit runs Dec. 7 through Jan. 4. Troppy will make an appearance for a meet and greet on opening and closing nights, from 5-9 p.m.
Troppy's collection will feature the best of his multi-layered, encaustic visions. This collection is elegant and eclectic, featuring a variety of genre art, still life and abstract works. Inspired by the age of kings and queens, Troppy compels his subjects to address today's age of gender equality.
"(Art's) the one thing that I know that has never left me," Troppy said. "If you locked me up I would find a way to do something artistic, perhaps paint on the floor? It never leaves you. You'd become less whole. I think every artist experiences this feeling more than once in their life. You pray, you wish, and you hope that feeling never leaves you, the passion that wakes you, the driving force, and the reason you exist.
Finder's Fayre is located in the Mildred Building on the corner of Calder Avenue and MLK Parkway in Beaumont.
For more, visit wwwfindersfayre.com.