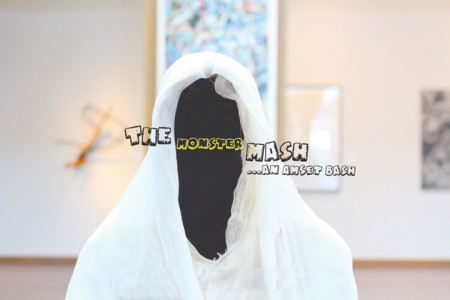 The Art Museum of Southeast Texas will host The Monster Mash…an AMSET Bash, Oct. 23, 7 p.m. to 10 p.m.
Ticket are $35 for pre-sale and $40 at the door.
There will be a costume contest held that evening. Piano Punch, a dueling piano duo from Spring will provide entertainment.
A variety of ctivities are planned for the will host a photo booth.
Fall craft beers will be available, as well as a "spooky" signature drink.
"We're bringing out several pieces of creepy artwork from AMSET's permanent collection to use as decoration for the evening," spokesman John Rollins said.
Food will be provided by Two Magnolias, and every food item will resemble something scary, including chocolate eyeballs and finger foods that look like actual fingers, Rollins said.
Food and drinks are included in the ticket price.
AMSET is located at 500 Main in downtown Beaumont.
For more information, visit www.amset.org.
______
The Cardinal Jazz Orchestra Concert will be held  at Oct. 8, 7:30 p.m. in the Rothwell Recital Hall. Admission is free.
Directed by Rick Condit, associate professor of saxophone and jazz studies, the Cardinal Jazz Orchestra will perform the music of Duke Ellington, George Gershwin, and Victor Young, as well as works from jazz legends Chick Corea, Herbie Hancock and Dave Samuels.
On Oct. 27 at 7:30 p.m., the Mary Morgan Moore Department of Music at Lamar University will present a Halloween Spectacular, a fun and energetic concert featuring the LU Faculty Brass Quintet and Houston-based Omni Brass.
Each ensemble will perform traditional works and some "spooky" Halloween-themed pieces separately, and the concert will conclude with a large brass ensemble piece.
The Rothwell Recital Hall is located at 4400 S. Martin Luther King Jr. Parkway on the Lamar University campus.
for information, visit www.lamar.edu/ music.
––––––––––
Lamar University's theatre and dance department will present the George Bernard Shaw play "Mrs. Warren's Profession," Oct. 29 to Nov. 1, in the Studio Theatre.
Showtimes: Oct. 29 -31 at 7:30 p.m., and Nov. 1 at 2 p.m.
Tickets are $15 for general admission; $10 for senior citizens, students and LU faculty/staff, and $7 for LU students.
In the Joel Grothe-directed play, Vivie Warren is a promising young woman; a recent college graduate with a career waiting for her in London who has always had everything she's ever wanted because of the generosity of her mother. However, this mother — Mrs. Warren — is a mysterious woman whom Vivie barely knows. When her mother surprises Vivie on a visit with several of her friends, Vivie confronts her mother about her career and her past, and what follows is a free-wheeling argument about the relationships between family, gender, economy and morality.
"Mrs. Warren's Profession," first written in 1894 and not staged for another 10 years because of its controversial subject matter, still resonates more than 100 years later as one of the greatest plays written in the English language.
The Studio Theatre is located at 4400 S. Martin Luther King Jr. Parkway.
For information, call 409-880-2250, or visit www.lamar.edu/theatre .
––––––––––
Call for artists. The Beaumont Art League is gearing up for its annual membership show, its biggest show of the year.
This year's judge is Mike Kennaugh, administrator of shows with the Museum of Fine Arts, Houston.
The exhibition is Oct. 10, to Oct. 31.
Entries will be accepted beginning Sept. 28. Cost is $10 per entry; three entries maximum.
Artists must be a current BAL member to participate and memberships  are available at the time of entry.
For more information, visit info@beau montartleague.org. ​
BAL is located at 2675 Gulf St. in Beaumont.