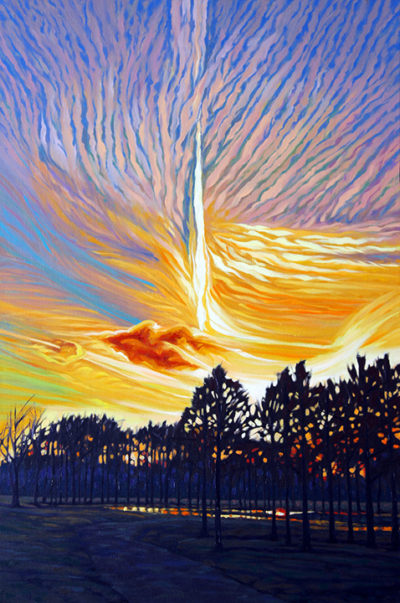 Southeast Texas artist Mark Nesmith will exhibits his vibrant and expressive depictions of the landscape as February's featured artist at Finder's Fayre Antiques.
Inspired by the bayous, beaches and woods he roamed growing up in Beaumont, Nesmith's richly textured paintings combine observation, memory, and imagination. Part of the ongoing C.L.A.S.S. series featuring local artists, the show opens with a "First Thursday at the Mildred" reception, Feb. 2, from 5 p.m. to 9 p.m., and will be on view through March 3rd.
Finder's Fayre is located at 1485 Calder Ave. in Beaumont.
For more information, call 409-833-7000.
_____________
In commemoration of Black History month, the Beaumont Art League will host a community exhibit of unity and expression, crossing cultural barriers through art. United We Stand: The Artists Perspective promises to be a powerful exhibit of artwork by our diverse network of talented artists that celebrates the contributions of African- Americans in art, history, and culture, Bridget M. Johnson, BAL board president, stated in a release.
The exhibit will open Feb. 4 and run through March 11.
"We anticipate the exhibit to feature compelling works of art that depicts messages of love, empowerment, acceptance, freedom, strength, hope, understanding and unity through the eyes of our community artists," Johnson said. "We look forward to providing the community with a wonderful exhibit featuring even more talented artists from our community."
The League will screen a film titled, "Jean Michel Basquiat Documentary — The Radiant Child,' Feb. 16, 6 p.m. to 8 p.m.
BAL is located at 2675 Gulf St. in Beaumont.
For more information, call 409-833-4179 or visit www.beaumontartleague.org.
_____________
The Southeast Texas Arts Council will host Hearts for the Arts 2017, A Valentine's Reception Celebrating Excellence in the Arts & Humanities, Feb. 12 at Beau Reve in Port Arthur, where SETAC will present awards to various arts organizations and individuals.
Tickets are $50, and the event will feature hors d'oeuvres, wine, desserts and Coffee.
For tickets, call 409-835-2787 or email director@setxac.org.
Beau Reve Restaurant is located at 4400 Atlantic Rd in Port Arthur.
For more information, visit www.setxac.org.
_____________
The Art Museum of Southeast Texas invites children and their families to join in a stimulating art adventure at "Either/And" Family Arts Day, 10 a.m. to 2 p.m. Feb. 11. This free event is held in conjunction with the current exhibitions, "David Aylsworh: Either/And" and "Steve Murphy: It's All Come Down to This."
Children are encouraged to create freedom hats for Black History Month, woven hearts for Valentine's Day, feather masks for Mardi Gras, and decorate a cookie for President's Day.
Rounding out the fun will be live musical entertainment throughout the day. Also adding to the enjoyment will be face painting and a snack bar.
For more information, call (409) 832-3432 or visit www.amset.org.