TASIMJAE 2016 winner's 'No Message Needed' shows strength, confidence
Contemporary artists often work at length to come up with the perfect title for their show, a title that will convey both the meaning of their work as well as leave a profound impression on the viewer. Artist Kwanzaa Edwards' "No Message Needed" bypasses the typical esoteric exhibition titles for something simple — for the artist to explain and for the viewer to understand.
"The 'No Message Needed' title started off as a kind of joke, because I always have trouble describing the meaning behind a work — that question always gives me a little bit of anxiety," Edwards said.  "With 'No Message Needed,' I like that, because I don't feel pressured to have some profound language to talk about my work."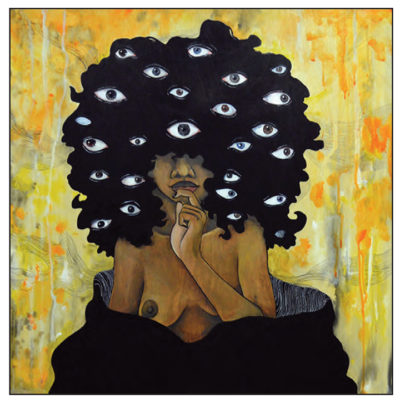 The 25-year-old artist won TASIMJAE, The Art Studio, Inc. Membership Jurored Art Exhibition, in April 2016, with her ink on wood painting "Taking Back What is Mine." Entering the show on a whim, she never imagined actually winning first place and the opportunity for a solo show.
"My first reaction? — Shock," she said. "I entered at someone pressuring me to enter and I thought, 'Cool, I'll make something.' My main concern at the beginning was even making it into the show. So when I got the call, I was really shocked. Later on that day, I realized that the win really meant I had to produce an entire body of work."
The show will be Edwards' first solo exhibition. While the task may be daunting, especially with a full-time job, making the artwork has been a kind of escape from day-to-day stresses, she said.
"Producing the work has been a very interesting experience," she said. "Doing this has been my stress reliever from working full time. It hasn't always been easy. I have those days where I stare at everything I did and think I should start all over, but I have really enjoyed the challenge."
Originally from Port Arthur, Edwards graduated from Lamar University with her Bachelor's in studio art in May 2014. While art school was an important foundation, Edwards felt more liberated in experimenting with processes and materials, as well as subject matter, after she left school.
"As much as I loved art school and enjoyed the environment, the work I do now is drastically different than what I did at Lamar," she said. "In school, I was doing whatever came to mind at the time, but I always felt I had to be this stereotypical artist where I had to do things based off of nature or some profound subject, and find a way to explain that and make it sound artsy. Doing this show, my work has been reflecting more of the cartoonish/illustration person that I am. I love drawing characters and people."
While her figurative paintings and drawings are illustrative and imaginative, they have roots in Edwards' hometown.
"Growing up in Port Arthur, I don't see much celebration of African-American women," she said. "My artwork stems from my upbringing in Southeast Texas, and my feelings of being a different type of black girl. It wasn't until recently, that I have been reading online about other women's experiences, that I started to feel like I am not alone — I just feel different in my own city."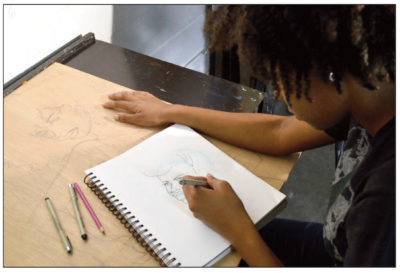 Feelings of alienation inspire Edwards to paint subjects that project confidence and strength, characteristics she admires in women from her own family.
"The idea of strong women is a very appealing thing to me, because that is what I was taught — to be strong and confident," she said. "I feel like I might not reflect that strength and confidence in my personality, but growing up hearing that and being influenced by strong black women like my mom, my aunt, my cousins and my grandma, I strive to be like that. If I can't project that in my own self, then I definitely try to project it in my artwork.
"As hard as it can be to admit, my subjects are reflections of me in a way. People will always ask me, 'Is that you in the painting?' and it is a hard question to answer because it is and it isn't."
Edwards' portraits of strong, black women feature bright colors and surrealistic elements.
"When I do these portraits of these women, I give them these things that may not generally be associated with black women," she said. "The hairstyles, with the natural hair movement, is a more obvious feature, but as far as the colors, anything I have drawn behind the figures a lot of the black community may not identify with it. One example in my work is the use of eyeballs. Eyeballs aren't really African, but I like juxtaposing these things because I feel like I relate to that kind of different."
Since moving to San Antonio in June 2016, Edwards has been further inspired to experiment with color.
"In San Antonio, there is a lot of Latino/Mexican inspiration here — I see so much color in artwork out here," she said. "I really love it, considering what I did back in college was more toned down, earth tones. Here, I don't feel afraid to paint with bright, vibrant colors as much as I did back in school."
Besides the colorful sites in her new city, Edwards has always been inspired by pop culture in cartoons and TV, as well as works by other artists.
"I am a huge cartoon nut — I love cartoons and animation," she said. "Audrey Kawasaki is an artist that inspired me to paint on wood. I am definitely drawn to strong female characters in films and shows."
Another important influence is music.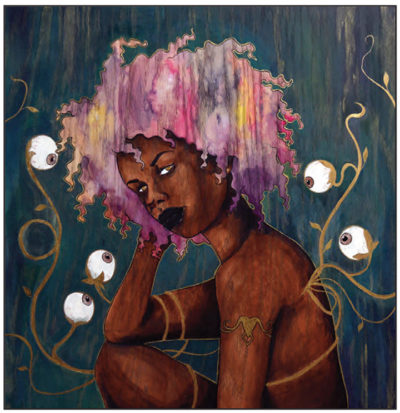 "I listen to all kinds of music and I might hear the most random song that starts a chain of thought," Edwards said. "The piece that won TASIMJAE was inspired by a Panic at the Disco song called "The Emperor's New Clothes," and it inspired the movement in the piece — with an overly confident feel to it with the grin and posture."
Edwards is a self-proclaimed night owl, working at her full-time job from 9 a.m. until 6 p.m., and then painting until four in the morning in a small, designated space in her apartment. After leaving school, she had to stop working with oil paints and look for a different medium. After trying acrylic and being not satisfied with the effect, she started using ink on wood.
"I had to stop using oil because I lacked the space with the proper ventilation," she said. "I started searching the web and I found some artwork that was done on wood, and I thought it would be a cool surface to work with. I had a bunch of inks that I had bought back in college for my drawing class, so I played around with these inks and it makes a really interesting look on wood. I have really been experimenting with wood gesso and varnish with the wood."
After the show, Edwards hopes to catch up with friends and all the movies and shows she has been missing out on. She also plans to experiment with a new medium, wood burning, as well as continue working so she can begin the transition to full-time artist, she said.
"Doing this show helped me to see that. I am much more happy and calm when I am sitting down and doing some sort of creative thing, and I like being an actual artist," she said. "I used to think it was not possible. I could get a job that was in the field but not actually make artwork.
"My goal in the next year or two is to work enough so I can stop working and start focusing full time on my art. That is my hope, if not in San Antonio, then in the next place."
Kwanzaa Edward's "No Message Needed" opens May 6 with a reception from 7 p.m. to 10 p.m. The show will be on display through May 26.
For more information, visit artstudio.org.
Story and photos by Caitlin Duerler, ISSUE staff writer