The Art Studio, Inc. will host a night of live original music performed by local bands Delicious Fuzz, Colossi,  City Freaks, and the debut of Cajun Tater & the Boudain Balls. The show will last from 8pm until midnight, October 31. The Art Studio is located at 720 Franklin St. in Beaumont.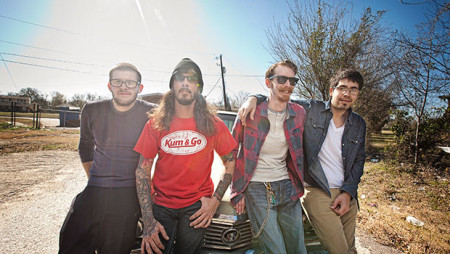 "Halloween is always our favorite Band Nite of the year, we love to decorate the gallery and see everyone in costume," the event's organizer, Phillip Rhodes said. "The bands usually get into spirit too, and we're real excited about this year's Halloween lineup."
Admission is five dollars, and all ages are welcome. Show-goers over 21 are allowed to bring their own alcoholic beverages. Costumes are encouraged.
"The Art Studio is great for having catered to the Arts of Southeast Texas for so many years," said Chris Garcia, guitarist of punk band Delicious Fuzz. "With all the ups and downs our scene has endured TASI has remained consistent. I think that's pretty impressive for this area."
The lineup also includes the debut performance of new experimental pop outfit Cajun Tater & The Boudain Balls, featuring members of defunct local sensations Hello Chief and Hitchhikers.
"Any event at TASI is great because of the Stude's all-encompassing sense of community," Jake Hollier of the Boudain Balls said.  "Everybody is always welcome to come dance and have a good time. We hope our new project acts as a catalyst in that Halloween party end game"
Also on the lineup are two fresh local metal bands, Colossi and City Freaks. Nia Williams of the high-energy group City Freaks said she and her bandmates have been making music since childhood, but only last year began playing as a cover band formerly called Distinct Melody.
"We started writing our own music and changed our name to City Freaks, due to the reactions we've gotten from audiences for being three African American kids playing music in the alternative/metal genre, instead of R&B or rap," said Williams. "So in a way, we've always kind of been the city's freaks. Out of the ordinary."