This is the first in a two-part story on veteran artist and teacher Herman Hugg which ran in the May/June ISSUEs in 2009. Hugg died Oct. 2, 2013 at age 92.
An arts life well lived
Herman Hugg sits in his Beaumont house surrounded by clutter. It is the clutter of a life well lived for 88 years.
Today the house is a little more cluttered than usual — but only slightly. Herman is sorting through things in anticipation of his upcoming retrospective at the Beaumont Art League. The show opens May 16 with a reception 3-6 p.m.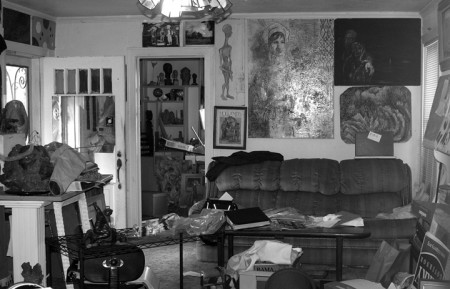 Interviewing with Herman is simple, mainly because one has to do very little work. Just turn the recorder on and relax as he moves from one story to the next.
"In the CBs, in 1943… a young man with the corps of engineers and old Herman Hugg were loading gasoline onto a ship with a fork truck," he said. Herman enlisted in 1942 in the construction battalion, the Navy's equivalent of the Army corps of engineers. "Well, we would catch up and have time to kill, so we'd sit around and read. And I had a little pocket copy of Omar Khayam's verse. And this young man came over and we got to be friends.
"One weekend he invited me to go into LA with him to a dinner party. Being an old country boy, and being a bit shy, I backed off. The next week he came around and said, 'Sure wish you'd gone with me. The guest of honor was Thomas Mann.'"
Herman laughs loudly as he recounts his missed encounter with the Nobel Prize-winning author. The key is not to turn down invitations as you never know what you'll miss, he said.
Herman has missed few things in his life, and he remembers most of it with clarity. He also is a born storyteller and peppers his anecdotes with details that transport the listener back to the place and time.
One central theme weaves all the stories together — his love of the arts. His house is lined with quotations, paintings, drawings, sculptures and newspaper clippings, all of which he uses to illustrate one point or another.
Herman said he has a huge love for sports, but this leads him to his ongoing crusade, one he says he has been on for 70 years, namely the disproportionate emphasis on sports at the expense of arts coverage in media.
"I tell you, I get sick to my stomach watching pro football and the announcing men up there — it takes four or five of them — they praise and talk about gods out there on the football field. It turns me off," he said.
He tells a story about his high school football coach being presented with a car during halftime of a game at the conclusion of a successful season.
"Now I had admiration for the coach, but the other teachers meant so much in my life, especially the literature teacher who introduced me to memorizing good poetry," he said.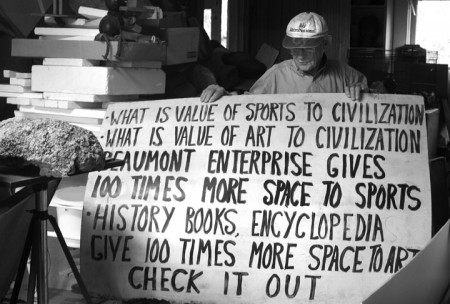 Why the coach deserved a car and not the other teachers struck him as unfair. He said that literature has meant so much to him throughout his life.
"Well, I have an ongoing war with the local media — at least in my mind," he said. "I read the newspaper every day and have done for 80 years."
Herman's show at the Beaumont Art League in May is more than a simple art retrospective. It is a visual and written biography. He plans to have photos, writings, scrapbooks, photographs, newspaper clippings of people he has known — it will be an eighty-eight year journey.
"There's no such thing as a human being on Earth that doesn't have a lot of interesting things about that person," he said. "There's no such thing as a hum-drum worthless little home town."
Herman was born Jan. 21, 1921 in Strawberry, Ark. The family moved to the Texas Panhandle when he was six.
"I remember growing up in the panhandle, and me and the other boys would say, 'If I ever get out of this blankety-blank place I'll never come back here," he said, laughing at the memory of it.
Even at 88, Herman looks fit. Despite his small stature, he carries himself like the body-builder he used to be, a passion he picked up when he went to boot camp in Virginia.
"We trained with the Marines," he said. "I was very much husky and strong then. I was really into bodybuilding, it was my passion. And I had quite a physique when I was 20 years old.
"We got a leave to go home, but you couldn't take a troop train and get to Amarillo and back in five days, so I went to Washington, D.C. — that was the first time I went to the National Gallery and the Smithsonian. Then I went over to York, Pennsylvania, which is still famous as the home of York Barbell Club — Bob Hoffman, publisher of 'Strength and Health' magazine, was big into bodybuilding, before Shwarzenneger was born, probably. So I got to work out in the YMCA with some of those guys who were national champs."
He was then stationed in California near Malibu. He said Armand and Vic Tenny had a gym there and allowed him to work out for free. Herman and Armand got to be good friends and worked out together. Armand eventually won the Mr. America contest.
"But I never got on steroids," he said. "I don't think they even had them back then."
After the war, Herman returned home and went to school at West Texas State University.
"I got interested in art in 1943, the first year we were in the (Pacific) islands," he said. "I was in the Solomon Islands continuous for 24 months with no R&R.
"We had no art in my little high school. Like one feller said, 'If we'd drawn a picture, we'd have got a whippin.'
"I don't know if that's true, but a lot of people don't appreciate art."
Herman's digressions are always relevant and insightful. It's almost a disappointment when he returns to his original point.
"Anyhow, I got to drawing little things and it seems that was the first thing that told me I might have a little talent," he said. "I had a little Bible with me that had illustrations in the back. And I remember there was a goat standing on a cliff or something, and I thought, 'Well hey, that's pretty good.' That's where a lot of kids get started.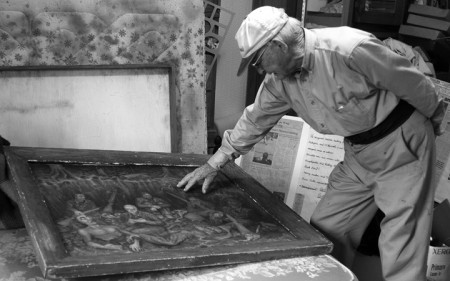 "We all like to think that drawing accurately is what makes a great artist. Well, yes and no. I think we'd all agree that exactitude is not truth.
"I might take a photograph of you exactly how you look, or I might paint your picture just like you are. But that human soul I just pictured there might be the lowest criminal on earth, you can't tell. We can express and we don't have to be exact."
Herman constantly jumps up from his seat in the kitchen to point out a piece of art, a quotation, or to rummage through a pile of clippings. He points to one of his paintings. It features soldiers in a foxhole. The image has strong similarities to German Expressionism.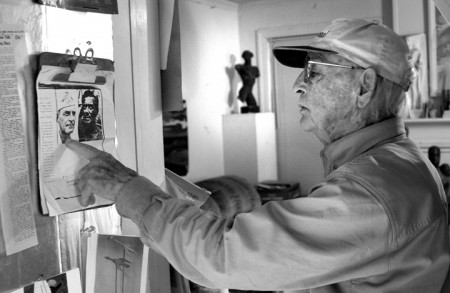 "Old Herman Hugg did himself well when he painted this," he said. "It has substance. It may not be the greatest on earth, but there is such a thing as substance — soul."
The question of what is soul is a recurring theme for Herman. He jabs his finger at the image of the foxhole.
"This has soul," he says, forcefully. "Rauschenberg's work has soul, I suppose. Again, I don't know what the hell I'm talking about, what soul means."
And it's time for another anecdote. It really is a pleasure to listen to the man talk. If you only have a minute, you can get a nugget from Herman and move on. But the key is to sit in a kitchen listening to philosophy and stories gleaned from 88 years of experience.
"At the age of six, we had moved to the Texas Panhandle and there was a little old country schoolhouse, some boys were riding home on their horses and they got to racing," he said. "One boy got thrown off, dragged and killed. I still remember his name was Reuben Fish. So my family goes to his funeral the next day in our horse-drawn wagon — in '27, not a whole lot of people had automobiles.
"And I still remember, 'To Canaan's fair and hectic land, I'm on my way to where the soul of man never dies.'"
It is a quintessential Herman story. As befits an artist, his stories are punctuated with details of plains and horses and rivers and people. He is in no hurry to finish a story and comfortably allows digressions to lead him away from the original idea.
But that is the point. As Herman says, everyone has an interesting story. Herman's story unfolds like an epic novel. And along the way, he has painted, taught, learned, played and grieved — and he recognizes the value of each moment.
Continue reading by clicking PAGE 2 below…
Andy Coughlan
ISSUE Editor