Abelman's ongoing project takes wing with Mother Nature
Since last April, Maurice Abelman's Avatar Archetypes project has transformed from sketches on paper to paper on the human form. After casting the six avatars, two Mother Natures, Monte Crisco, Vitamin D, Wal Mart and the Olympian, the next steps are working with the actors in developing both their character and costume.
"Mother Nature is the first costume we are making for the project," Abelman says. "We are working through the process and seeing what we can improve upon. Once that gets a little settled, it will be easier to put together the other costumes because we will have a better understanding on how to construct articles of clothing using wheat paste and prints."
Melody Ann Boyd, singer in local eclectic rock group Good Grief, has been cast as the creative Mother Nature, with her costume taking the shape of a tree with her arms extending like branches and the skirt of the dress resembling tree roots.
While there are two versions of Mother Nature, Abelman says they are thinking about how this archetype is conveyed today in the media as both this destructive force and as nurturing and life-giving.
"I'm young Mother Nature and in a way I am embodying all of the things in nature that deal with newness, hope, life and light," Boyd says. "We have used mostly reptilian scales, feathers, leaves and tree bark designs because it envelops the different elements in the pureness of Mother Nature."
When starting the construction of the costume, Boyd was unclear of her role in the process and a little intimidated to work under Adelman because of his years of experience in printmaking.
"I didn't even realize until I actually got into the studio with Maurice that he was wanting me to a part of the process too," Boyd says. "My original thoughts were that he is the artist and this is your canvas and he was like,' I have a cup of p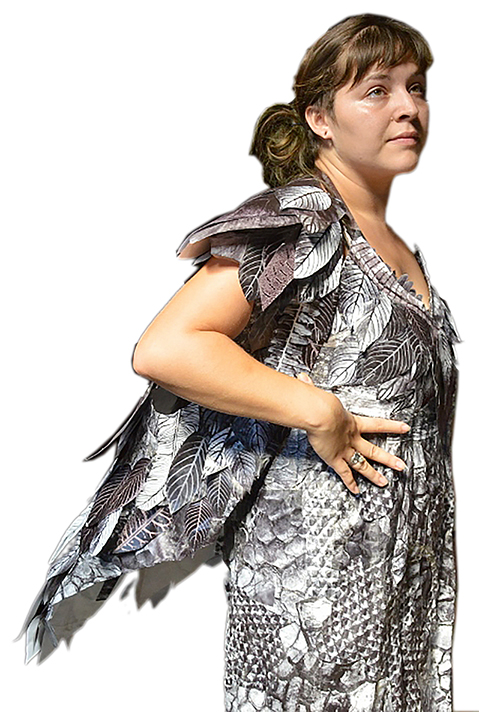 aste for you too!'"
Abelman says that it's been a learning process and a new experience for me too.
"Rather than do a project all by myself, I wanted to open it up and do a more interactive and performative art to have a closer connection with the audience," he says. "What better way to get the actor to understand the character than help create the character from the costume to the back story to the expressions."
The graphic designer and printmaker enjoys working with the different volunteers who drop in at the Art Studio and are interested in lending their hand to expedite the process of making the Avatar skins and discuss next steps in the project.
"I have benefitted more from other people's involvement," he says. "With my education and background — sure I could get have gotten the job done. But along the way, I have been working with people who are not professional artists per se but still have some type of knowledge that can benefit the project."
After the day's prints have been pasted, Abelman and Boyd take advantage of drying time to brainstorm how she will be performing as her avatar in future performances and appearances as well as other possible mediums in which to convey her backstory.
"In the beginning, there was a lot of momentum, Abelman says. "Now, the project has been spread out over the time period we have set up for ourselves— developing the project week by week and making a schedule so everyone can participate rather than falling on one person. We want to motivate more people to be a part of it and come down and check it out and make some artwork."
Abelman will hold casual, drop in sessions on Sundays for anyone interested in collaborating with the project. After Mother Nature, they will start developing the costume for another avatar, the warrior archetype Vitamin D.
Want to stay up to date with the project? Like Avatar Archetypes on Facebook.
ISSUE story and photos by Caitlin Duerler