The Artists Symposium, a new series of panel discussions, will begin April 5 at the Beaumont Art League. The symposiums will be held from 7-9 p.m., on the first Friday on every month, and are free.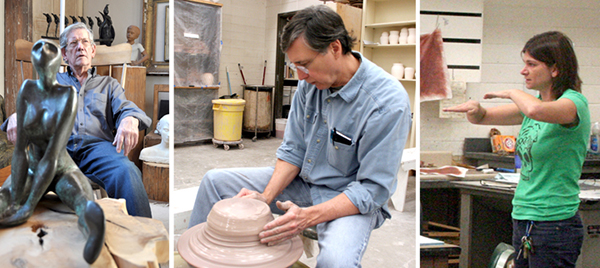 "The Artist Symposium is a wonderful opportunity for the community to engage in artistic dialogue with local artists who are either just beginning or who have been creating work for decades," Sarah Hamilton, BAL gallery director, said. "This new event strengthens the BAL's mission of providing art education to Southeast Texans and we look forward to the stimulating topics that this program will cultivate."
Artist Abigail McLaurin is the driving force behind the symposium.
"I think it is important," she said. "When I moved to Beaumont, I thought it needed a place where artists can get together and talk about work, and have an intellectual discussion about art.
"In college, we would have guest speakers and talk about a particular topic. It was really just to create a dialogue, not just between artists and student, but between artists and the community."
McLaurin said that the panel discussions will offer members of the community a chance to find out how artists work through ideas and get an understanding of process.
"When you walk into a gallery, you only see the final work," she said. "For the artist, it is all about the process and not the artifact. So this is an opportunity to see how the process changes for these artists. These are mature, professional artists who have been through a lot of change within their work."
Each symposium will have a theme, the first being "Within the Studio," and will feature ceramicist Linnis Blanton, printmaker Xenia Fedorchenko and sculptor David Cargill.
McLaurin, a tenant at The Art Studio, said that the program is a great chance to bring area artists together.
"I hope it will help the league get more members and have a community involvement in the arts," she said. "It is also a way of uniting artists. There seems to be a disconnect between artists and the different organizations in the area."
McLaurin said that community members will be intrigued by how each artist explores their medium, and how detailed the journey is through each work.
"It's always about the obsessive process," she said. "Chasing the monster in the dark — seeking perfection in the work and never being able to capture it."
The Beaumont Art League is located at 4175 Gulf in Beaumont.
For more information, call 409-833-4179, or visit the Artist Symposium Facebook page.
ISSUE Magazine – April 2013
Story by Andy Coughlan