SETAC website offers online marketplace
Bayous are known for creatures like alligators, crawfish and catfish.
But The Bayou Bauhaus isn't the usual swamp that Southeast Texans are accustomed to.
The Southeast Texas Arts Council is hosting the online art gallery that offers portraits, furniture, jewelry, sculptures, ceramics and clothing by local artists.
The Bauhaus was a school of design in Weimar, Germany in the 1930s that changed the landscape of design.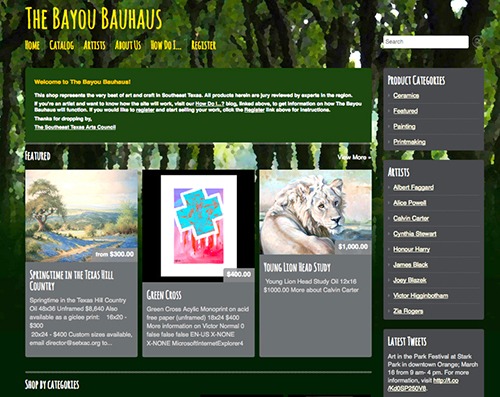 "The idea behind (The Bauhaus) was to have a place where new architecture could be encouraged, taught and practiced, but it ultimately housed a variety of art forms," Sue Bard, SETAC executive director, said. "I liked the idea of it being the Bauhaus house — house meaning a place where art happens.
"Ultimately, what we wanted wasn't just paintings and sculpture. We wanted furniture, people who design and create jewelry, people who design and create clothing.
"To me, it is all just creativity, all art, and we felt that there is a market for these one-of-a-kind things, instead of the mass-produced stuff that you get if you visit a department store."
Bard said that everybody wants to decorate their home and wants paintings on the wall.
"We wanted a place where people would shop for art and be loyal to the region," she said.
Bard said that she noticed a lack of galleries in the area.
"As far as I can tell, there are no retail galleries," she said. "If an artist wants an opportunity to show their work, they're going to get involved."
The Bayou Bauhaus provides artists with an opportunity to focus on creating new works.
"Many of them don't want to get around to the paperwork that's required, the administration of it, or even marketing," Bard said. "They want to make the art, and they want it to be seen."
Bard said that there is currently a 50 percent discount for membership, which normally runs at $40 for the year. Bayou Bauhaus takes a 25 percent commission on all sales through the gallery. All sales of work represented on the site must go through The Bauhaus.
"We handle things the way an art gallery would," she said.
Being an online gallery is convenient, Bard said.
The website has been open since October and is always adding new artists and features. The gallery currently features six artists and Bard said she is looking to build the gallery slowly.
Painter Albert Faggard is one of the featured artists on the site.
"I think it is a great thing," he said. "I do not know of any other website that is exclusive for artists in the Southeast Texas area."
Faggard said the original Bauhaus was open to all kinds of art forms.
"It didn't single out realism or abstraction, collage or theater — it just set the tone for the artist in general, and I think that is important," he said. "Collectively, as a group, (the website) is open to anyone that wants to participate and I think it is a great thing."
Bard said that many online galleries feature portraits of celebrities and other "accessible" images. However, The Bayou Bauhaus aims to feature a diverse collection of creative artists making original work in the area.
For information, visit www.thebayoubauhaus.com.
ISSUE Magazine
Story by Donley Minor