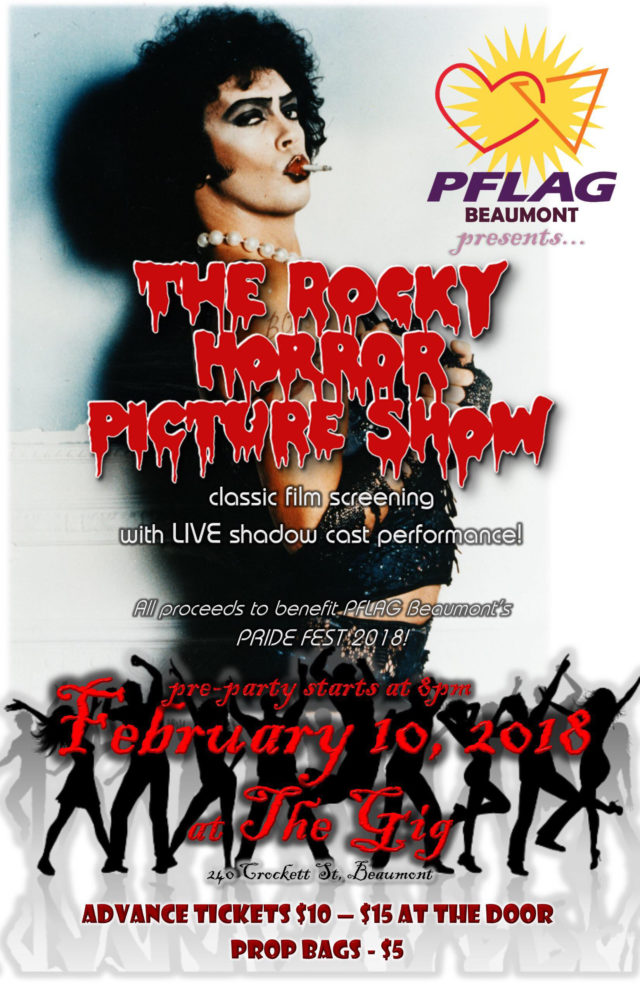 It's just a jump to the left — and a step to the right — into The Gig, located at 240 Crockett St. in downtown Beaumont, for a screening of the gender-bending, sex-positive, cult-classic, "The Rocky Horror Picture Show," complete with a fully costumed shadow cast.
Seasoned community theater director Donny Avery said this is a perfect fundraiser to support Pride Fest 2018 because there are so many fans in the area.
"This is a fantastic fundraiser because so many people absolutely adore the movie," Avery said. "They grew up with and connected to it on many levels because it is so different."
He said the film has had an impact on the LGBTQIA community in particular.
"It speaks to the LGBTQIA community because of its themes of camp, musical and the truly bizarre," Avery said. "We relate to it, have history with it and probably met a lot of our friends because of it — friends who probably became like family."
Avery said he is excited to direct the first shadow cast production in the area — having the unique opportunity to combine both performance and cinema.
"Audiences will watch the movie while seeing actors perform — that hasn't been done in this area before," he said. "Also, the cast is so diverse. Eddie, Dr. Frank-n-Furter, and Rocky are all being played by women, and we have a cast full of various ages — I love that we get to do that."
Producing a shadow cast screening of "Rocky Horror" has been a passion project for Olivia Busceme, Pride Fest entertainment chair.
"The film's overt sexual content combined with its extreme campiness make it a fun experience for anyone willing to not take themselves too seriously," she said. "This production will also be gender-swapping many of the roles, which should only lend to the non-heteronormative themes which are crucial to the plot of this queer cult classic."
This event is 18 years and older. Cash bar available for those 21 and older. Prop bags available onsite for $5
Reduced priced tickets may be purchased at brownpa pertickets.com. Search the title, "PFLAG Beaumont Presents 'The Rocky Horror Picture Show'."
All proceeds to fund PFLAG Beaumont's Pride Fest. PFLAG Beaumont is a local chapter of a national organization and a registered nonprofit organization.