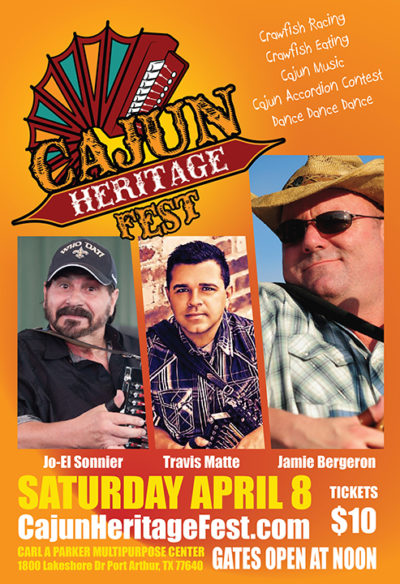 The Southeast Texas Arts Council will present the Cajun Heritage Fest 2017 (formerly Carnival Des Cajuns), April 8 at the Carl A. Parker Multipurpose Center, 1800 Lakeshore Dr. in downtown Port Arthur.
Doors open at noon and tickets are $10.
"It is going to be a rip-roarin' good time, just like it always has," Blake Bertrand, SETAC spokesman, said in a release. "Back by popular demand, Jamie Bergeron and the Kickin' Cajuns are returning to headline the show so you know it's gonna be great. Also hitting the stage during the day will be Travis Matte and the Kingpins and Grammy Award winning Jo-El Sonnier.
"There will be lots of beer, lots of crawfish, and lots of Cajun music, so if you like any one or two of the three this is the place to be on April 8."
Bertrand said the event will also include the ever popular Crawfish Racing.
"If you've ever dreamed of being a crustacean jockey, go see a doctor! — but then come on down to the Cajun Heritage Fest, we got a place for you here!"
This year will see the advent of the first Accordion Contest. Entry to the contest is free.
"You don't have to bet an accordion of gold against your soul if you want to compete in this playoff, so come on down and wring out the ol' squeezebox for the crowd and fight for the crown of Cajun Accordion King at the Cajun Heritage Fest," Bertrand said.
Sign up for the contest is at the website CajunHeritageFest.com.
The website also includes a list of performers and events, and more will be added as announced.
Vendor and sponsor information is available on the website.
The Cajun Heritage Fest is presented by the Southeast Texas Arts Council and Cajun Sounds Internet Radio.
­­­ For more, visit CajunHeritage Fest.com, or call 409-835-2787.