Calling all Artists & Graphic Designers! You could be this year's Featured Festival Artist and have your design appear on the official 2nd annual Beaumont Maypole Festival's promotional materials in 2016. The contest is open to ALL artists over age 18.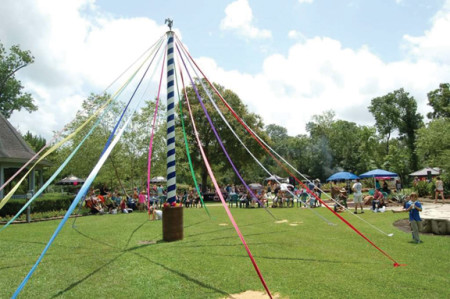 Contest Guidelines
Entries should emphasize the theme of the festival and must contain the following text:
2nd Annual Maypole Festival; 2016
and the location
Beaumont Botanical Gardens
Designs MUST contain a Maypole and cannot exceed six colors, including black. Designs may be created by hand or on computer. Artwork should be no larger than 8.5" by 11".
Entries are accepted inside the Bert & Jack Binks Horticultural Center at the Beaumont Botanical Gardens, Thursday through Sunday, 1 to 4 p.m.
No entries will be accepted after Jan. 15, 2016. All artwork must be accompanied by a signed contest entry form, available at the Horticultural Center. Entries submitted without proper entry form will be ineligible to win.
Winner will be announced at the pre-festival fundraiser "Hot Tropics Night" in the Warren Loose Conservatory Feb. 13, 2016.  Winner will receive a limited edition T-shirt, a poster featuring their design, free entry to the 2nd Annual Beaumont Maypole Festival and special recognition as the "Featured Artist" of 2016.
For more information, call 409-842-3135 or email: torchymaypolemoonandstars@yahoo.com