Sometimes a sandwich is just a sandwich… & sometimes it's a work of art
Cruise down Calder Avenue in Beaumont most weekday lunchtimes and one will see a white horse trailer adorned with a painting of Elvis.
Normally, there are between 10-15 people milling around. Some are seated and eating. Some are just waiting for their "Bánh Mon."
Chef Monica Cobb has built quite a reputation for her French-Asian inspired sandwiches, which she sells from the window of her Bánh Mon Renegade Food Truck.
Monica's sandwiches are her version of the Bánh Mi, which is Vietnamese for bread. She wanted to sell street food and attempted to sell hamburger and Italian sausage sliders, but that was not the success she hoped for.
"I went out and sat on the curb, then literally the Bánh Mi popped in my head, and I knew it was flavors that I loved — it was a little bit of a psychic intuition," Monica said.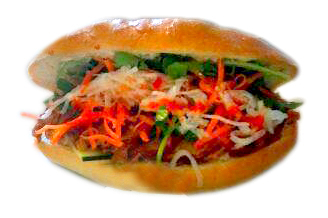 The "Bánh" is the bread, and the "Mon" is the filling — as well as being a play on her name.
Monica has been a chef for more than 15 years. She attended Lamar University to major in Marine Biology, but deep down she really wanted to be an artist — of any form.
While in school, she worked as a waitress at Cody's restaurant with her friend, Jennifer Nichols, a photography student.
"Whenever possible I would get in the kitchen and cook staff meals for all of the employees," Monica said. "I remember Jennifer said that I should be a chef — 'That's an artist.' From there on, I pursued a career in the culinary arts.
"For me, it's a lifestyle and the only way of life I know. It's a life of art, pretty things, delicious smells, fabulous textures, dangerous and intense situations, and hard work with an intensely satisfying payoff — a desire to do it all again the next day.
"I live to create and I live to serve my creations."
Monica left Beaumont and moved to Hollywood, Calif. shortly after college.
"I crashed on a friend's couch and started out working as a waitress at Louisa's Tratorria," she said. "I went to every little restaurant in the area looking for kitchen work, but no one was interested in hiring a greenhorn with absolutely no experience, just sheer drive and determination. I even looked into culinary schools, but they were all too expensive. I was not going to give up."
Monica decided, on a whim, to search for a chef to study under.
"One night, I told my roommate that I was going to go to a bar and look for a chef in chef pants and talk my way into a job," she said.
She ended up at the Red Rock Tavern on Sunset Boulevard, located right across from world-famous Spago restaurant, where she spotted a female chef in red and white checked chef pants at the bar ordering drinks.
"If I had calculated correctly, I'd be catching her after a long night on the line, maybe half drunk and in the mood to talk shop," Monica said.
Monica's calculations were correct.
"First thing I said to her was, "Are those chef pants?" She replied, 'No, I wear them because they make my ass look so good."
The woman said she was the chef de cuisine at Spago, run by renowned chef Wolfgang Puck.
"I was so green that I didn't even know what Spago was or who Wolfgang Puck was, and I asked her if the restaurant was good," Monica said.
By the end of the night, Monica had made a solid connection with Chef Gina DeCew, so solid that DeCew told her to come in the following Thursday night and hang out on the line, and see if it was what she wanted to do with her career.
When Monica told her co-workers, she said they "freaked out." Spago is Puck's flagship restaurant, which introduced the first open-kitchen concept in America and created California cuisine.
"I got nervous, but somehow I knew that this was just the beginning of a life full of surprises and hard work," she said.
Monica said she went into Spago and fell in love.
"I came in through the back door of the prep kitchen and immediately I was immersed in a sea of white chef coats, sharp knives, flames, boiling pots of stock, camaraderie, and lots and lots of talent," she said.
"I waited at the open line kitchen in the dining room for Gina to come down stairs. I watched the sous chef, Lori, prepping sauces for that night's dinner. Lori's arms were scarred with burns and cuts.
"I watched in awe as she chopped gallons of vegetables, the whole time looking at me and having a conversation about the culinary arts. I thought then, 'I'll never be able to cut like that.'"
DeCew finally came downstairs, looked at Monica and said, "Oh, it's you and you remembered. Go upstairs and put a chef coat on and put your things in a locker."
Monica spent the night working the line, as well as the pantry station.
"I knew that this is what I wanted to do for the rest of my life," she said.
Monica asked every question she could to figure out how she could get a job at Spago. One of the line cooks told her to attend the culinary school that she and the other line cooks had gone to, and then call DeCew for a job."
After the dinner shift DeCew asked Monica to meet for a drink after work at the Red Rock.
"In no time, Chef Gina changed my life forever," she said.
DeCew asked if Monica had a car, a job, and where she wanted to live. DeCew offered Monica a job as a line cook at Spago, the opportunity to rent her guest house for $300 a month, and told her to sleep on it.
"I accepted right away, and had to leave right away just so I could breathe — and then scream at the top of my lungs all the way to my friend's place," Monica said.
She worked at Spago for a year before being awarded a scholarship to Westlake Culinary, the school that the Spago line cooks attend. During the day she studied under Cecelia DeCastro, who opened all of the restaurants with Wolfgang Puck during the 1980s, and worked at Spago at night.
Cecelia basically trained chefs for the Spago lifestyle, Monica said.
Spago, Hollywood closed in the 2001, once the twenty year lease was up.
Monica moved on to be the private chef for Matt Groening, the creator of the Simpsons, and spent time studying the art of French pastry at Les Deux Cafe in Hollywood.
Then, for three years in a row, she followed a band of neo-gypsy techno artists and spent time in the Black Rock Desert of Nevada at Burning Man, where she was a macrobiotic chef for a colony of free-form artists.
"Every year at the end of the summer, myself and 35,000 to 40,000 other free-form artists would build an amazing city on a lifeless desert floor and live it for seven days, and then burn most if it and take the rest down — leave no trace," she said.
After Sept. 11, 2001, Monica left the states and moved to Cairo, Egypt, where she lived on a parked 1901 River steamboat, the Le Pache, on the Nile River in Zamalek, a district of Cairo.
She was hired to open an Asian fusion, Thai-concept restaurant for an Egyptian tycoon.
"It was the hardest thing I ever did," she said. "I was alone, a female chef from America and I didn't speak the language."
The restaurant, L'Astique, is still open today and is successful.
Monica said she ventured into Italy, Belgium and London before running out of money.
She returned to the West Coast and began working as the private chef to the creators of "American Idol," spending time between Beverly Hills and Hawaii.
"I eventually came back to my roots here in Southeast Texas," she said.
She grew up in Kirbyville and later moved to Vidor where she completed grade school. While attending Lamar, her boyfriend at the time, John Cobb, was beginning his portrait-painting career. When she returned, she married him.
"My husband is the most talented person I know," Monica said. "He is an amazing portrait artist, he is in a rock 'n' roll band, jams on the guitar, sings, plays the piano and the banjo — he blows my mind with his talent. He works out of a brightly-lit studio behind my kitchen at home.
"We are lucky because we get to do what we love and get paid for it, too."
Monica and John have two children.
"We are older now and a lot more grounded, but the drive and imagination to create is a constant," she said.
Monica has not forgotten the help she got when she was starting out, and she is keen to pass on her knowledge. Hannah Persia, Monica's protégé, has cooked with her for more than 10 years. Hannah is a graduate from both the Culinary Institute of America and Ole Miss, with a degree in restaurant management, and works alongside Monica at Bánh Mon.
"Hannah is my soul cooking partner," Monica said. "I'm excited for our future. For now, we are making Bánh Mon magic in a converted horse trailer."
Part of Monica's cooking philosophy is to use locally grown product. She is part of the Slow Food Movement of Southeast Texas, which promotes a food and farming policy that is good for the public, the planet, farmers and workers.
"Cooking and creating is an evolution of life's experiences," Monica said. "I express myself through my food. I travel to Southeast Asia and many other foreign lands in my mind, and express my imagination on my plates and in my Bánh Mon sandwiches.
"I am now in my late thirties, and I'm just as excited about my future as I was at the beginning," she said.
The Bánh Mon trailer is located at 4585 Calder Ave. in Beaumont. Hours are Tuesday through Friday, 11 a.m. to 2 p.m.
For menu, visit www.banhmon.com., or visit the Facebook page by searching Bánh-Mon-Renegade-Street-Food.
Issue Magazine – June 2013
Story by Lainie Harris