Finder's Fayre antiques store shines spotlight on contemporary local artists
Kara Timberlake
ISSUE Contributor
Amidst the antique décor of Finder's Fayre Quality Antiques, a collection of "Serial Catters" peeks out eerily as they hang next to photos of their human doppelgangers, including Ted Bundy and John Wayne Gacy — an unusual combination of new and old.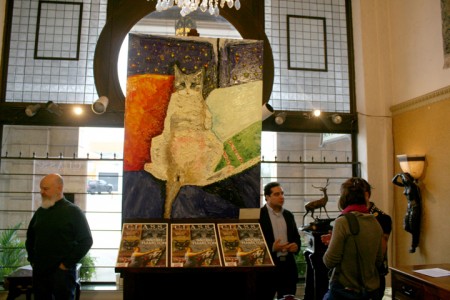 Artist Sarah Hamilton created the feline paintings as part of the Contemporary Local Artist Show Series, the brainchild of Dexter Augier.
For more than 45 years, Augier's Finder's Fayre, Beaumont's oldest antique shop with furniture, paintings, and decorative arts from the 18th and 19th centuries, has been located in the historic Mildred Building.
As part of the "First Thursday At The Mildred" events in September, December, February, and April, Augier invites local artists to show their work. The artists are on hand to meet visitors and discuss their work in conjunction with the First Thursday events which feature dinner, drinks, live music and shopping with sidewalk vendors offering clothing, jewelry, hats, art, photography, recycled and handmade items at the Mildred Building on Calder Avenue.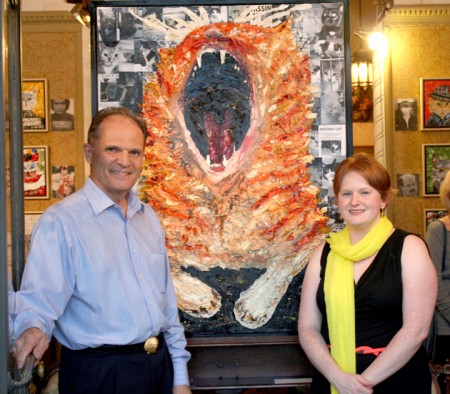 With the mission to promote talented contemporary local artists, Augier provides the venue at no charge to the artists with all proceeds from their sales going entirely to the artists.
Augier was inspired to create C.L.A.S.S. after visiting a grassroots event held by local artist, Nathan McCray.
"Nathan invited local artists to put their stuff in his backyard and would have food trucks, live music, movies, and different venues for local artists and craftspeople," Augier said. "It was just a fun kind of thing. After I got to thinking about it the next couple of weeks, I thought, 'You know it's a shame that these kids don't have a place to exhibit that is out of their ordinary circle.' That's how I came up with the idea of C.L.A.S.S."
Although Augier didn't know what to name his new creation, he knew what he wanted to do and developed a mission statement. As an outsider, he said it seemed as though young artists were really only moving within their own circles.
"While there is nothing wrong with that, and they need that kind of encouragement from their peers, I wanted to see if I couldn't make it possible for them to expand and get a different exposure of their work," he said.
Augier describes the series as a fun and unintimidating way for these artists to get exposure to a different strata of people throughout the Golden Triangle.
"They're not under any kind of pressure since it's not costing them anything," he said. "If they sell something, they get all of the money. All they have to do is show up. It's an informal venue to build their confidence."
Augier said his criteria for selecting artists doesn't have to do with whether or not he likes the artist's work, but if he thinks he can help the person out.
"Generally, I look at the artist's work and make the decision whether I think they are a serious artist or not," he said. "A lot of these artists are finding themselves. My hope is that by exposing them to a wider venue it gives them a broader foundation to climb higher."
Recently, Augier has featured three artists as part of C.L.A.S.S.: Ian Grice in December, Summer Lydick in February, and Sarah Hamilton in April.
"I saw Ian's work at the grassroots event Nathan McCray had," he said. "I would call his art expressive/surrealistic representationalism, because all of his paintings are an expression of what's going on inside of him. His work is not pure abstract. You can identify what you're looking at. With Summer, after seeing all her work together for the first time in her home, I really liked it. Her work is intuitive."
Augier said the next artist to exhibit will be Carlo Busceme IV in September.
"His work is abstract," he said. "He has quite a body of work that he created as part of his master's thesis at Lamar. There were some works on paper, some ceramics, some drawings. He's quite a multi-media, talented artist. His art is sophisticated as opposed to naïve."
Having met Hamilton through her previous job as curator of the Art Museum of Southeast Texas, Augier ran across her cat paintings on Facebook and knew immediately that he liked them.
"There is a lot of emotion in her artwork," he said. "I think the textural aspect adds to that. Even if you don't like cats, you can appreciate the expressive talent she has. They look like cats, but each one has their own personality."
Hamilton is currently the gallery director for the Beaumont Art League. She said she has always loved animals since she was little and therefore wanted cats to be the first subjects with which to start her art career.
"My cats are what I love; they are like my kids," she said. "I've only been painting for about a year, and a while back I was worried about what I was going to paint, and this was the most natural thing. I thought it's the old adage, 'Paint what you love.'"
Hamilton said the opportunity to exhibit her work was a great way to gain exposure and experience as well as let people know what she is doing.
"A lot of artists around here say there's not a lot of places to show work, and I think this is a great venue to show my artwork," she said. "This was my first real show and it allowed me to sell work, to become a professional artist and to become more serious about my artwork."
Hamilton said she uses the cats as a medium to explore deeper material.
"With the serial killer cats, it was strange to see how the cats really resembled serial killers," she said. "They started to take on the characteristics of that person."
With an attraction to the darker side of art, Hamilton said she doesn't want to paint solely for the sake of her art being pretty.
"To me, that is just boring," she said. "There has to be some undercurrent of deeper meaning, something beyond what you see just on the surface. Some of my other interests are finding their way in there, like the serial killer thing. I don't know if that's what I want to always do, but it's where I'm starting out."
Finder's Fayre combines old and new, proving that both are equally valuable.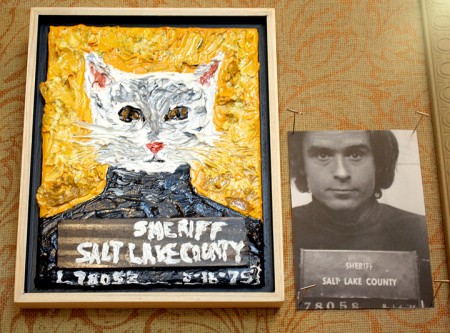 Hamilton's cats are on display through May 8.
For more information, call 409-833-7000, or visit the Finder's Fayre Facebook page.