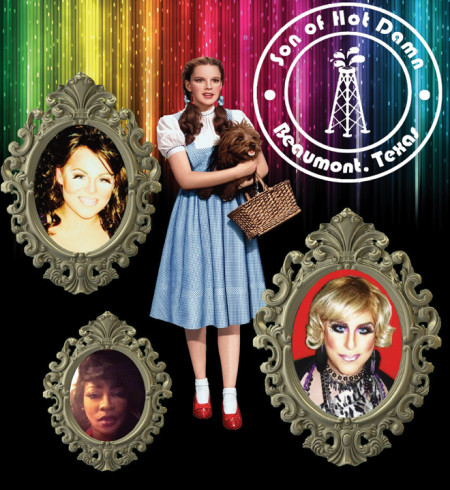 Beaumont Pride and Crockett Street Entertainment District will host a free dance party, March 6, from 8 p.m. to 10 p.m. at the Red Room.
Entertainment features Son of Hot Damn and a Drag Show featuring Bella Cavalli, Olivia Gardner and Treasure Gardner.
The event kicks off planning for the Pride Festival, the date for which will be announced at the dance party.
"While we, as an organization, strive to make Beaumont Pride as representative of our region's unique culture and history, we also want to honor the traditions of Pride festivals that have come before us," Shawn Hare, Pride Committee chair, said. "Hosting and participating in events throughout the course of 'Pride season' falls in line with those traditions."
Son of Hot Damn, a DJ troupe, plays retro hits and various genres.
"If the collective doesn't mix the music themselves, they are paying attention to what the dance floor needs," Olivia Busceme, Pride entertainment chair, said."And that is why they are good DJs.
"Everyone is welcome. It is going to be dancing whether you like it or not — you wont be able to help it."
The Red Room, located upstairs at Crockett Street, is an intimate venue.
"It has good feng shui," Busceme said, "but still holds a lot of people."
The event is the first in a series of LGBT-related events leading to this summer's festival, events which while focusing on LGBT causes, are intended to accommodate everyone.
"It is a safe space — you don't have to be scared to show up because the event is open to everyone," Busceme said.
Crockett Street is an inclusive organization, Andrew Fison, venue day manager, said.
"This is a fabulous opportunity," he said. "It is what downtown Beaumont needs. All of us who have been involved for any length of time in the dance scene have been involved in gay culture for years."
Crockett street has previously hosted drag shows at Red Room, The Gig and Tequila Rok.
"So we aren't doing anything we haven't done before, Fison said. "This is just another opportunity to show that Beaumont can make a change," he said.
"At its inception, the Crockett Street complex was intended as a community space for Beaumont," Hare said.
He said the committee has been working diligently planning Pride 2015 and is recruiting volunteers.
"If you want to volunteer for Pride, this is the place to do it early," Busceme said. "Get your foot in the door,"
Besides dancing and volunteering, veteran performance artists will entertain with individual drag numbers and a group performance.
"I have worked with Olivia Gardner many times and she is wonderful," Busceme said. "She transcends all genres and groups of people."
Olivia Gardner is unique to the drag scene by playing rock shows and performing to songs by local bands such as Jenny and the Reincarnation, Busceme said.
"She finds inspiration in a lot of different places that is not so common for drag queens," Busceme said.
Treasure Gardner was mentored by 20-year veteran performer Olivia. Calvalli hasn't been on the scene as long, but has been actively involved in community theater.
"There are so many things to look forward to in 2015 for Pride," Busceme said. "And the committee is so excited to share those things with people.
"We are going to dance our faces off."
For more information, visit the Beaumont Pride Facebook page, or email beaumontpride@gmail.com.