The love-hate relationship and inevitable competition between brothers takes center stage during Beaumont Community Players' production of "True West" by Sam Shepard, running for three weekends beginning Jan. 30.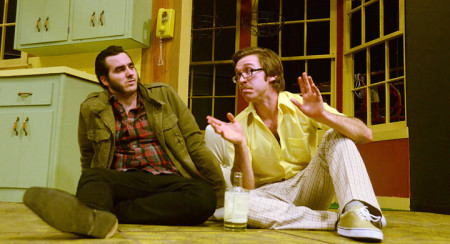 "True West" examines the relationship between Austin, a screenwriter and family man played by Blake Kyler, and his older brother Lee, a drifter and petty thief played by Michael Mason.
During a tension-filled and at times hilarious few days together, the brothers find themselves admitting that each has something the other wants.
Rounding out the cast are Gladys Thomas as their mother and Jody Reho as a Hollywood producer.
The dark comedy set in a suburban, southern California home debuted in 1980. Numerous acclaimed revivals since then show that the story continues to resonate with audiences.
BCP's production is directed by Gina Hinson.
"The performances by Blake and Michael just during the rehearsal process have been riveting," Hinson said. "I can't wait to get this show in front of an audience."
"True West" is rated PG-13 for violence and adult language.
Performances are scheduled for 7:30 p.m. Jan. 30-31, Feb. 6-7 and Feb. 12-14 and 2 p.m. Feb. 7.
All performances will be in the Jerry L. McMillan Studio Theatre at Beaumont Community Players' Betty Greenberg Center for the Performing Arts, 4155 Laurel Ave. in Beaumont.
Tickets are $18 for adults and $16 for seniors. Student rush tickets, sold 30 minutes before showtime when seats are available, are $8.
For tickets, call 409-833-4664 or go online to
beaumontcommunityplayers.com.