Reinauer, TASIMJAE 2013 winner, teams with sculptor Baskin for May show
Jacqueline Hays
ISSUE Contributor

"Teeny-tiny" paintings and enormous sculptures.
At first, these two concepts may seem to be at odds. However, painter Lisa Reinauer and sculptor Ken Baskin's work shares common underlying themes.
"We are hanging it," Reinauer said. "We want to think about how we place them in context in that space. I think it will be a really interesting juxtaposition of work."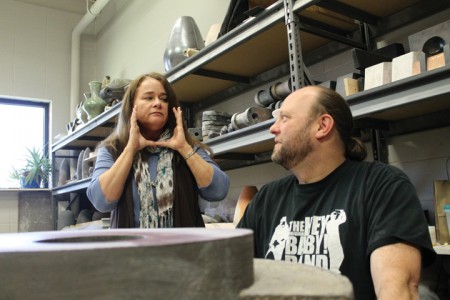 The TASIMJAE 2013 winner will showcase her work, along with that of her McNeese State University colleague, at The Art Studio, Inc., May 3-30. The show opens with a reception, 7 p.m. to 10 p.m., May 3.
Reinauer, a painter and professor of art, is sharing her show, the prize for winning last year's Art Studio membership show, with her colleague, an associate professor of art.
"I think it will be really interesting to see Ken's and my work together because content-wise, there is probably more similarity than meets the eye — at first glance or casual glance," Reinauer said.
The painter had just begun to create diminutive pieces when she won first place at last year's Art Studio membership show — the first prize being this show. Reinauer is still pursuing the work, but has recently begun working in encaustic.
"There is nothing like a show to motivate you to get in the studio and work," she said. "There is nothing like a deadline."
A friend of TASI for more than 20 years, Reinauer said she is showing a developing body of work.
"I am melding together several different directions in this series," she said. "It is evolving."
This series reflects a continued interest in ritual, myth and meditation, and their connections to image-making.
"The scale suits the intimacy of the content," Reinauer said. "With these diptychs and triptychs, I combine various subjects explored in earlier series — including trompe l'oeil, still-life and mandalas."
The paintings in this show are studies, Reinauer said.
"These paintings are meditations — and the pairings create 'conversations' between often disparate imagery," she said. "While my primary medium of acrylic is dominant, this series also includes a large number of encaustic and mixed-media works."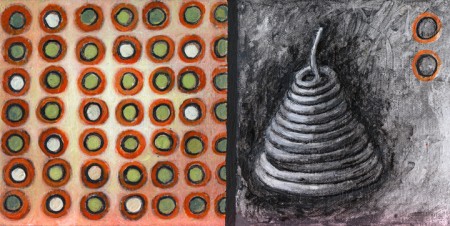 Encaustic involves painting with wax. Reainauer recently received a grant to set up an encaustic studio.
"It is the oldest perfected painting medium," she said. "Our first examples were in the first century in Egypt."
Reianauer explained that Greek artists who were living there started doing encaustic paintings on wood instead of doing facemasks, similar to King Tut's.
"They would insert the portraits of the dead into the mummy," she said.
Reainauer has always loved the luminous quality of encaustics, she said.
"But now there is this whole encaustic revival," she said. "I have never been able to play with it before, but now I have this stuff to set up an encaustic studio."
While Reinauer paints and has been working on small pieces, Baskin creates large, ceramic sculptures.
"There are some similarities in the underlying themes of our work in a very broad way that may not be visible to the casual observer," Reinauer said. "I know Kenneth talks a lot about how his sculptures are about form and texture and so on, but they are also about relationships and juxtapositions that create a relationship in a conversation. That is what I am doing with my work with the diptychs and the triptychs."
Reainauer said the separate pieces converse together to create something else.
"I think that in the way he puts together these modules, then creates a conversation — he very carefully arranges them in what may seem like a casual situation, but actually creates a more in-depth conversation," she said.
Baskin said he worked as a maintenance technician in a high-speed filling corporation for 20 years before pursuing his advanced degrees and becoming a professor. He uses industry as a starting point for all of his sculptures.
"I talk about the metaphors inside of them," he said. "I find the directness of machines beautiful. I take all of those together and that is a start for all of my work."
Baskin said he formerly used his work as a maintenance technician as a creative outlet. He used to make parts, and fix and solve machines. He had to make the parts "work."
"I used all of the same tools that I use now, then," he said.
Baskin uses air-driven extrusion machines, various saws, rulers, calipers, custom-made templates, wooden cradles, PVC pipe, miter boxes, levels, 45-degree triangles, protractors, compasses and many other tools in his work, which is primarily clay and sometimes steel.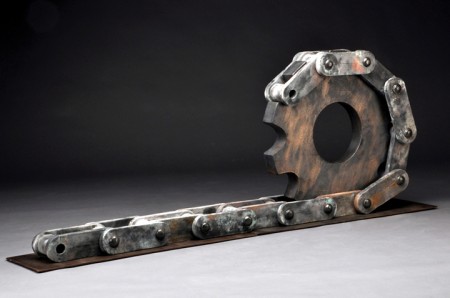 "The way I work with my ceramics is the same way I worked in the industry in a lot of ways," he said. "So that is the testing point for the metaphors when I work."
The investigative properties of the 20th-century artifact series are focused on the mechanical objects or artifacts derived from the advent of the industrial revolution, Baskin said.
"Through our capacity for invention, the anatomy of the machine — laying bare its individual, yet integrated mechanical components — became the means of mass production and an accelerant in the performance of human tasks," he said.
"This interdependence of humans and machines altered cultural conceptions, and the two became intimately conjoined."
Baskin shapes his pieces in all sizes. He said that something relatively small has every bit as much power as something 20 times its size.
"It is not the scale of the piece," he said. "It is what is happening with the piece."
Big doesn't necessarily mean good, it just means big, Baskin said.
"But it goes by the same qualities," he said. "Just because it is small, doesn't mean it is less powerful, it just means it is small. If it is a really good piece, it has every bit as much power as anything that is huge."
His current body of work explores the integration of actual and abstracted machine parts into homologous interrelationships.
"Metaphorically, my sculptures reflect aspects of these interrelations through balance and instability, domination and submission, tension and ease, opposition and compromise," he said. "It is through this dynamic of push and pull, give and take, that the spontaneity and structuring of these interactions takes place."
This Reinauer's third show at TASI, but it will be Baskin's first introduction to the Beaumont art community.
"I have been (in Southwest Louisiana) for almost nine years, but they don't let me leave the art department often, so I don't get out and explore my surroundings," he said. "It is great to have an outlet where people from the community can come and create art, look at art, and just enjoy it — because if you don't have those outlets, what do people do?"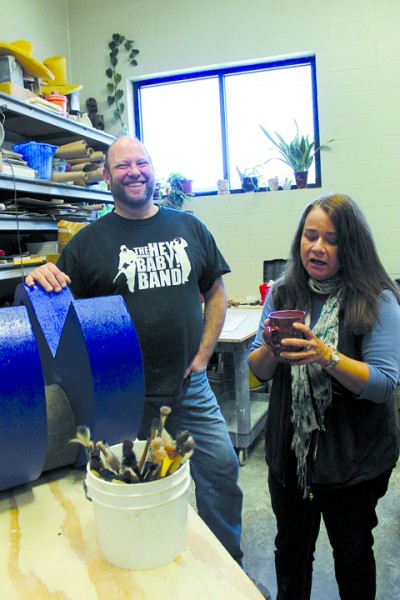 Reinauer said the pair function at the university level, but TASI provides a public venue for these things — it is not relegated to a university or a school.
"Whenever anyone asks me what an active art community looks like in an artist co-op, I say, 'Here is the number. Go see Greg Busceme and see what is happening at The Studio," she said. "I think it is phenomenal."
She said many in the Southwest Louisiana area have talked about a co-op, but they have yet to do it.
"I think it is fantastic to have an active venue with a lot of artists involved and I support that entirely," she said.
Reinauer said many of her first-year students have never visited an art museum or attended an art show.
"Every semester I take my students to Houston on a museum trip, and I'm amazed how many have never been to a museum in person — some of them have never left the area," she said. "Every year I get at least one person who will ask me the question, 'Is that the real thing — is that a real van Gogh?'"
Reinauer laughed and said, "I just tell them, 'Whatever you do, don't touch it.'"
Artwork is not just about making people things, Reinauer said. There has been artwork around longer than there has been the word art.
"Art is a direct expression of what we do as human beings," she said. "I think that we bring it into our lives daily."
Reinauer said she loves it when non-majors go to the school's art sale and buy a mug because they heard Baskin's lecture about how it is a hand-made object and a vessel.
Baskin said the beauty of hand-made objects is that they make one think about the artist when one uses them.
All of his dinnerware at home is handmade. He references various pieces made by friends.
"Even though I haven't talked to Doug in quite a few years, or Trish, every time I pick up that cereal bowl and have breakfast, I think about (them)," he said. "There are old friends that I have pieces for that I eat with."
Baskin said one of the things he loves about ceramics is keeping alive a tradition that has been around since the dawn of humanity.
"We make art — we have made objects," he said. "I find it is necessary to remember where we have come from."
Art is also the recorder of history, Baskin said.
"What do we study about ancient civilization? — we study their art," he said.
Baskin said our ancestors communicated through art and used it as rewards.
"Vessels were the prizes many years ago, even with the dawn of the Olympics," he said. "Art can record what is happening in current events, what's going on in a society. It does all of that — but more importantly, it is a way of thinking.
"To be an artist, you have to use and access that part of your brain that is creative. You are thinking in different ways — you are learning to think in different ways."
Baskin said the many years he spent in industry were highly creative and required artistic thinking.
"Learning that thinking, exercising that part of your brain, is very important and extremely marketable," he said.
"Creative thinking is needed everywhere."
"Lisa Reinauer/Ken Baskin: Recent Work" work will be on display through May 30 at The Art Studio Inc., located at 720 Franklin in downtown Beaumont.