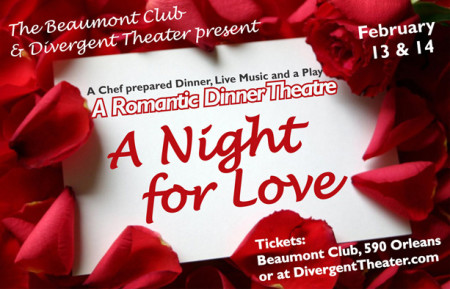 Divergent Theater will present a Valentine's show, Feb. 13 and 14, hosted by the Beaumont Club. Patrons will dine on a specially prepared meal by Chef Rodney while listening to live music.
This will be followed by 'Love/Stories,' a series of short plays by Itamar Moses, directed by local theater veterans Adonia Placette, DeeDee Howell, Andy Coughlan and Ramona Young.
Dinner begins at 7 p.m. A premium package, including romantic extras and stage side seating, is available for $90 a person. Standard tickets are $75 each.
Tickets are available online at www.divergent theater.com, or at the Beaumont Club, located at 590 Orleans, Monday-Friday, 10 a.m. to 3 p.m.
Young, Divergent Theater's artistic director, says that the event promises to be a romantic evening for couples.
"'Love/Stories' plays are smart and funny with a twist on the normal romantic fare," she says. "Couples will be pampered from start to finish and Chef Rodney has promised a great meal before the show."
Each of the plays has a different theme on what it takes to have a relationship.
"Having a relationship is not always easy and these pieces reflect that — but always with a humorous touch," Young says. "And we have assembled an amazing group of directors and actors. It is so important that Beaumont's theater scene, which is strong, continues to offer a diverse selection of work, not only for audiences but also for actors and directors. This show is an exciting chance for people to see fresh work with local talent.
"But most of all, romance is the order of the day, and what better way to spend an evening with a loved one than with dinner and a show."
For information, visit www.divergenttheater.com, or visit their Facebook page.