ISSUE Magazine: November 2012 | Story by Elena Ivanova
---
"FROM THE BEGINNING OF the Republic it has been the duty of every free-born voter to look down upon us, and the duty of every free-born humorist to make jokes at us."
— Nicholas Longworth, Speaker of the House, 1920
---

EVERY FOUR YEARS WE are caught in a frenzy of elections. Even the most apathetic among us cannot escape hearing something about the candidates running for office, due to the massive media attack. Internet has added a new dimension to our engagement in the political process by providing an unprecedented opportunity to share one's personal opinions, whether informed or otherwise, with the whole world.
But how did the voice of "the common man" become heard before the Internet? How did people get a behind-the scenes look into the workings of political campaigning before TV or radio? The exhibit, "Running for Office," gives us a glimpse of the past through the witty and insightful cartoons of Clifford Berryman, the leading political cartoonist of the Washington Evening Star, who drew every presidential administration from Grover Cleveland to Harry Truman.
The story of how this exhibit came to be is as exciting as the body of work it showcases. In the early 1990s, about 2,400 of Berryman's original penand- ink drawings were discovered in the basement of the house of his late daughter, Florence Berryman Seville. This was a lucky find since Berryman's drawings are dispersed in different collections and the whereabouts of many more of them are unknown. Thanks to The Charles Engelhard Foundation, this valuable collection found its new home at the Center of Legislative Archives of the National Archives in Washington, D.C.
A selection of drawings chosen by archivists Jessie Kratz and Martha Grove was organized into a traveling exhibition, which has been on the road since 2008. On Oct. 19, "Running for Office" opened at the John E. Conner Museum on the campus of Texas A&M University-Kingsville. Here is an interview with the museum's interim director Jonathan Plant, conducted in advance of this exciting event.
Elena Ivanova: Before we talk about "Running for Office," could you tell me about your museum?
Jonathan Plant: The collection was started in 1925 by Professor John E. Conner and in 1929 the museum was established. Today, we are a general museum, with collections in the areas of natural and social history, decorative and fine arts, and material culture. Being a university museum, our audience is mainly students, but we also serve the local community and public schools. We are surrounded by many rural communities, whose residents don't have access to many cultural institutions; our museum services these audiences as well.
E.I.: What are the highlights of your collection?
J.P.: One of the highlights of our collection is the Graves Peeler "Hall of Horns," which features over 200 animal mounts of North American native and exotic game species.
E.I.: How did you decide to show "Running for Office" at your museum?
J.P.: We bring in four to six touring exhibitions a year, including national or state touring exhibits. In regards to "Running for Office," I stumbled into this exhibition by accident about two years ago. We are required by federal statute to recognize National Constitution Day (Sept. 17) and it's always a challenge to find an appropriate show. I was very happy to find this one and succeeded in reserving it.
E.I.: What would you like visitors to take away from this show?
J.P.: Even though these cartoons were made before 1948, the themes they portray resonate today. The exhibition is organized in several sections, which correspond to different stages in the political campaign; from the time the candidate declares his interest in pursuing an elected office, to planning a political strategy, to engaging voters, and finally to the aftermath when the election results are announced. Today, candidates go through the same process and often act in a similar way. I think that our public, caught in the election spirit, will find it refreshing to see how politicians of the past grappled with the same issues. I also expect that this exhibit will help students of political and social sciences recognize the
importance of political satire as a historical document.
E.I.: I enjoyed looking at Berryman's drawings in the catalog. What strikes me most is that his cartoons, while hilariously funny and insightful, are always good-natured and characters never look grotesque. What a difference from today's candidates' messages disseminated by public media in which the opponent is typically demonized.
J.P.: Yes, this is very true of Berryman' cartoons. Berryman was never derogative. His characters are cartoonish, but their features are remarkably accurate — not much is exaggerated. These drawings remind us of the lost era in political lampooning when there was no hatred or bias in cartooning.
E.I.: Do you have a favorite cartoon in the exhibition?
J.P.: There are several. One is titled "The Fishin' Season," from June 7, 1919. It shows the Democratic Donkey and the Republican Elephant sitting back to back on a tree log and fishing in the same pool for campaign issues. This is so typical of today's politics as well. Candidates go beating the bushes to find issues that would grab the public attention and win them the election. Ironically, only three weeks after this cartoon was published, World War I officially ended with the signing of the Treaty of Versailles and a big political issue — who will dominate the postwar world — came up. Another one is "Post-Season Parade," from March 5, 1915. We see a stream of lame ducks — congressional members who did not get re-elected — departing Capitol Hill and heading towards the White House in hope to secure political appointments from President Woodrow Wilson. Again, political ambitions today are still the same.
E.I.: The Democratic Donkey and the Republican Elephant characters were not invented by Berryman, were they?
J.P.: No, they first appeared in the drawings of Thomas Nast, the same artist who is responsible for the popular image of Santa Claus as a jolly pot-bellied fellow. However, Nast showed the Democratic Donkey and Republican Elephant as animals while Berryman anthropomorphized them. In his cartoons, they always are wearing clothes and act as people.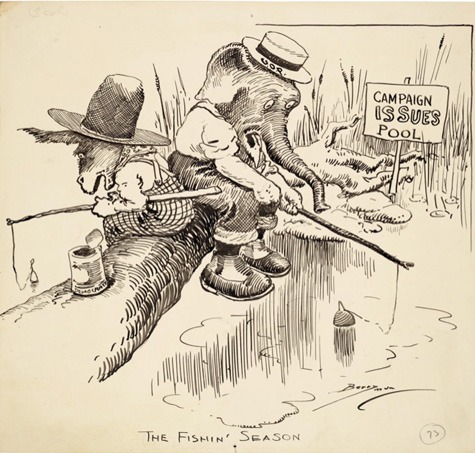 E.I.: But Berryman has the honor of creating a very important animal character which became an American cultural icon?
J.P.: Yes, the character of Teddy Bear, named so after Teddy Roosevelt. According to the story, Theodore Roosevelt refused to shoot an old bear while hunting in Mississippi. Berryman portrayed this episode in his cartoon "Drawing the Line in Mississippi," from Nov. 16, 1902. Under his pen, the old bear was transformed into an adorable, wide-eyed bear cub. Teddy Bear became a reappearing character in Berryman's cartoons during the Roosevelt era and later was appropriated by the artist as his alter ego — we can see a little bear in the background of many of his drawings. It reflects the artist's sense of wonderment.
E.I.: So the popular children's toy owes its existence to Berryman?
J.P.: This kind of toy existed before, but it was not called Teddy Bear till Berryman's cartoons. Its popularity skyrocketed after Morris Michtom, the founder of Ideal Toy Company, started marketing toy bears
that looked like Berryman's cartoons.
E.I.: In the end, what is the enduring legacy of Berryman's cartoons?
J.P.: He covered hard times in the country's history — World War I, Depression, World War II, and the beginning of the Cold War. He was at the center of the political scene working for Washington Evening Star. But despite all this hard struggle, his cartoons were constant, amiable and thought-provoking. His works are held in high esteem by the United States Senate. It is not an accident that this collection is now preserved at the National Archives, together with such documents as the Declaration of Independence, the Constitution, the Bill of Rights and the official correspondence of the government of the United States.
E.I.: Thank you for your interview. I hope that this
exhibition will travel to southeast Texas so we can
fully appreciate the humor and the draftsmanship of
Clifford Berryman.
"Running for Office: Candidates, Campaigns, and the Cartoons of Clifford Berryman" was created by the National Archives with the support of the Foundation for the National Archives and organized for travel by Humanities Texas, the state affiliate of the National Endowment for the Humanities.
This traveling exhibition is on view at the John E. Conner Museum through Nov. 30.
The John E. Conner Museum is located on the campus of Texas A&M University-Kingsville, 905 W. Santa Gertrudis Avenue, 700 University Blvd., Kingsville.
The museum is open Monday through Friday, 9 a.m. to 5 p.m., and Saturday, 10 a.m. to 4 p.m. Admission is free; donations are accepted. For information, call 361-593-2810 or email kacfv00@tamuk.edu.
---
Images:
1st: Clifford Berryman "Two Bees or Not Two Bees – That is the Question!" October 28, 1906
2nd: Clifford Berryman – "The Fishin' Season" – June 7,1919
ISSUE-November 2012 – Volume 19, No.3