BCP to present drama as part of 'Theatre on the Edge' series
When Alice went down the rabbit hole, she ended up in Wonderland, a place of confusion and misunderstanding. When Becca and Howie lose their four-year-old son in a traffic accident, they disappear into a world not of wonder, but of grief.
Beaumont Community Players will present the Pulitzer-prize winning drama "Rabbit Hole," by David Lindsay-Abaire, beginning March 29.
"It basically shows you how people cope and deal with a tragedy of this sort," director Donny Avery said. "How a marriage goes through this and survives — or how it doesn't survive — the obstacles they face."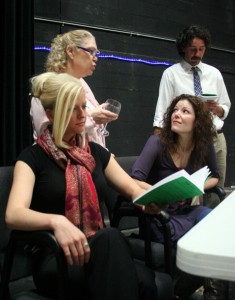 Reece Ravenscraft and Jody Reho play Becca and Howie, Kristen Read plays Izzy, Pepper Thompson plays Nat, and David Nelson plays Jason. The play is Avery's second stint as a director at BCP.
"I read it when it came out and fell in love with the script because it is extremely honest and extremely real," he said. "That's what drew me to it initially. To me, it's a situation that no one really likes to talk about. Once you start talking about it, people may realize they have been in that sort of situation before — that they can really relate to it.
"I think it's honest and I think it will make people uncomfortable when they see it — and that's OK, because it's real life."
Avery said that despite the tragedy at the heart of the play, there are moments of lightness.
"Surprisingly, there are funny moments," he said. "Comedy seeps through the drama, through the characters. People tell me the show is depressing — it's not depressing. 'Les Mis' is depressing to me. I love it but it's people dying, people starving. That's depressing, but this is about real life and coping and grief.
"The two leads, the couple, through their marriage, it shows how they cope in two different ways. I think people will not say, 'Oh, she's right, he's right' — I mean, no one's right in this situation, but you're going to see the struggle."
The actors in the lead roles both said the challenge of playing characters who are in pain drew them to the play.
"It's a very challenging role," Reho said. "The whole piece is emotionally charged, and the characters themselves are in very vulnerable places and trying to find a way to communicate, which is a nice parallel to a lot of things, especially the process of acting. It's going to be a very challenging piece just to access the emotional components that are necessary to communicate with the audience. I'm looking forward to that process."
Ravenscraft said she sees parallels between herself and Becca.
"I find that she is freakishly like me," she said. "Very often she can be unlikable because she is in pain. I find myself wondering if I can be unlikable when I'm upset or worried. A lot of the things she does are passive-aggressive and snarky things she says, things that I would say.
Some of the conversations sound like conversations (her husband) Marcus and I have had."
She sighed and paused for a moment.
"It's been interesting."
"What's cool about a character like this, in a show like this, is that there are so many more layers to peel away," she said. "You have so much more to work with."
One word consistently peppers Avery's enthusiastic discussion — "honest."
"It lets you be part of the show," he said. "When you have performers who are speaking in modern language, who are in a believable situation that could have happened, they will force you to come into their house, force you to come into their home, and force you to see this.
"When they force you, you don't want to let go — you want to see what happens. When you have those kind of performances, an audience really gets engaged."
As a director, Avery said that when he sees that honesty on stage, it makes him really pay attention.
"I get all these emotions when I watch the show," he said. "Even in auditions, I teared up quite a few times because it's just so powerful. I think your average playgoer who doesn't know what the play is about, or is scared of the subject, I say, 'Give it a chance.' These performers are going to pull you into their world."
Ravenscraft said she expects the audience will experience a catharsis through the play.
"Everybody has something," she said. "You may not have lost a child, but everyone has a relative who has been ill, and they can relate to all those situations."
Reho said that everyone has a sense of empathy for grief and grieving.
"This piece is really, at its core, about how we go through that process and how we rely on each other, but can't always communicate with each other," he said. "We're not always in the same place. And the conflicts that come out of that are tangible to people. Hopefully, that's what will be communicated through it — that struggle to remain whole in the aftermath of such a traumatic loss."
The show is part of BCP's "Theatre on the Edge" series. Avery said that people go to see a play, to a movie or watch a TV show to escape from reality, but "Theatre on the Edge" aims to bring more modern, less standard fare to area audiences.
"A comedy will make you laugh, make you walk outside with a smile on your face and that's wonderful, that's great, I love comedies," he said. "But this is going to make you sit and think about real life, about what you would do in this situation. Or if you've ever been in this situation before, you might see yourself on the stage. That's what's important for some people. Even if you've never been in that situation, you can say, 'I can see myself doing this.'"
"Rabbit Hole" is rated R.
Show times are March 29, 30, 31, April 5, 6, 11, 12, 13 at 7:30 p.m., with a matinee April 6 at 2 p.m. in the McMillan Theatre in the Betty Greenberg Center for Performing Arts, 4155 Laurel in Beaumont.
A panel discussion will follow the April 11th performance.
Tickets are $18, $16 for seniors and students.
For tickets, visit www.beaumontcommunityplayers.com.
Issue Magazine: March 2013
Story and photo by: Andy Coughlan