SETAC to host Montage Festival Oct. 17, 18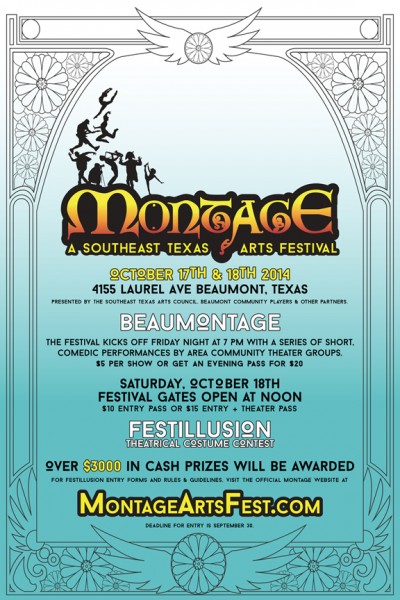 Colorful costumes, interactive arts, live performances — and all in one location.
October's status as National Arts and Humanities Month makes it the perfect time for the Southeast Texas Arts Council to present the Montage Arts Festival, Oct. 17 and 18.
Blake Bertrand, SETAC's creative director, said Montage is an art festival with a focus on costuming and theatrical themes.
"There will be all the arts present there — from sculpture to painting, to historical reenactments, to the humanities," he said. "There will be buskers performing and choreography going on all day. It's going to be something that has not been seen around here before."
The event will be held at the Betty Greenberg Center for the Performing Arts.
Sue Bard, SETAC executive director, said she has always wanted to hold some kind of costume competition.
"By designing it around theater and that media or art form (which is, of all the arts, the best supported in our area), we thought we could get the word out better about the benefits of arts and humanities," she said.
"What we started out doing, was planning roughly 30 booths, primarily to be offered to non-profit organizations at no charge. The idea is to promote them at this event. They can use this to make people aware of the events and activities they have planned throughout the year, while also using it to generate a little added revenue for themselves."
The festival will also give opportunities to individual artists who struggle to find venues to display and sell their work, Bard said.
"We are also not charging them anything," she said. "We just want them to show up, pick a theme, and come in costume — dress as one of their favorite artists if they want to."
Every booth has a theme, and it is hoped most, if not all of the people at Montage will be in costume, Bertrand said.
As well as the booths, there will be a variety of attractions, Bertrand said.
"We expect there to be belly dancers, glass blowers, bagpipers, medieval combat, western combat, civil war combat, raku demonstrations," he said. "We're trying to go in so many different directions."
The event kicks off Friday, Oct. 17, with "BeauMontage," a series of comedic performances by area community theater groups. Saturday, Oct. 18, will feature booths, performances and activities, beginning at noon.
Bard said there will be street performers and musicians who will raise money by passing the hat.
"There are a lot of actors, singers, and dancers that live in this area, and most don't know what busking is," she said. "They don't know that they could earn some revenue in the right places at the right time. So were trying to bring this idea of street performance together with Montage on the grounds."
Bard said SETAC is putting a lot of effort into making sure every performer has an equal and uninterrupted opportunity to showcase their talents.
"At one corner, you are probably going to see some Egyptian dancers, and in another corner, you're going to see knights fighting, and fifteen minutes later you might see something else, so it should be phenomenal," she said.
Bertrand said visitors will be drawn into it.
"It's not going to be possible to walk in and not interact with what's going on around you in some way or another," he said. "When people walk in, they are going to find themselves part of what's going on, because things are just going to sort of seemingly spontaneously erupt around them.
"Someone will just crack open a violin case and, all of a sudden, there will be music right beside them. They might see a civil war reenactment just sort of spring up out of the woodwork and it's going to be all around them."
Montage's booths will offer visitors a chance to see not only the work of Southeast Texas artists, but also a chance to see some of them paint or draw or create their craft, Bertrand said.
"They'll be able to sell all of their artwork, all of their craftwork, anything they build or make," he said. "Greg Busceme is a local artist that will be there. Victor Higgin-botham and Darrell Troppy are going to be there, too."
Festillusion, the theatrical costume contest, should draw a large crowd, Bard said.
"We're going to try to hold it like American Idol, with the judges sitting up front," she said.
Deena Conley, head of Lamar's theatre and dance department and Jim Clark, executive director of the Lutcher Theatre, will join Bard as judges. Robert Fong will act as M.C. There will be prizes for "Best of" and a "Runner up."
"Most of the categories have a $250 first-place prize and $100 for the runner up," Bard said. "But the grand prize, the Best of the Fest — The Paula "Torchy" Salter Award — will have a $1,000 first-place winner, and the runner up will get $500.
"We thought people wouldn't want to participate unless they had an opportunity for a big grand prize, and we also wanted to show that we were serious about wanting to pull this off."
There will also be a separate children's costume competition with various prizes accumulated through donations.
There is an entry fee for the events. Admission for BeauMontage is $5 per show (there are five shows) or an evening pass for $20. Saturday's admission is $10, or $15 to include Festillusion.
SETAC has attracted sponsors for the event.
"I want to make a big deal out of our sponsors," Bard said. "Some of the very first supporters were the Foundation for Southeast Texas and Jefferson County. We've gotten the support of Texas Commission on the Arts, which means the state is funding part of the endeavor and gave us a score of 98 percent, and the comments were fantastic. They think it's a great idea."
Bertrand said the 98 percent score relates to how the grant was graded.
"It's like getting a 98 on a test, so almost perfect," he said. "And that would be a test graded by a committee. You know how hard that can be."
Bard said she hopes Montage will encourage economic development and tourism that can really help the area.
"That's why the ticket prices are so low," she added, "It makes it available to nearly everyone."
Bertrand said some of the organizations don't have any other means of advertising, they don't have a lot of funds, and a lot of people don't know all of the opportunities that exist.
"That's been part of our mission," he added, "We want to inform people of what is available — how much painting, how much acting, and how much music and everything else, that is actually available right here in Southeast Texas.
"We're trying to bring art closer to where people live. We think everybody would like to go to a really colorful, bright, fascinating festival, and there they'll be introduced to the opportunities they have in the area."
Bard said she wants Montage to be a visual feast for everyone who attends, and for it to become a family tradition.
"I want people to want to come every year, because they've come in years past — it becomes a part of their lifestyle, and they become more aware of the theater, visual arts, music, dance, and all forms of art, and that they understand the importance of historical preservation," she said.
"I want Montage to become something that they grow with and that, I hope, enriches their lives."
The Betty Greenberg Center for the Performing Arts is located at 4155 Laurel in Beaumont.
For more information, visit Montageartsfest.com, or
Story by Haley Bruyn
ISSUE Contributor