The Art Studio, Inc. will launch its 2014-2015 season with, "Earthly Delights," the annual Tenants Show in September. The exhibition, which features the work of more than 20 artists working in a variety of media, opens with a reception, 7-9 p.m., Sept. 6 and runs through Sept. 26.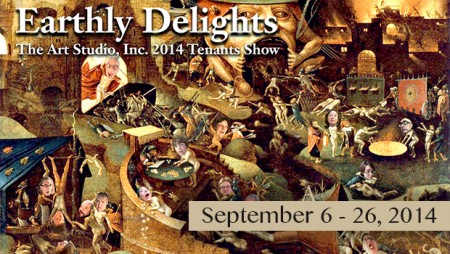 The annual Tenants Show opens Sept. 6 with a free reception, and runs through Sept. 26 in TASI's gallery, 720 Franklin in downtown Beaumont.
The show features work by more than 20 artists who work in a variety of disciplines.
Among the artists showing in the exhibition for the first time is the youngest tenant, 13-year-old John Alexander. The Marshall Middle schooler has been working in clay since he took classes from Studio founder Greg Busceme three years ago.
"I really love the pottery — the whole process of making pots on the wheel," he said.
Alexander said that The Art Studio offers him a chance to not only work on his skills, but also to draw inspiration from the other artists who work there.
"I like the culture and the fact that we have all these great artists around us to give us inspiration," he said.
Alexander is actually building a kiln at The Studio at the moment.
"I am very grateful to have the opportunity to build a kiln at 13," he said.
Despite his age, Alexander is at The Studio almost every evening during the summer, and two or three days during the school year.
Artist Gina Garcia encourages visitors to attend the Tenants Show to get a feel for the work being produced on a daily basis at TASI.
"Any kind of visually stimulating thing you can think of will be on our walls or on a pedestal, so you want to come out," she said. "We have a wonderful group of artists, and we have so many different types of work."
Maurice Abelman is another making his Tenant Show debut, having graduated from Lamar with an MA in Printmaking in May. When he was looking for a place to work, The Studio seemed like the obvious choice.
"It's probably the central hub here in Beaumont for the arts and I wanted to be around like-minded artists and part of the community," he said. "Just seeing other people work inspires me to work, too — it's just being part of everything."
Abelman said the Tenants Show is a great opportunity to see the work that Studio artists are working on. This is his first Tenants Show and he said that he is both a little nervous and also really looking forward to it.
"I want to be part of everything and see if I hold my own with everyone," he said.
Also making his Tenant Show debut is David Granitz, who said The Studio is more than just an artists' space.
"It stands for Beaumont," he said. "The Art Studio is a great symbol for Beaumont community."
Other tenants include Barbara Allamon, Dana Dorman, Karen Dumesnil, Beau Dumesnil, Cynthia Grimes, Rhonda Rodman, Sandra Laurette, Suzanne Garrett, Rhonda McNally, Sue Wright, Andy Coughlan, Varley Bruce, Elizabeth Fontenot, Stephen Scales, Nathan Jones and Marcie Morgan. Intermediate tenants include Kailee Viator, Lisa Baumer, Joe Winston and random photographers who use the facility's darkroom.
The exhibition will include painting, ceramics, sculpture, mixed media and photography.
The Art Studio is located at 720 Franklin in downtown Beaumont.
For more information, call 409-838-5393.