Ten Centuries of Belarusian Art 
Editor's note: ISSUE contributor Elena Ivanova spent the summer in Eastern Europe doing research for a book. This story is the third in a four-part series chronicling her adventures and the artistic discoveries she made along the way.
"Life beats down and crushes the soul and art reminds you that you have one."
— Stella Adler
Once I gave a museum tour to Margaret Thatcher. It happened at the Russian Museum in St. Petersburg when she was on an official visit to Russia. At this time, she was no longer Prime Minister of Great Britain, which explains why it was me, and not some high-standing official with the Russian Ministry of Foreign Affairs, who was taking her through the galleries, with the bodyguards rushing ahead of us and the British embassy entourage trailing behind us. Every time we entered another gallery, I would start by pointing out some paintings and she, after a polite pause, would say: "And what about sculpture?"
Whether Mrs. Thatcher was particularly fond of sculpture or it was a smart way of keeping the conversation going, this experience made me realize how much sculpture gets overlooked during a museum visit. In most museums, paintings overwhelmingly outnumber sculpture.
However, instead of standing out, it tends to blend in as if it were a part of the museum décor. If you have ever watched visitors as they move through the gallery, you may have noticed that most of them walk the perimeter scanning the paintings on the walls and forget to look at the sculptures which are typically displayed towards the center of the room.
Keeping this in mind, I paid special attention to sculpture when I visited the State Art Museum of Belarus in Minsk. To reflect my experience, I included several examples of sculpture to illustrate this article.
The State Art Museum of Belarus is an auspicious-looking building, with its large encyclopedic collection displayed in two wings. The older one looks like a typical Soviet-era museum: tiered rows of paintings with sculptures in the middle of the gallery presented in a palatial setting. The new wing, which was opened to the public just a couple years ago, reflects the concept of the 21st-century museum: open-plan galleries that connect seamlessly, ample use of glass which allows you to see the floors above and below, and an effective lighting system. I don't know if the architect has won an award — he surely deserves it.
The museum's collection includes West-European, Russian and Belarusian art. There also is a growing collection of Eastern art — Japanese, Chinese and Korean. I felt a little nostalgic walking through the "old wing." The same Russian artists of the 18th- and 19th century whose masterpieces I saw daily when I worked at the Russian Museum two decades ago now greeted me in Minsk. However, now I looked at them with different eyes. I found myself comparing these works to American Western art, with which I had not been familiar prior to my arrival in the U.S.
"Zaporozhian Cossack after Battle" (1873) by Evgeny Lanseray (1848-1886) brought to mind cowboys and mountain men by Frederic Remington and Charles Russell. An art connoisseur will marvel at Lanseray's mastery with which he portrayed the stumbling horse and the pensive figure of the rider who seems to anticipate every movement of the tired animal. At the same time, for those of us who enjoy a story in an artwork, the artist provided a mystery to ponder. What happened during the battle? To whom belongs the other horse that the cossack is holding by the reigns? Is it a horse of a fallen friend or a defeated enemy?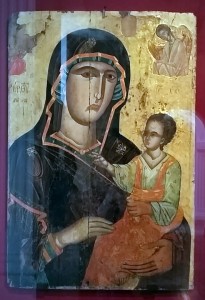 By contrast, the exhibition in the "new wing" featured artists with whom I was not familiar at all. "Ten Centuries of Belarusian Art" took me on a roller coaster ride through the turbulent history of the people who preserved their cultural identity despite all assimilation attempts perpetrated by their politically powerful neighbors — Poles, Lithuanians and Russians. Art reflected the presence of divergent and often conflicting trends in Belarusian heritage. Russian Orthodox-style icons like "Virgin Hodegetria" (16th century) coexisted with polychrome wooden sculptures like "Archangel Raphael" (1st half of the 17th century), which one was likely to see in a Catholic church.
The legacy of Rzeczpospolita, or Polish–Lithuanian Commonwealth, which ruled over present-day Belarus territory in the 17th and 18th centuries, is epitomized in formal portraits of szlachta, the Polish nobility. Stiff and pompous, these characters bear a certain likeness to Van Dyck's images of English aristocracy. Consider, for example, "Portrait of Alexander Ostrozski" (1670) by Andrzej Stech (1635-1697). The young man is standing in an theatrical pose, legs apart, chest pushed forward, which allows him to show off his fashionable attire – an elegant coat, waistcoat, breeches and a pair of golden shoes. The most colorful of the whole outfit are the puff sleeves richly decorated with red and green ribbons. The matching ribbons also are pinned at the collar of his lace jabot and — what a touch of elegance! — are tied around the knees as garters. In the background, barely visible, a groom is holding a horse by the reigns. The whole appearance of the young nobleman is so ostentatious that I had a momentous association with Shakespeare's Malvolio when he shows up before Olivia wearing yellow stockings and cross garters.
By the end of the 18th century the political power of Poland waned and finally the territory of the former Rzeczpospolita became integrated into the Russian Empire. Nevertheless, the legacy of Polish culture remained strong in the region. Many descendants of szlachta families became important artists and writers whose works reflected a unique blend of local traditions.
A specific cultural landscape of Belarus created conditions for the emergence of Jewish artists who brought into the limelight life and traditions of East European Jews. A large Jewish population lived on the vast territory of Rzeczpospolita for centuries, yet there had been no visual record of their lifestyle, largely due to the fact that orthodox Jewish tradition forbade graven images.
With the increasing secularization of Jews by the end of the 19th-early 20th centuries, there was a growing number of young men interested in pursuing an artistic career. However, they had no access to art education in Russian cultural centers since the government restricted Jews to the infamous Jewish Pale, which included Russia's western lands (Poland, Lithuania, Latvia, Estonia, Belarus and Ukraine). Many of those young men got their first art training at the private art school of Yuri (Yudel) Pen in Vitebsk. I will talk in more detail about this extraordinary artist and teacher in the next installment. At the moment, let me mention that the Art Museum in Minsk features an extensive collection of paintings by Pen and many of his illustrious students, including several works by Chagall as well as Pen's portrait of his most famous pupil.
"Musicians" (1904) by Abraham Eisenberg (1879-1956) is a poignant document of Jewish life at the time when pogroms and numerous other forms of oppression were the norm. The sculpture portrays three klezmer musicians who are huddled together as if trying to stay warm against the cold. It seems that they have just finished playing and are now taking a quick break before resuming their performance. One of them is in the process of lighting a cigarette while his companion, with an umbrella stuck under his arm, is holding up a match. The way they almost crouch to create a protective environment in order to achieve this simple task suggests rainy or windy weather. Dressed in long coats and hats, they look cold and tired. This mundane scene is laden with symbolism: in the hostile world, the trio has to confront troubles far greater than inclement weather.
Unexpectedly for myself, I found a lot of interesting works in the galleries that housed Soviet-era art. Predictably, there were a few large-scale Socialist realist paintings and sculptures in which robust-looking men and women engaged in war-time and peace-time activities. "Minsk on July 3, 1944" (1945-1955) by Valentin Volkov (1881-1964) features a jubilant crowd greeting Soviet tanks as they drive among the ruins of the city liberated from the Nazis. There is not a single reference in the enormous picture to the horror of the preceding four years, during which one fourth of the Belarusian population lost their lives. Mourning the dead was an unpopular subject that distracted people from daily work and could lead to questioning why things happened the way they did.
The gigantic vase titled "Soviet Belarus" (1955) designed by Nikolay Mikholap (1886-1979) is a perfect example of the celebratory style which was particularly popular in post-war years. Abundantly decorated with stucco molding, painting and color glaze, the vase bears an uncanny resemblance to Cornucopia. Its central section features large oval medallions with the patrician-looking profiles of Lenin and Stalin, in mat gold, wrapped around with laurel wreaths. From a distance, the deep green color of the base looked like malachite, however, upon closer examination, it turned out to be faience. A band of the traditional red-and-white Belarusian pattern, the same as on the state flag, and the coat of arms at the top clearly identify the vase as a symbol of the Soviet Socialist Republic of Belarus. Once again, I was reminded how much the Soviet Union looked back to the Roman Empire for inspiration.
At the same time, some works from the Soviet era were a surprise and a revelation. Paintings by Yazep Drozdovich (1888-1954) literally opened my eyes to a new world. An artist, historian, writer, scholar and teacher, he was often called "our little Leonardo de Vinci" by his friends. In the early 1930s he developed his own cosmic theory which he expressed in visionary paintings like "Saturn Women Viewing their Hibernating Caves" (1932). The artist's contemporaries must have rolled their eyes when confronted with such pictures of happy aliens. Ironically, Socialist realist paintings portraying happy "builders of Communism" were no less fantastical, regardless of the general opinion that they were drawn from life.
Our tour of the State Art Museum of Minsk is over, but our exploration of Belarusian art continues. In the final installment of my travelogue, we will visit the beautiful city of Vitebsk that fueled the imagination of Marc Chagall as well as many other talented young men who made their first steps in art at the school of Yuri Pen.
Story and photos by Elena Ivanova