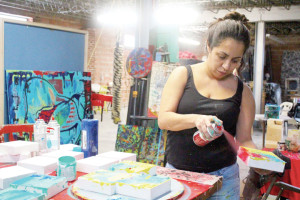 BEAUMONT — Finder's Fayre Antiques will host a series of abstract paintings by Gina Marí Garcia, 5-9 p.m., Dec. 5. The art show is part of the Contemporary Local Artists Show Series (C.L.A.S.S.) presented in the antique store located at 1485 Calder Ave. in Beaumont's historical Mildred Building.
"My idea for C.L.A.S.S. came when I realized that the artists here in Beaumont might really benefit from increased exposure to an audience they have not been reaching," said store owner Dexter Augier. "I am excited that I can do this, and that CLASS might provide just one more step in helping an artist share their gift with the world."
The opening reception is part of the First Thursday festivities held at the Mildred. Entry is free and the work will be for sale.
"I invited Gina to participate in my C.L.A.S.S. series because I believe she has the consistent creative energy to pursue a career in art. My tastes vary widely, but what I find I am most drawn to is Gina's talent for handling color and light," Augier said.
Beaumont-native Garcia creates mixed media artwork using assorted paints and paper manipulation typically on organic materials or found objects.
"Beaumont is loaded with talent right now. I vibe off all that creative energy," Garcia said. "I hope people find a connection with the pieces. I feel the emotion and energy transcends and will convey nicely to everyone."
She is influenced by her family and loved ones and inspired by Jean-Michel Basquiat.
"His work moves me," Garcia said of Basquiat. "I love the crudeness and sometimes aggressive manner of his pieces. There's always a lot going on."
Garcia received a hands-on art education at The Art Studio, Inc. where she now goes to create most of her artwork.
"Since I was 13 I've been allowed to create and speak my mind in a wonderful and educational environment. I've seen over 25 years of art there and am now a tenant."
For more information, call Finder's Fayre Antiques at 409-833-7000, or visit the Facebook page of Artist Gina Marí Garcia.