Beaumont architect/artist to display work at AMSET beginning Oct. 30
In Rob Clark's world, "Nothing separates."
The transplanted Beaumonter and local architect, who hails from central Mississippi, will showcase his art in his exhibition, "Finding Light; Works on Paper: Ink, Pencil and Watercolor" in the Café Arts at the Art Museum of Southeast Texas.
The exhibition will be on display from Oct. 30 through Jan. 1.
"I am an architect," Clark said. "I love music. I love art. I love food — the culinary arts do not separate themselves."
Clark's exhibition of original works will include many pieces that depict people and places he encountered across the U.S. and beyond its borders.
His style is something he discovered early in life.
"I learned that the white paper was really the light, and then I could manipulate the light," he said. "What I drew was not drawing lines, but was shade, so the light was coming up to tell a story or give me a form or shape — tell me where the sun is coming from — or the shadow of a person against a wall says that they are planted against that wall.
"So it is not necessarily what is on that paper — it might be things off the paper."
Clark said he experiences light all around him, contending that everything is a process — including how one experiences art as an artist and how one experiences it as the audience.
He cites art classes among his earliest influences. When he was in college he worked in a New Orleans restaurant. That's where he began to "connect," Clark said.
"That is where I really became enlightened," he said. "That is where the food and the connectivity of the art came."
The LSU alumnus said it wasn't about just the taste, it was about the experience — the way the food was set down on the plate and the way it was served, he said.
Clark continues to make those connections and search for the "light" in his everyday life, including while making art. For example, when he enters a building, he asks himself, "What is my first impression? What do I see? How do I feel? What is the use of materials? What is the landscape? What is the outdoor area?"
"That whole process," he said. "Where is that process taking me?"
Art does the same thing, Clark said. When analyzing the process, one can uncover any number of things, such as a story, love, passion, compassion, loss or the future.
"Even though my drawings tend to be very super-realism, there is this whimsical thing about them of underlying stories," he said.
Clark's love of architecture shines through his complex drawings of architectural wonders, but his love of people is not spared with his numerous drawings of strangers, family, acquaintances and close friends.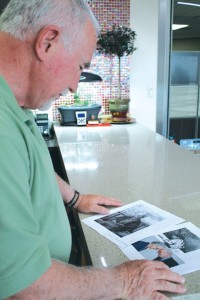 It is not uncommon for Clark to sit for hours in foreign cities, drawing buildings and random people. The people he draws are usually passersby who are interested in what the blue-eyed artist is doing, as he sketches in public at all hours of the day and night.
Although his pieces include everything from flowers to his aging parents, the avid traveler has sketched countless strangers on streets from New Orleans to Nicaragua, many of whom are homeless.
"I see God in the face of every person," he said. "So I look for that light that makes every person unique."
The work should reflect the surroundings, both physical and emotional, he said.
"If a piece is done well, you are really having a reaction to things that are off the canvas," he said. "You are thinking about other things moving around and this and that.
"It may be things that are off the paper or off the image that are casting shadows on to something."
Part of the show will depict places and strangers, and part will relate directly to people who influenced Clark. One piece is a drawing of his grandmother.
"In the midst of the South and a lot of restrictive thinking, my grandmother was about hospitality," he said. "She taught me a great deal about hospitality and caring for others."
Clark said his grandmother kept food ready in the kitchen, so if anyone in need knocked on the door, black or white, she could offer a biscuit and perhaps some sausage. It was enlightened behavior, considering the rural South was segregated in the '50s and '60s of his childhood, he said.
The drawing honors his grandmother and her light, he said.
Clark has been a friend of AMSET since he relocated to Beaumont in 1977. He has served on the board and acted as president. He now serves on the board of the Stark Museum of Art.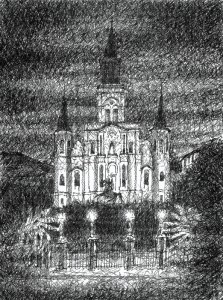 "I love Beaumont," the artist said, with a broad smile across his face and light in his eyes. "Artists who are influenced by the area are big supporters of the Art Museum because we want the children of Beaumont to have access to art."
Clark is not only an artist, but also a collector, boasting between 450 and 500 pieces in his personal collection.
The exhibition will shine a light not only on Clark's subjects but also on the prism of that light — the artist himself.
The reception date was not available at press time.
AMSET is located at 500 Main Street in downtown Beaumont.
For information, visit www.amset.org.
Story by Jacqueline Hays