Amy Faggard, TASIMJAE 2012 winner, brings vision to Studio, Dishman in May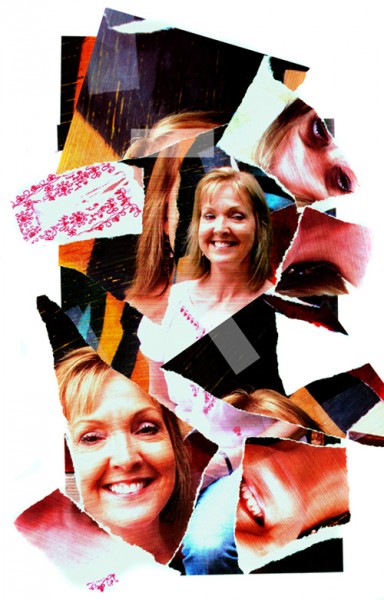 Amy Faggard's entire world is in fragments in her art, but her vision is whole.
The 2012 winner of The Art Studio, Inc. Member Jurored Art Exhibition, or TASIMJAE, will open her solo show, "0913," May 4, at The Art Studio, Inc.
The show chronicles Faggard's journey, from 2009 to 2013, while obtaining her master's degree in art from Lamar University. The pieces range from a series of boots, self-portraits, a series of her hands, to her thesis, titled, "Fragmented Pieces."
"It is a discovery of myself and things around me," she said.
The first-grade teacher at Blanchette Elementary in Beaumont, said she can't remember a time when she didn't paint.
"There hasn't been a week I haven't painted since I was about 12," she said, "I can't imagine not ever painting."
Faggard said that, of the pieces in the exhibition, the hand images are her favorites.
"It started out with a horizontal hand holding a paintbrush," she said. "I left the wrist kind of broken on each one, almost like a statue. The next one is the hand painting— that hand holding the paintbrush.
"The third one is my hand, drawing the hand painting the hand.
"I guess I like them so much because it's so much a part of me. What would I do without my hands? I use them for everything. About a year after I painted the hands, I had to go to the doctor because my wrist started hurting. I'm wondering if I created that scenario — painting them with broken wrists and then that happened."
Faggard's husband, Albert, is an adjunct art professor at Lamar State College-Port Arthur.
"It's so nice to be married to someone that paints all the time," she said, "He doesn't gripe because I want to spend my Saturday at home painting, because that's what he wants to do, too. He critiques a lot of my work. I'll tell him to be brutally honest."
Some of Faggard's paintings are what she calls "fragmented pieces." She shoots photos and then blows them up. Once enlarged, she tears the prints up and arranges them into a pattern before taping them together. Finally, she paints the collages onto a canvas.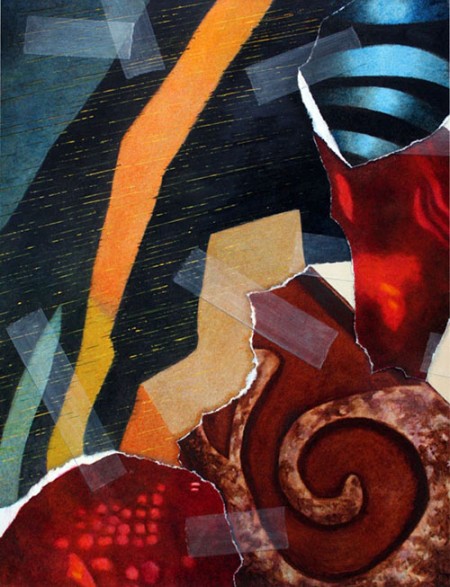 Faggard said the idea for the "fragmented pieces" came to her when she was finishing the boot series, which uses the grisaille technique. She worked from photographs on the boot series. When she finished the last painting, which was more abstract, she decided to tear up the photos and see what happened.
"I have a vision when I start it," she said, "It's either a certain image, color or a swirling pattern. Maybe I'll like this orange in one piece and I think it will go good with blue. It's either a color theme or these patterns look good. There's usually some idea behind it.
"Sometimes I wake up from a dream with an idea, and I'll have to get up and sketch it while it's still fresh. Sometimes I'll see something, or I'll see the way the sun hits something.
"I'm inspired by everything — a shadow, a sunset, or the way a person is sitting — you can get inspiration anywhere."
Faggard said she often gets a picture in her head, complete and in color.
"I don't know if other artists get them, but I can't imagine that they don't get them," she said. "They don't always turn out as perfect as I see them in my head, but I imagine that makes sense. That's what happens. I get a completed painting in my head, and then I draw it and then paint it."
Faggard said she wants the viewer to bring their own interpretation to the piece.
"You don't want them to see how you created it," she said. "It's part of the mystery of the painting."
The exhibition will feature a diverse group of paintings.
"I like to paint everything," she said, "I don't want to be the flower painter. I just want to paint what I want to paint. I don't want to be put in a certain category. I just want to be the great painter."
Faggard said she often paints with her three-year-old granddaughter, who reminds her to paint with the spirit of a child.
"Children don't think about design or color, or if it's good, or if other people will like it," she said. "They just paint with their hearts. That's an inspiration to me. That's why I love painting with her."
Faggard said it is important to paint what you feel or love.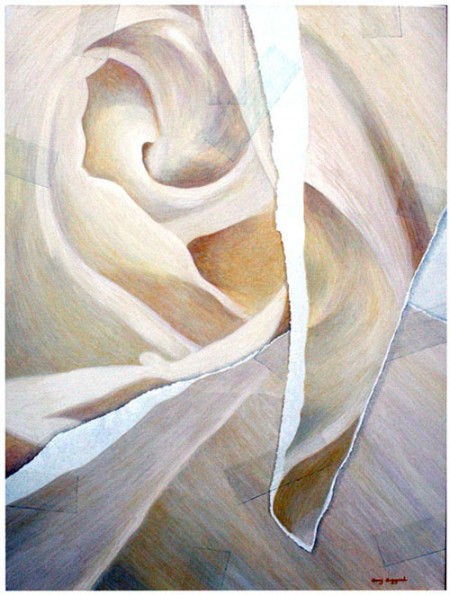 "The boots I loved," she said. "The collages were pictures of everything I loved. The hand paintings have the paint brushes. It's all a part of me. You should paint from the heart. Don't worry if a person likes it or doesn't like it. Paint what you love to paint."
TASIMJAE is a juried art show and Faggard's solo exhibition is her prize for winning last year's show. She submitted one of her fragment pieces that was created from pictures of rocks. It will be included in this show.
"It was an honor to win TASIMJAE," Faggard said, "I can't wait to show my work and I hope everyone enjoys looking at it."
Faggard has been involved with many competitions and is a member of all of the art societies around Southeast Texas.
The paintings, which are all oil paintings, range from $450 to $650.
"0913" will be on display at The Art Studio, Inc., 720 Franklin in downtown Beaumont, May 4 through May 25. A free opening reception will be held 7 p.m. to 10 p.m., May 4.
Faggard's master's thesis, "Fragmented Forms," will be on display at the Dishman Art Museum on the Lamar University campus, beginning May 10. Faggard graduates in May.
Issue Magazine – May 2013
Story by Kristen Stuck