PRINTMAKER INVITES COMMUNITY TO EXPERIENCE NEW CULTURE, IDEAS
ISSUE Magazine: November 2012 | Story by Andy Coughlan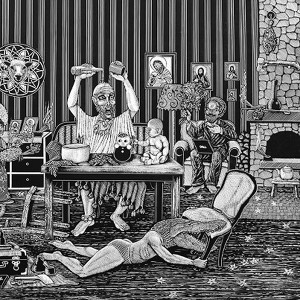 When printmaker Xenia Fedorchenko decides to have a few friends over, they don't just come from around the corner.
In early November, Estonian printmakers Peeter Allik and Toomas Kuusing will bring their unique stylings to Southeast Texas, and Fedorchenko is inviting the community to pop by and see them.
The pair will present lectures and workshops while they are in town, beginning Nov. 7, and the three-day event, "Rite of Print," will end with a printmaking party featuring Estonian performance artists Non Grata, 7-10 p.m., Nov. 9, at The Art Studio.
"Basically, it is centered around these five artists coming from Estonia, three performance artists and two printmakers," Fedorchenko said. "One of the printmakers, Peeter Allik, will do a workshop at Lamar on relief printing. His technique is superb. He considers himself both a painter and a printmaker. He is truly an international master artist."
She said that in America, printmakers and painters are more separated groups.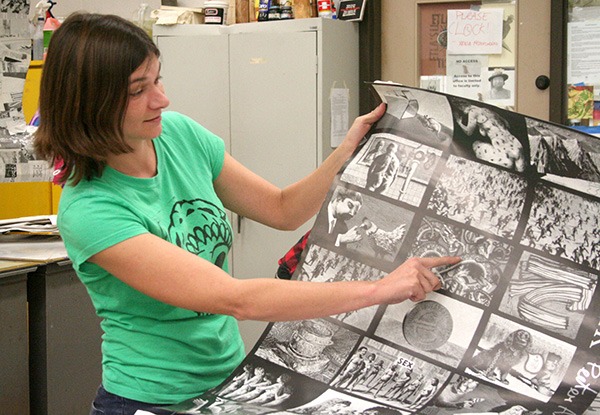 "I think it's the collaborative nature of the print studio, versus the solitary nature of the painter," she said. "The painter doesn't have to paint around other people. That's what creates that identity of a printmaker in America, because we all have homes big enough to paint in, but we don't have homes big enough to have a print shop in.
"Whereas, where they are coming from, in eastern Europe, people don't have homes big enough for a painting studio, so that identity dissolves away."
The other printmaker who will be here, Toomas Kuusing, will also be talking about both media.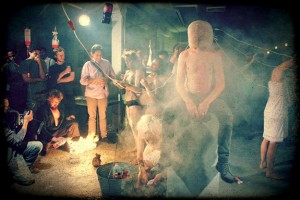 On Nov. 9, performance group Non Grata will present "!Storm Generation!" Students and faculty from other schools will come to town, to join with Lamar students who will be printing live. Artists from around the country will be invited to set up booths and sell art.
"It will be a one evening, Rock 'n' Roll party," Fedorchenko said.
While the party aspect is high on the agenda, Fedorchenko, professor of printmaking at Lamar University, said there is a serious point to the event.
"I am doing this to promote art in the community, for us not to just see ourselves,"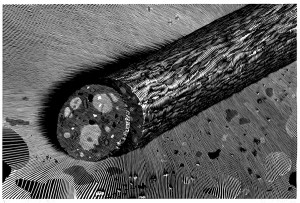 she said. "It does tend to be a comfortable world and I don't necessarily think that new things, innovative thought, happens within a comfortable environment. And I am hoping to shake things up just a little bit where people can see different ideas or maybe encounter something they haven't considered that they might consider in the future."
Fedorchenko organized the "Gulf Print Storm" two years ago, and the Estonian printmakers' work was exhibited at The Art Studio as part of that event. While attending a festival in Estonia this summer that the printmakers had organized, she got to meet them and was surprised that Allik was open to visiting Southeast Texas.
"I am a little bit in shock that this is actually happening — at the giving of these artists," she said. "I mean, the cost of coming from Estonia, which no one's covering, it's amazing. They are doing it for the experience, to encounter America. That's why I went to Estonia, to discover the culture and the art over there. That's how true exchange happens. It's not for profit, it's not really to achieve anything personally — it's just to get out there."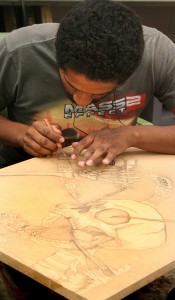 Fedorchenko said that she hopes that people who are not in the printmaking classes at Lamar will show up for the free workshops.
"Carving linoleum is not much of a science," she said. "What these people really bring, beyond this basic relief printing technique, is the way they draw with their lines — a different approach to mark making than what is around. And that is what is really going to knock people out."
Fedorchenko said she invites anyone interested in new ideas to attend the events and get a taste of these eastern Europeans' artistry.
"I'm trying to keep it where it's not too huge, but I want people to show up and learn, enjoy — and meet people from Estonia," she said, laughing. "How many people from Estonia do you know?"
---
'RITE OF PRINT' SCHEDULE

WEDNESDAY, NOV. 7
Artist Lecture by Peeter Allik, 6 p.m.
Dishman Art Museum Lecture Hall, Lamar University
followed by a reception.
THURSDAY, NOV. 8.
Workshop by Peeter Allik, 1 p.m. to 4:30 p.m.,
101 Art Building, Lamar University
followed by Toomas Kuusing workshop,
5:30 p.m. to 8 p.m.
FRIDAY, NOV. 9
Non Grata performance, "!Storm Generation!"
featuring Anonymous Boh, Devil Girl and Travis McCoy Fuller,
including an exhibition of works by Non Grata,
Peeter Allik and Toomas Kuusing, live printing and art sale.
The Art Studio, Inc.
---