ISSUE – December 2012
By Jeff Dixon
He's Baaack! No, not the shark, the Geek. Oh, yeah, the shark, too
Once again that cold north wind is blowing and everywhere you look, trees and wreaths are all over yards, street signs, doors, malls, city parks, free clinics, underpasses, abandoned mines — well, you get the idea. It's Christmas and that means some of you have no idea what to get your friends besides iTunes gift cards and Starbucks coffee. Have no fear, dear ones.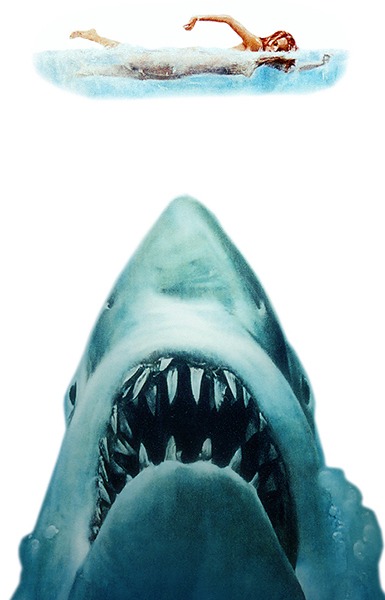 Jaws — This one should be a no brainer, but maybe you already own "Jaws" on DVD. Maybe you own two copies of it, in case "something happens." Maybe you have some sort of weird obsession with "Jaws" because it's a perfect work of cinema. Regardless, if you like "Jaws" enough to own it (and by the way, if you don't, what is wrong with you?), then you need this Blu Ray. It's astounding how good the film looks. I can't really adequately describe how crisp and clear the movie looks. You have to see it for yourself. Honestly, if you take anything away from this article it should be that the "Jaws" Blu Ray is some sort of magic done by a wizard in a far-off land.
Dick Tracy — Let's be honest, this is not a great movie, but it is gorgeous to look at and Blu Ray is the only way I would recommend owning this film. There are no muted colors in "Dick Tracy." Things are black, white, yellow, red, and blue — and what gorgeous blues they are. The script is run-of-the-mill and lacks the grittiness of the old Tracy comics, but the performances more than make up for this softer side of the greatest detective to ever wear a radio watch.
Heavyweights — This is the Blu Ray for that friend of yours obsessed with "Zoolander" and "Dodgeball." This little cult classic was written by Judd Apatow, before he was anybody, and stars Ben Stiller, also before he was anybody. The fun thing about this movie is you can almost view it as a prequel to "Dodgeball" with Stiller using the same cocky swagger and voice for his character in both films. There aren't many things funnier than Stiller making fat kids at camp miserable. "Lunch has been canceled today…due to lack of hustle."
Toxic Avenger: Japanese Cut — Available for the first time in the United States, the full director's cut of "The Toxic Avenger." Trust me, for the geek who has everything, this is a perfect gift. If they're anything like me, they will be shocked and amazed that you had the foresight to purchase this little ball of weirdness. After they open it tell them you wanted to get them the original in preparation for the remake. They'll be amazed at your insider knowledge. Or not. It could go either way, really.
Tarantino Blu Ray Collection — Here's the big one. All of Tarantino's movies in high definition in a super snazzy box set. "Reservoir Dogs," "True Romance," "Pulp Fiction," "Jackie Brown," "Kill Bill Vol. 1," "Kill Bill Vol. 2," "Death Proof" and  "Inglourious Basterds," plus two discs of never-before-seen extras. Boom. Sold. You can say what you want about Tarantino but the man knows how to get great performances out of his actors and his movies feel like movies. They feel like the creation of a writer/director and a group of actors, not like some ham-fisted cash grab set up by studio executives. There's real passion in these films and it comes through in every gorgeous frame. Plus, Pam Grier, Bridget Fonda and Uma Thurman in high definition. Who could pass that up?
Warrior by Ke$ha — I'm not going to lie to you folks, I love Ke$ha. I'm not going to apologize for it either. I am one of her Animals and damn proud of it. With "Warrior," Ke$ha has been drawing influence from psychedelic rock as well as her time as a global ambassador for the Humane Society. Yeah, you read that right. A full grown woman with a dollar sign in her name is the first global ambassador for the Humane Society. Take that, high school guidance counselor.
Into the Future by Bad Brains — Got a friend who loves punk rock and always gives you a hard time about the "music" you listen to on the "radio?" This is the gift for them. Bad Brains set the tone for East Coast punk in the 80s and the group is still going strong. After sticking to live shows in their hometown of Washington D.C., the band is finally back with a full-length studio album. If your friend likes punk and doesn't like Bad Brains, then they are a figment of your imagination and you should probably stop reading this and get some kind of help.
Spider-Men by Brian Michael Bendis and Sara Pichelli — In Marvel's Ultimate Universe, which is now more than a decade old, Peter Parker died a hero's death protecting his neighborhood of Forest Hills in Queens from the wrath of Norman Osborn. Since his very public death, a young boy named Miles Morales has taken on the mantle of Spider-Man. Here's where it gets weird. Peter Parker from the main Marvel Universe has accidentally been transported to the Ultimate Universe, meeting Miles and pretty much freaking out about the whole situation. It might sound a little complicated but trust me, this is the best mini-series I read all year. It's a coming of age tale about someone who knows how hard life can be preparing a young man for the harshness of the world. Peter Parker is dead. Long live Peter Parker.
Man-Thing Omnibus — Ever been reading a horror comic and thought, "Man this is great but I doubt I could actually murder someone with this book?" Have I got a gift for you. Created in 1974 by Stan Lee, Roy Thomas and Gerry Conway, Man-Thing is our guide through the weirder sections of the Marvel Universe. A mass of plant matter with supernatural, fear-based powers, the Man-Thing is a truly odd creation from the House of Ideas. This omnibus collects more than 40 issues in a gorgeous hardcover that you could easily use to kill someone with. But whatever you do, don't lose your cool, man. Just remember; "Whoever knows fear burns at the touch of the Man-Thing."
And on that cheerful note I must bid you adieu. I am off to pour something in my hot chocolate to make the day pass a little faster. Bundle up out there you poor souls and pray for me if that's your bag. I'll be muttering to myself during Rockets games most nights. Have a safe winter. I'll see you all again in the summer to talk about which remakes and reboots I'm dreading/secretly loving.
Mahalo!
(Jeff Dixon loves movies and comic books in a way that often terrifies him. You can follow his insane ramblings on Twitter@RoiVampire if he let's you.)