BEAUMONT — The High Street Gallery will host an exhibition of original comic book art by the collective 3C Comics, 7 p.m. to 10 p.m., Oct. 24. The gallery is located in Victoria House, 2110 Victoria St. in Beaumont.
"3C Comics will show something new in a series of stories you can read along the walls of the gallery," Olivia Busceme, gallery director, said. "The artists of 3C Comics are impressive in many mediums, and it will be interesting to see their painstaking comic work produced and displayed as fine art."
Entry is free and the work will be for sale. Refreshments will be available at the event.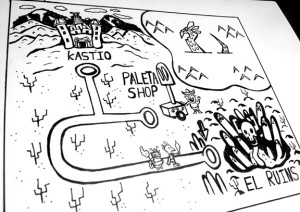 "3C comics is a comic creative team based in the Golden Triangle area working towards celebrating comics as an art form," Honour Harry, a member of the collective, said. "We come from all over Southeast Texas from Beaumont, Orange, Port Arthur, Nederland and so on. Most of us have some art education from Lamar University."
Harry said all the artists in the collective have different styles and aesthetics in their work, but most of the themes their comics share are "creepy, weird, macabre, and maybe gross."
"There is something I admire about giving an animate or inanimate object some creepiness in either the form of irony or exaggeration," Gonzalo Alvarez, 3C Comics member, said. "Taking a personality or physical trait and illustrating it to its extreme form, sort of like caricature, but emphasizing the more ugly traits, is my way of putting the idea or message I am trying to convey right in the face of the viewer."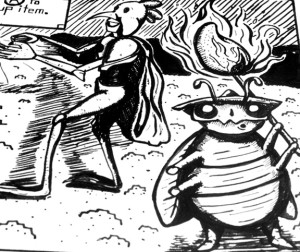 Alvarez said his comic strip "The Legend of Pollo Man" features a chicken warrior that defeats the monsters of classic Mexican myth.
"I have yet to see a Mexican-influenced fantasy world to successfully be created and so I would like to try to make that happen." he said. "I'm looking to combine the perfect amount of fantasy, videogame tropes, and Mexican culture to create a world that I hope others who grew up with either will definitely enjoy."
For more information, email victoriahousetx @gmail.com, or visit the High Street Gallery Facebook page.