High Street Gallery will host an art installation by Kailee Viator, 7-10 p.m., Oct. 21. The show was originallt set for Sept. 15, but has been rescheduled vecause of Hurrucane Harvey The gallery is located in Victoria House, 2110 Victoria St. in Beaumont.
The exhibition is titled "Flora and Fauna" and is described as "an installation which transforms High Street Gallery into an indoor/outdoor mystical wonderland designed to mythically describe life's origins and those of the world we inhabit."
Kailee Viator is a Vidor native who received a Bachelor of Fine Arts in Studio art from Lamar University in 2013. She said this show, which incorporates a multitude of media as well as live models, is unlike her previous work.
"Most of the local art community know my work for my paintings, drawings, and few for my ceramic sculpture work. While I am still working a similar conceptual pattern, I think that my work has softened exponentially," Viator said. "There is still the darkness I believe I am known for, but with a much more subtle, feminine approach. Decayed animal skulls meet grandmother's doilies, giant Wolf spiders accompanied by Baby's Breath….
"The room is lit by lanterns and tealights, warmly peeking out from behind folds of pink tissue paper reminiscent of the primordial womb. Amidst a woodland backdrop and floral decorum sits a goddess figure bathed in milk and honey. Egg cartons cascade from the ceiling, sprinkled with trinkets of life and death: tiny animal bones, dried flowers, and bird feathers, all encapsulated by beeswax."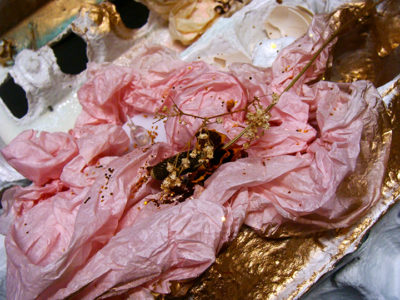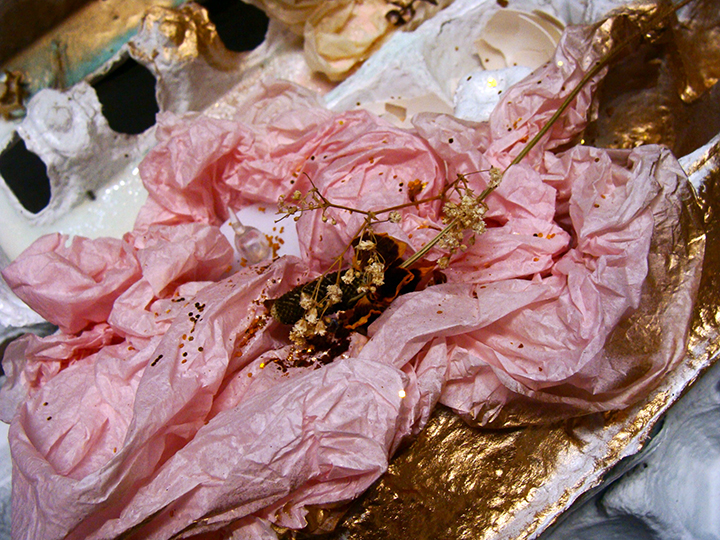 She is inspired by artists like Sherry Owens, Sharon Kopriva and Ann Wood, and is also influenced by others in her own community, such as fellow artist Amanda Barry.
"The viewer should contemplate the symbolic language of spirituality, as well as the great question: 'Which came first: the chicken or the egg?'" she said.
Entry is free and open to the public. Refreshments are provided at the reception on Sept. 15. A pared-down version of the installation will be on view again during the evenings of Sept. 20 and 24.
For more information, email victoriahousetx@gmail.com, or visit the High Street Gallery Facebook page.