Acting coach and author Chambers Stevens will bring his Hollywood expertise to Beaumont in October with a pair of Disney 101 workshops for aspiring young actors, and an advanced commercial workshop for adults.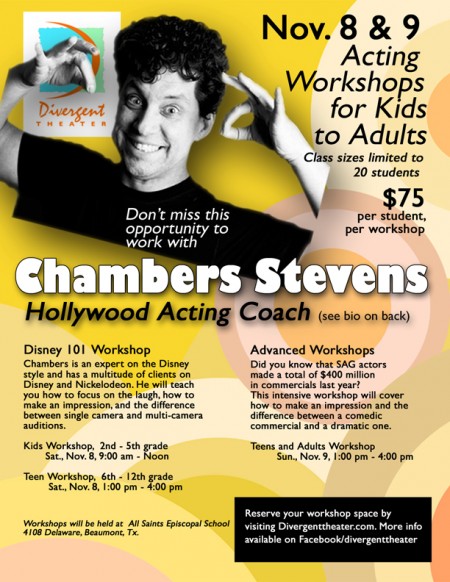 The workshops, hosted by Divergent Theater (formerly Outside the Box Productions), are scheduled for Saturday, Nov. 8, 9 a.m.-noon for 2nd through 5th grade, and 1 p.m.-4 p.m. for 6th though 12th grade.
The advanced commercial workshop for adults will be held, 1 p.m. to 5 p.m., Sunday, Nov. 9.
The workshops will be held in the Assembly Hall at All Saints Episcopal School, 4108 Delaware in Beaumont.
Cost is $75 for each workshop. Advance reservations are required. Reserve a spot online at divergenttheater.com or go to facebook.com/divergenttheater.
"Chambers has a gift with children and teenagers," coordinator Ramona Young said. "When he is coaching them on auditioning and different acting styles that are currently en vogue in Hollywood, he is super high energy. His energy reminds me of early Jerry Lewis. He's fun, he does voices, he connects on their level — he's just hilarious. Kids love him."
He will teach students how to focus on the laugh, how to make an impression, and the difference between single camera and multi-camera auditions.
Stevens is an expert on the Disney style and has a multitude of clients on the Disney Channel and Nickelodeon.
"Because of the tax breaks that Texas now has in place a lot of my clients are auditioning for films and television shows that are being shot in the state," Stevens said. "I have a number of young actors from California who have been flown in to work on shows in Texas. These Californians are not better 'actors' than the kids in Beaumont. But they are better auditioners.
"So that is what we will focus on — making them fantastic auditioners. The best audition gets the part."
Stevens is an established coach and the author of seven books of monologues, scenes and commercials for young actors. He is married to Betsy Sullenger, producer of the Disney Channel hit "Liv and Maddie,"and recently won in five catagories "Best in L.A." awards from Backstage, the national magazine for the film and television industry.
The advanced commercial workshop will cover how to make an impression, and the difference between a comedic commercial and a dramatic one.
Young said that participants will learn about all facets of the audition and acting process.
"Chambers will instruct them on what skills they need to work on to be an effective auditioner," she said. "There'll be some techniques on memorization and how to make your audition stand out. There will also be scene and monologue work.
"A lot of the stuff will be effective for not only auditioning on the professional level, but also for kids who are planning for auditions for college acting programs or even local theater."
Stevens, who is making his sixth trip to Southeast Texas, said he enjoys working with young actors.
"Kids are the best," Stevens said. "They are so full of creativity and energy. Their imaginations are powerful so they can throw themselves in to any scene. Plus they are so hungry for help from someone who knows what they are doing."
Among Stevens' coaching clients are Jae Head, who played S.J. in "The Blind Side," Kiernan Shipka, who plays Sally Draper on "Mad Men" and Riley Griffiths, who plays Charles Kaznyk in "Super 8."
"Once when I was in Beaumont, I got a kid an audition for a Broadway show — so no telling what will happen," Stevens said.
For more on the workshops, visit www.diver genttheater.com or www.facebook.com/divergenttheater.
For more on Stevens, visit www.chambers stevens.com.