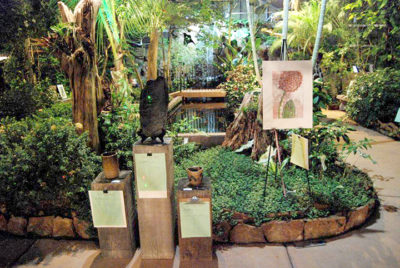 "The Moon and Stars" will chair the "Hot Tropics Night in the Conservatory" event Jan. 25 at the Beaumont Botanical Gardens, with an art collectors silent auction.
The night will include hors d'oeuvres, fun, Friends of Torchy, and a captivating view of the Warren Loose Conservatory at night.
The event will be held from 6:30 p.m. until 9:30 p.m. Admission is $20.
The event will raise monies toward the Maypole brick base construction, a dedication plaque and preparation for the Maypole Festival.
Participants may purchase a brick to be engraved with their own words, phrase and/or name for $250.
Greg and Sheila Busceme are contracted to build the base, and there are a limited number of bricks available for the base.
"Torchy left us with the memory of her 'feel good' spirit in our community," Sandra Hammerling, event coordinator, said. "We, 'The Moon and Stars,' wanted to memorialized her spirit with the raising of a Maypole that will benefit our community for years to come. The Maypole stands on the grounds of the Beaumont Botanical Gardens in Tyrrell Park. The Beaumont Council of Garden Clubs will host an annual Maypole Festival to bless the summer crops.
"Torchy touched so many of us in so many ways. For us, we have a memorial for her. But more importantly, for those who did not know her, this memorial should inspire others to live and give with a loving spirit.
"The annual Maypole Festival will bring the community together in love and spirit and leave happy memories, as she did, for all who attend."
The festival is held each year on the Saturday before Mother's Day. This year's festival will be held May 12.
Donations may be made at any time to the Beaumont Council of Garden Clubs, 6088 Babe Zaharias Drive, Beaumont.
The Beaumont Council of Garden Clubs is a non-profit 501(c) (3) and all donations are tax deductible.
For more information, contact "The Moon and Stars" at 409-658-0470.