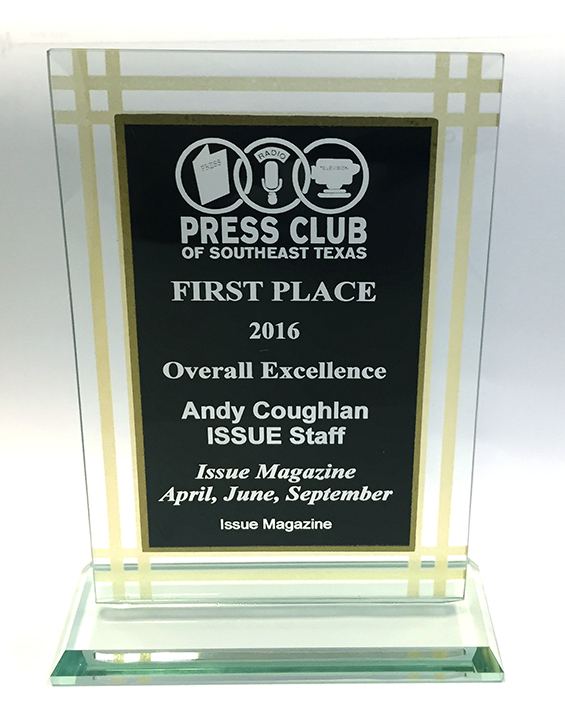 BEAUMONT — The Art Studio, Inc. was well represented at the Press Club of Southeast Texas Excellence in Media awards, held June 10 at the MCM Elegante Hotel, earning 12 awards overall for related publications.
ISSUE arts magazine earned first place in the Best Overall Magazine category.
"I am absolutely delighted with the award," editor Andy Coughlan said. "We have an all-volunteer staff and for all the contributors to be recognized this way is a wonderful validation of their hard work."
First place awards went to staff writer Caitlin Duerler in the Special Reports category for her series of stories on Southeast Texas art collectors. as well as Jacqueline Hays in the Magazine News category for her story previewing Pride 2015. Coughlan earned first place in the Fine Arts Reviews/Critique category for "Botanical Beasts," a piece about the Stark Museum of Art's "Wicked Plants" exhibition. Coughlan also earned first place in the Writing Portfolio category, which is judged on quality over a variety of stories published.
Second place awards went to Elena Ivanova in the Magazine News Story for her coverage of SETAC's Montage festival. Second place also went to Jac'Quor Williams and Coughlan in the Photo Story category for "Turning Up The Heat," their coverage of Lamar University's iron pour. Coughlan also earned second place in the Headline category for "2D or not 2D…?" over Ivanova's story about a sculptor who turns famous paintings into life-sized sculptures.
Coughlan earned third place and honorable mention in the Magazine Personality Profile category for his stories about Kailee Viator and Ines Alvidres respectively. He also earned third place in the Magazine Layout category for his coverage of Alvidres. Duerler also earned honorable mention in the Feature Story category for "Invisible Forces Rendered Visible."
"The ISSUE really reflects the mission of The Art Studio — to inform, educate and entertain," Coughlan said. "The subjects the staff won for cover the gamut of the arts scene."
The Press Club draws its membership from Jefferson, Orange, Hardin, Liberty, Chambers, Jasper, Tyler, Polk and Newton counties. Press Club members are professionals in media, public relations, academia, public affairs, and corporate communication and public information.
The ISSUE is distributed at 40 locations around Southeast Texas, and is also available to view as a pdf or individual stories at www.artstudio.org.
To contact or advertise in ISSUE, email info@artstudio.org or message the ISSUE Facebook page.