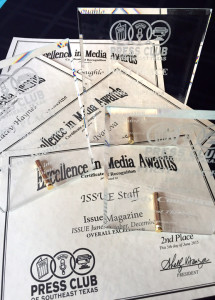 BEAUMONT — The Art Studio, Inc. was well represented at the Press Club of Southeast Texas Excellence in Media awards, held June 5 at the MCM Elegante Hotel, earning 11 awards overall for related publications.
ISSUE magazine staffers earned nine awards for the publication, including placing second in the Best Magazine category.
First place award went to staff writers Jacqueline Hays in the Writing Portfolio category, and she also picked up a second place in Magazine Feature category for her story "Perversion or Perfection?" Elena Ivanova placed first and second the Fine Arts Review category for "Stepping into the Fourth Dimension" and "Reflections on the Water" respectively. This is the second year in a row that she has won the category.
ISSUE editor Andy Coughlan placed first in the Magazine News Story category for "Cultural Threads," as well as earning a first-place award in the Poster category for the 2014 TASI Alternative Show poster. He also picked up an honorable mention for Magazine Photography. and Fine Arts Review for his story about the Braque Retrospective.
JoLee Tanner, who at 14 years-old is ISSUE's younger contributor, earned third place for Magazine Photography and honorable mention for Personality Profile for her story "Bohemian? I won't Deny it."
"I am delighted that the ISSUE staff have been recognized by their peers," Coughlan said. "Over the years, ISSUE has established itself as a leading voice in covering and promoting the arts in Southeast Texas and beyond. That the staff is entirely voluntary just makes their commitment to quality all the more noteworthy.
"I am especially delighted for JoLee. Her success perfectly captures The Studio's philosophy — to create a space for everyone to challenge themselves and to find an outlet for what they love."
The Art Studio's website, designed by Stacey Haynes and Coughlan, earned third place in the Website/Public Relations category.
The Press Club draws its membership from Jefferson, Orange, Hardin, Liberty, Chambers, Jasper, Tyler, Polk and Newton counties. Press Club members are professionals in media, public relations, academia, public affairs, and corporate communication and public information.
The ISSUE is distributed at 40 locations around Southeast Texas, and is also available to view as a pdf or individual stories at www.artstudio.org.
To contact or advertise in ISSUE, email info@artstudio.org or message us at our Facebook page.