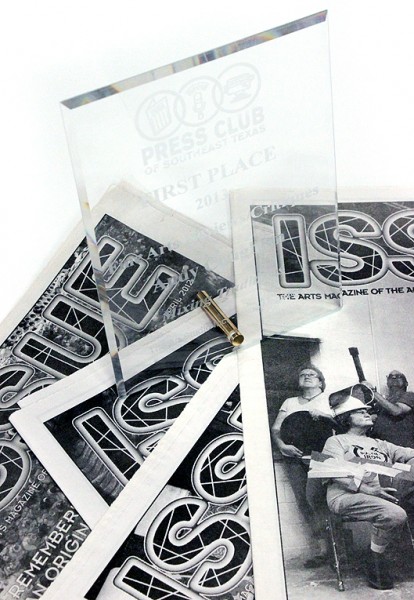 ISSUE magazine, the arts magazine of The Art Studio, Inc., won nine awards at The Press Club of Southeast Texas Excellence in Media Awards banquet, held June 7 in the reception center of Gray Library at Lamar University.
The ISSUE won second place in the Special Section/Tabloid category.
"The ISSUE is run on an entirely volunteer basis, so it says much about the quality of the staff that we are competitive every year," editor Andy Coughlan said.
Contributor Josh Reeter won first place for Magazine Photo for "Hanging Out," an image of a suspension event in Beaumont.
Coughlan won first place awards for Fine Arts Review for "Mixing Traditions," about the Fechin/Gaspard exhibition at the Stark Museum of Art in Orange. He also placed first in the Headline category.
Contributor Elena Ivanova placed second in the Inspirational Story category for her article on Henry Ossawa Tanner.
Stacey Haynes, who designed The Art Studio's new-look web site, was honored with second place in the Online category.
"So many talented people give their time to help the ISSUE be such a vital part of the arts community," Coughlan said. "To see them recognized for their work is extremely gratifying. And there are many others who write stories, take photos, distribute the issue — it shows such commitment."
Second place was awarded to Coughlan for his Magazine News Story, "From Estonia to Southeast Texas." Coughlan also earned third place for Magazine Photo and Writing Portfolio, as well as for designing the poster for the Alternative Show in June 2012.
ISSUE magazine is published nine times a year to coincide with exhibitions at The Art Studio.
"It is important to all of us at ISSUE that we cover a wide variety of arts in the area," Coughlan said. "We are grateful that The Art Studio gives us the opportunity. ISSUE truly is an important voice for all facets of the arts. That's what draws such creative people to contribute."
The ISSUE is distributed at 40 locations around Southeast Texas, and is also available to view as a pdf or individual stories at www.artstudio.org.
To contact or advertise in ISSUE, email issue@artstudio.org or message us at our Facebook page.