Couples looking for a unique way to spend Valentine's weekend have the perfect chance to fan the romantic flames with a night of theater and fine dining in sumptuous 1930s surroundings.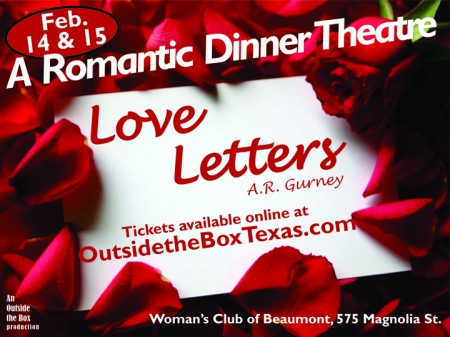 Outside the Box will present two chances to see A.R. Gurney's "Love Letters" at the Beaumont Woman's Club, Feb. 14 and 15. The historic house opens its doors at 6:30 p.m. for dinner and the play begins at 8 p.m.
Tickets range from $65 to $90 a person, and include a gourmet six-course meal, live music and the play. The $65 "Elegance Ticket" features a roasted pork ribeye in a delicious wine sauce paired with bacon-wrapped haricot vert. The upgraded " Romance Ticket" for $90 a person, features roasted medium rare beef tenderloin, a creamy lobster bisque, a fresh rose and premium seating for the play.
Tickets should be purchased in advance at www.outsidetheboxtexas.com.
"Love Letters" is a Pulitzer Prize-nominated play which centers on two characters, Melissa Gardner (Roxane Gray) and Andrew Makepeace Ladd III (Eric Meadows), who read the notes, letters and cards that have passed between them over the decades.
"It is such a wonderful play for an event like this," producer Ramona Young said. "It shows a couple who have been in love for nearly 50 years. It hearkens back to a time when people wrote their feelings about each other in more than 140 characters. As Melissa and Andrew discuss their hopes and ambitions, dreams and disappointments, victories and defeats, they grow more in love — and their romance is guaranteed to bring couples closer together."
The play has garnered critical acclaim.
"In the era of Twitter and Facebook, there's something inescapably nostalgic about A.R. Gurney's "Love Letters," a bittersweet lifelong romance seen entirely through the stack of handwritten correspondence it has left behind," writes Gerald Fischman of The Capital.
DC Theatre Scene's Sarah Ameigh writes, "'Love Letters,' the half-a-century-spanning story of two people falling in and out of love through paper, pen, and the twists and turns that make our lives worth writing down."
The event will be held in the ballroom of the historic Beaumont Women's Club at 575 Magnolia. Built in 1909, it has been redesigned in 1930s style and is on the National Historic Register.
"The setting just adds to the romance," Young said. "It is the perfect way for a couple to spend an evening together."
For more information, visit OutsidetheBoxTexas.com.