Former BAL director remembers artist, curmudgeon, friend
ISSUE Magazine: September 2012 | Story by Dana Dorman
I have definitely been accused of being sentimental, mushy and someone who holds on to things that I probably should let go of. I should read birthday cards and toss them, delete emails no longer needed and erase old messages from my voicemail.
things that I probably should let go of. I should read birthday cards and toss them, delete emails no longer needed and erase old messages from my voicemail.
I actually do the opposite of getting rid of things, so when I came across the voicemail, the one I continue to save, the last one I ever received from Frank Gerrietts, I contemplated if there was a way that I could save it forever. It really wasn't very lengthy or even that sentimental; it was Frank checking on me after I had thyroid surgery this spring. His message ends with, "Love Ya Baby."
I listened to his message again today, and could not stop myself from crying — hard.
I met Frank for the first time while applying for the director's position at the Beaumont Art League. It was an intense interview. Pretty early on, in fact at that interview, I knew Frank was bold, in-your-face honest, abrupt and someone who could rub some people the wrong way. I started loving him that day.
Trying to summarize and write about Frank is like trying to explain fire. Unless you have experienced it, it is hard describe. Frank is like passion afire, painting, cussing, laughing, arguing, dancing, smoking, screwing, singing, drinking, loving. A proud curmudgeon who was always ready to either show you his world or burn you up.
I will always carry Frank with me in these ways; as an artist, as a teacher, and as Frank, my friend.
As an artist I was truly flabbergasted when I first saw Frank's work. I was stunned to see his watercolors, stunned at what this codgity old man created. His works are like little flakes of his soul — loud, uncompromising, bold, colorful and also the extreme opposite; quiet, contemplative, shy — a paradox.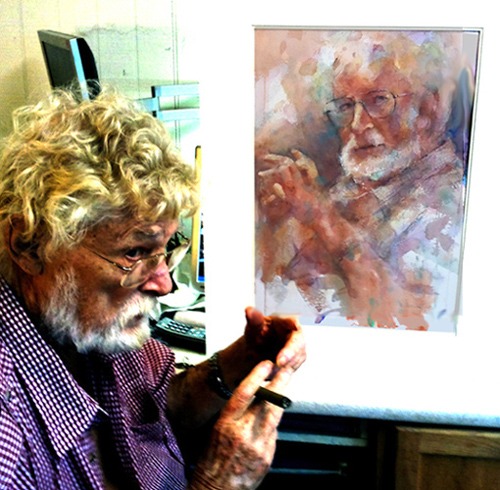 The works are alive; beautiful moments captured in time with themes of transcendence, love and regret and especially memories that he held dear. And music.
His works have visual elements of iconic religious symbology —usually cleverly woven into the composition — birds, vices…. I laughed to myself because he did what I try to do in my own work: he used all the touted "principles of good design" learned in college — balance, rhythm, emphasis, unity, texture etc. — and then infused it with mystery, depth and meaning. Even if you didn't know Frank, you could easily recognize how truly amazing the works are. If you did know Frank, well, you would have to own one.
I display "Kitchen Window Morning Fire" in my home. I only have the print — the original is way too valuable — and I never get tired of looking at it. I loved it before he let me in on the deeper meaning about his memories of his mother in the kitchen on warm mornings. This is Frank having coffee with me right now. I have another work, a small acrylic he did for me about the brass and power in the music of Wagner. He named it "Tannhauser with Attitude." Very fitting, like Frank.
It was truly wonderful to experience Frank's array of styles, mediums, to see his painterly struggles, and his majestic pieces at the memorial show at the League in July. Some of them I had never seen, some of them we talked about at his home as he worked on them. The people who love him are ferociously loyal. Most were there that special night.
His daughter, Lisa Sudela, really has no idea how much that evening, surrounded by his work and the people who loved him, meant to me and to so many other people. Thanks Lisa, you are one of his many jewels.
Frank always said he would like to be remembered for his teaching. Artist Cynthia Fontenot said that Frank taught and reminded her about how to truly see the beauty and detail of our everyday world. Truly seeing is not so easy to do in this world sometimes.
Yes, he definitely taught me about art, creating and perseverance. I could write a book called "Art 101 to 2012 by Frank." It would be an exhaustive study on color, theory and everything else, with cussing.
I learned many practical things, or at least practical to me, like growing hydrangeas, Photoshop tricks, hanging gallery shows, making quiche, and how to get a cigar smell out of the gallery before a show. I have a lot of precious memories of Frank.
But mostly, I learned about loyalty, acceptance of life, and time tested examples how to live. Real love….. That is what I got from Frank.
Love Ya Baby.
Artist Dana Dorman was director of the Beaumont Art League from 2006 to 2009. She works at the Stark Foundation in Orange.