Comedy based on true confessions to get Texas premiere, Nov. 7-8
Everyone has a secret. It may be a crush on a co-worker or teacher. It may be a desire to try something a little out of the ordinary. It may even be a wish to get revenge on a boss.
Divergent Theater, in partnership with Beaumont Community Players, will present the comedy "My Dirty Little Secret," by Hollywood-based playwright and acting coach Chambers Stevens, Nov. 7 and 8. Performances will be 8 p.m. and 10 p.m. each night, at the Betty Greenberg Center for the Performing Arts, 4155 Laurel in Beaumont.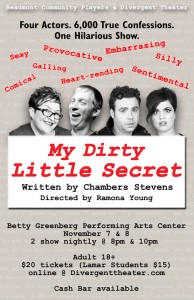 "This hilarious show is inspired by online confession sites," director Ramona Young says. "Four actors play multiple characters, all based on true confessions. Some are funny, some are heartbreaking, some are silly and some are risque. Some secrets will make you blush, but you will have to admit to having thought or done the same thing."
The play is rated R and no one under 18 will be admitted.
A cocktail mixer will be held before each performance where audience members will be encouraged to write down their own "Dirty Little Secrets." Several of them will be read, anonymously, during the show, and then shredded on stage.
"Reading audience confessions is great fun and everyone really gets to be a part of the show," Young says. "The rest of the show is scripted, but that part of the show is totally open — you never know what you are going to get."
The play, which was recently featured in the Hollywood Fringe Festival, is the second in the inaugural season for Divergent Theater, formerly Outside the Box Productions, and is being presented in cooperation with Beaumont Community Players. Divergent Theater also presented "Gab Fest" in September.
"The goal of Divergent Theater is to present plays and readings that push the boundaries of theater," Young says. "It allows Southeast Texans to really have the full experience of what theater can be. Divergent Theater productions can complement the fine theater tradition of this area.
"'People who think that going to the theater may be stuffy will like this show. It is part play, part comedy club. Most of all, it is really funny and will be a great evening out with friends or partners."
With two performances a night, Young says that audiences can hit the show early before heading out on the town, or can go have a meal prior to the show and come in ready to enjoy.
"However they choose to see it, the main thing is to come relaxed and ready to laugh," she says.
Audiences will have the opportunity to meet Chambers Stevens, who will be in attendance at each show.
This is the third play written by Stevens performed in Southeast Texas. In October 2013, he performed his one-man show, "Close Encounters of the Celebrity Kind." His play "Waking Up Naked," was performed in May by Studio 33.
Recently, Stevens won five first-place awards from Backstage, the national actor's resource magazine for more than 50 years, for his coaching and writing, and the work of his acting studio. While in Beaumont, he will conduct several workshops for aspiring young actors.
For more information, visit www.divergenttheater.com, or visit their Facebook page.