TASI, AREA MUSEUMS FEATURE DIVERSE CERAMICS EXHIBITIONS
---
The exhibition "The Art Studio & Friends," will showcase the work of a diverse group of artists who have associated with TASI over the years, including tenants, NCECA members who have been tenants, and about a dozen friends of The Studio.
---
When the National Council on Education for the Ceramic Arts decided to hold its 2013 convention in Houston, the (potters) wheels were set in motion.
Area clay artists, many of whom spend their hard-earned coin on traveling to far away convention sites decided it would be a great opportunity to host a clay show that would show off the best Southeast Texas has to offer.
"For about 20 years, we have tried to have a Beaumont clay show for our friends at that conference," artist Sandra Laurette said. "But it was never possible until now. Otherwise, you would have to shlep stuff to Seattle or Philadelphia. I have friends that do that, but I have always had another job to do. This year it happened to work out.
"This is our opportunity to let people know how wonderful our clay community is."
The exhibition "The Art Studio & Friends," opening with a free reception March 2, will showcase the work of a diverse group of artists who have associated with TASI over the years, including tenants, NCECA members who have been tenants, and about a dozen friends of The Studio.
"We will be showing the Bob Willis collection," Laurette, who is organizing the show, said. "There will be three separate parts to the exhibition, although separating tenants and friends who have been tenants will be hard."
Willis left his collection to The Studio and Laurette said this is the first time the collection will be shown in its complete state.
"There will also be work of instructors, past and present, from Lamar, and the work of people from Maine to Arizona, in terms of past visitors," she said. "The British potter John Eden will be here. He is connected through networking. He is married to Constant Albertson, who Greg Busceme went to graduate school with. Their portaits are on the wall of The Studio.
"We would like to show off the strength of our clay community." Tenant Dana Dorman said she is excited about the chance to show off the clay artists in the area.
"Our show at The Studio will showcase the best ceramic artists that Beaumont has to offer," she said. "The show will feature local artists choosing from their strongest works. Because our area is rich with style and technique, the show will include many types of work including wheelthrown vessels, figurative pieces, slab work and an assortment of other surprises."
There will be a special reception on March 23, when NCECA closes, for people from the conference. Members of the community are invited to come and meet the visiting artists.
"If they want to come and meet 'NCECers,' as we refer to ourselves, they are welcome," Laurette said.
"We will be passing out invitations at the conference for our friends," she said. "We have friends from Alaska and the West coast who we hope will come by.
"We are on the list of 'other' exhibitions for NCECA. There are something like 90 clay exhibitions related to the show in Houston. It's a field trip or a stop on the way home opportunity for our friends in the conference."
Laurette said area ceramicists attend the conference on a regular basis, and she expects more to attend this year as it is so close.
NCECA is an international show, despite its national tag, and draws 8,000 to 9,000 every year, Laurette said. Tenant Suzanne Garrett has attended every year, with Laurette, for more than 25 years.
"I wouldn't miss it for anything," she said. Dorman said NCECA is something that all clay artists aspire to attend.
"The NCECA conference represents the collective "soul" of some of the most important ceramic work in the world," she said. " The ceramic exhibition, titled "Earth/Energy" is testament to years of study, practice and refinement within the field. I can hardly wait to see this work in person."
Dorman said she has a strong reaction when viewing such top-level work.
"My first reaction is, 'What does this work say to me?' I become inspired, moved, or assaulted, or I am presented with content I have not experienced before," she said.
"My second thought is, 'How'd they do that?' The dialog opens up the inner pupil in me. I want to learn about new textures, firing methods, glazing techniques and the artist's vision.
"My third reaction is, 'Let me go get busy creating my own voice through my work."
Dorman said she is always inspired by seeing the work of some of the world's leading practitioners of the ceramic arts.
"It is this rare exchange of ideas, and this once-ina- lifetime experience has this small-town Texas artist excited beyond measure, chomping at the bit to be a part of NCECA 2013," she said.
Anyone who has ever worked with clay knows you had better make more than one, so there are four shows at three venues for the ceramics aficionado to choose from in March.
The Beaumont Art League will host "Lamar Then and Now," with an opening reception March 2.
"Current students and alumni of Lamar University's ceramics program from 1980 to present will join together to exhibit a broad range of works in clay," Sarah Hamilton, BAL director said. "Many have gone on to teach others in schools and universities.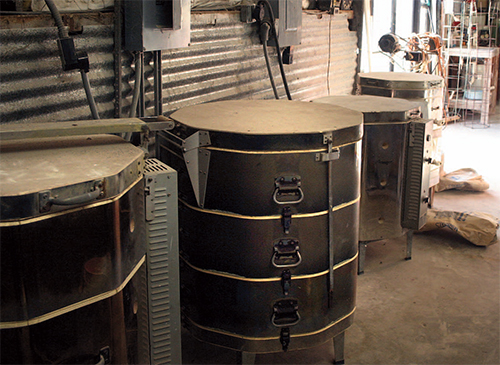 "Over the years, (Lamar's) program has caught the imagination of students of other university disciplines and even those returning to the university after a long hiatus. Many of these students spend several semesters developing a great skill working in clay."
Laurette is also curating "The Next Generation: K-12 Clay in Southeast Texas" at BAL.
"Many public and private school educators in this region offer their students an opportunity to begin investigating ceramics as they learn about art in 3D," Hamilton said. "Most emphasis is placed on hand building and electric firings. Even fewer high school students have the opportunity to create works of art in clay, but ceramic objects are entered each year into competitions for high school seniors of this region."
The exhibition will offer the opportunity to view some of these beginners' works.
"Everybody should see the shows because the work is phenomenal," Laurette said.
The Art Museum of Southeast Texas is currently hosting "San Angelo Ceramics," representative pieces from the San Angelo Museum of Fine Arts' permanent collection.
The exhibition features works by multiple artists displaying a variety of techniques and manipulation of the media. For more on that show, visit www.amset.org.
Issue Magazine: March 2013
Story by Andy Coughlan